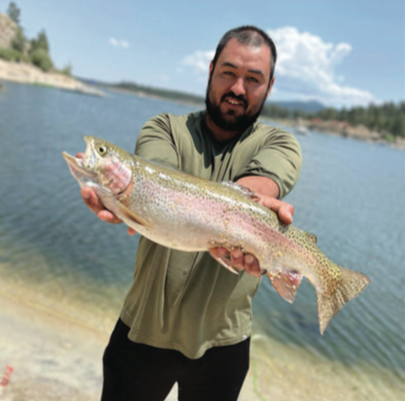 BY BLAKE WARREN
BIG BEAR LAKE – Heading deeper into July, Big Bear Lake's rainbows aren't seeming to be trending towards any summer doldrums just yet as very good numbers of trout and lots of lim- its continue to be hauled out of the lake. While the majority of the recent catch remains on the considerably lighter side of the ledger, limits haven't been all too tough to come by for either boaters or anglers wetting lines from the banks.
"There continues to be large numbers of mostly smaller fish biting an array of different baits and lures near the surface," said Aga Dabrowski at Big Bear Sporting Goods. "Some of the bigger fish caught recently have been holding in the 10- to 15- foot range, but numbers are far lower (than when fishing the
upper portion of the water col- umn over the last couple weeks)."
Due to the higher water temps in recent weeks, the ma- jority of the trout continue to hang around the area near the buoy line near the dam. Just about everything is working for bites bait-wise, from slip-bob- bered 'crawlers fished shallow and dough baits on Carolina rigs, to Rapalas, spoons, Flicker Shads and nightcrawlers on wedding rings on the troll. Dabrowski also added that fly fishermen have been smoking it from float tubes on both dry flies and sub-surface stuff.
With far more sub-catchable size trout in Big Bear as there's seemingly been in years it appears to be affecting the summer bass bite to some de- gree, which could bode good things in the future for the alpine bass fishery as the large-
mouth and smallies gorge on the available juvenile, kokanee- sized rainbows. While bites have gotten a little tougher to come by as of late with the abundant food source, guys tossing weedless 3.8 and 4.8 Keitechs are picking off some good fish, along with anglers working deeper-running crankbaits near rocky structure by the dam. Topwater lures are also accounting for a fair share of blow-ups early and late.
With summer now in full swing, the catfish bite has also ramped up considerably. "The channel cat bite is at its peak right now," said Dabrowski. "Live 'crawlers, frozen mackerel and shrimp are all filling stringers over at the east end of the lake. Get started about an hour before dark and stay until dawn or until you hit your lim- it, because people are catching 'em pretty good right now."