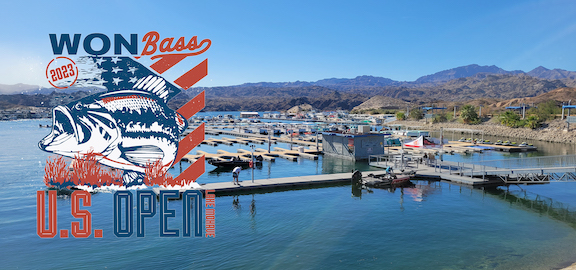 LAUGHLIN—The 41st Anniversary Bass Cat / Mercury WON BASS U.S. Open presented by Laughlin Tourism Commission and Visit Laughlin kicks off tomorrow on Lake Mohave out of Katerine Landing at Lake Mohave Marina. This event runs through Wednesday, October 18 and marks the second year that the premier bass fishing event in the Western United States will be held on Lake Mohave following consecutive years of lower water conditions at Lake Mead that forced the move.
The 2023 event looks to be as competitive as last year's event as 182 pro and co anglers will head out onto the 28,000 surface acres of Lake Mohave in search of the kind of quality bass that will take home the 2024 Bass Cat Cougar and Mercury 250 ProXS as well as the cash prize package the eventual champion will receive.  As with any bass fishing tournament, the plans the anglers made during practice will need to be adjusted as the Laughlin area has seen significant swings in weather conditions.
In the pre-practice period, the air temperatures saw cooler temperatures with fall type conditions and some windy conditions. During those days, anglers reported seeing the surface temperatures on Lake Mohave dip as much as 10 degrees.  While it appears that change may have triggered some type of fall migration, those conditions will change as the event begins as the mercury will reach as high as 100 degrees and the winds will taper to a typical 10 to 15 mph.  What effect that has on the fishery remains to be seen.
2022 U.S. Open Champion and MLF Bass Pro Tour pro Josh Bertrand said that he left the areas he won on last year alone and searched new water for this during practice. "Mohave is fishing differently than it did last a year ago," said Bertrand.  "We fished it like a summer event in 2022, and this is more into the fall conditions this year, so it's going to influence how we do things.  "I searched for new water and found some things that I'll rely on but saved the areas I used to win last year in hopes that they'll still be good.  It's a different year and I hope to be in position to contend again, but we'll just have to wait and see.
Fishing his third WON Bass U.S. Open, is Roseville, Calif. pro Bryant Smith who just completed his rookie season on The Bassmaster Elite Series.  Smith said that he realized how much the event meant to him as a Western angler after he fished his first U.S. Open and made it a priority.  "This is the marquee event and after I fished it for the first time, it became an event I wanted to win," he said.  "That won't be an easy task this week, whoever wins is going to have to do several things and make adjustments along the way between the reaction bite, finesse tactics and fishing Active Target Forward Facing Sonar; we're going to have to earn it this week."
A former U.S. Open Champion and veteran of more than half of the 41 holdings of the event is Major League Fishing co-founder Gary Klein. A Western Original, who now makes his home in Texas said he had an urging to return to his roots.  "I entered the event because I really started getting an itch to fish out West again, and this event is one that means something to me and a lot of others," said Klein.  "I've been out here for a week doing a lot of looking and a little fishing and like how it's shaping up.  It's not going to be an easy tournament to win, but I feel like I've found something I can build on and give it a run; I would really like to give myself a chance to be in the conversation on day three – that would give me a shot at winning my second U.S. Open title."
Bertrand won the 2022 WON Bass U.S. Open title with a three-day winning weight of 67.78 pounds and it would be reasonable to expect similar weight ranges to be in play this year.  Historical averages for winning weights in events on the lake typically exceeds 20 pounds a day, and even with a field this large, that should hold steady.  Fishing pressure is likely to play a role as anglers may find themselves competing for areas as the event grinds on.
The 2023 WON BASS U.S. Open Sponsor Expo will be held October 15 from 2:00 to 5:00 p.m. at the E-Center Convention Center, adjacent to the host hotel, the Edgewater Hotel, Casino & Resort located at 2020 S. Casino Drive | Laughlin, NV 89029 and will feature dozens of vendor booths showcasing their wares. That sponsor's fair will be followed by the induction of the 2023 class of the WON BASS Hall of Fame starting at 5:00PM Both events are open to the general public.
The 2023 WON BASS Hall of Fame induction ceremony will occur immediately following the conclusion of Sponsor's Expo. The WON BASS Hall of Fame has been established to recognize the efforts of competitors and individuals instrumental in the industry who have left indelible marks on the organization and professional bass fishing in the Western United States through WON BASS.
Individuals being inducted in this inaugural class are three-time U.S. Open Champion Aaron Martens, two-time U.S. Open Champions John Murray and Byron Velvick and past U.S. Open Champion Pat Donoho and Fred Ward.
The three-day long Bass Cat / Mercury WON BASS U.S. Open presented by Laughlin Tourism Commission and Visit Laughlin competition itself will begin Monday, October 16, with a champion being crowned on October 18 at the conclusion of the final weigh-in. Takeoff with 182 pro and AAA anglers will commence at safe light and weigh-ins will occur at 3:00PM each day. Takeoff and weigh-ins will be held at Katherine Landing at Lake Mohave Marina located at 2690 Katherine Spur, Bullhead City, AZ 86429.
WON Bass has reserved Thursday October 19 and Friday October 20 in case any day of the event is postponed due to unsafe conditions by the National Parks Service.
Join us for an historic event and look to wonbassevents.com and WONews.com along with WON BASS and Western Outdoor News social media platforms on https://www.facebook.com/WONBassTournaments and https://www.instagram.com/wonbass/ for event details, livestreams and updates.
The 41st Anniversary 2023 WON BASS U.S. Open is presented by the following sponsors; Bass Cat Boats, Mercury Marine, Berkley, Costa, Abu Garcia, Bridgford, Daiwa, Gamakatsu, Phenix, Power-Pole Total Boat Control, Eagle Claw TroKar, Lithium Pros, Lowrance, Anderson Toyota, Loco's Bar and Cocina, DD26, Top This, Johnon's Bait and Tackle, LTC Laughlin Tourism Commission, Last Chance Performance Marine, Yamamoto Baits, Huntington Beach Honda, Peregrine 250, Livingston Lures, Trika Premium Fishing Gear, Liqui Moly Marine, Stealth Stix, Smokey Mountain Herbal Snuff and Pouches, KUIU, Visit Laughlin and Western Outdoor News.