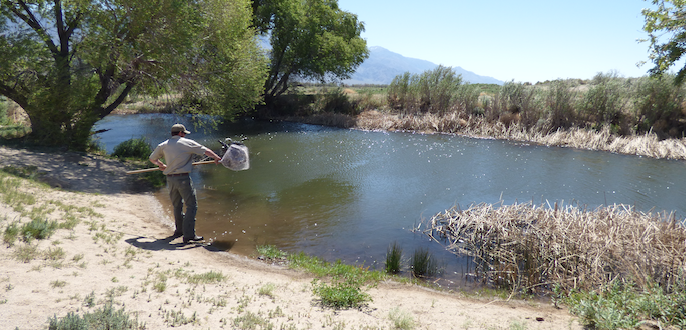 BY MIKE STEVENS
I'm going to go ahead and assume the statute of shame limitations has passed and I can go ahead and write about this most embarrassing moment.
I've been heading up Highway 395 to fish the Eastern Sierra for over three decades. They were almost all summer trips other than a few outliers, and in all that time I'd never fished an Opener. My first opener experience was on official business for Western Outdoor News nearly 10 years ago, and I've been to every one since in the same capacity. For the first couple, I didn't even bring a rod because I didn't want to run the risk of coming up short in the coverage department so early in my WON tenure. Eventually, I felt like I had it dialed and I started bringing gear, but even then and to this day, my Opener fishing is very casual, and 90 percent of it is done on the Thursday and Friday prior.
On this particular opener, my brother and a buddy and I were methodically working our way north out of Lone Pine. We were hitting the standard creeks but also doing a western version of what they call "blue lining" back east which is, exploring any blue line on the map looking for trout, even in the nameless creeks.
At the time, it was still "early opener" season in which anglers could fish the creeks south of Independence and west of 395, and that's the exact zone we were exploring. Conditions in all of the creeks were less than ideal, but we ran into Shepherd Creek which we had zero experience and it looked pretty solid with perfect flows, respectable pools and clear water running over that light tan sand that, for whatever reason, just looks trouty.
We were shocked that we weren't getting bit, but given the primo conditions, I wanted to see more of that particular creek and look for more spots. We slowly drove along it as far as we could and eventually crossed over the highway and continued to look for fishable runs when we eventually ran into the Shepherd Creek sand trap.
We jumped out of the truck, and my brother immediately went around the back of the sand trap where there was some trees and shade. I walked straight to the water and made a cast with a minijig and immediately hooked up. "Trout!" I said, because in some earlier spots along the Owens River near Lone Pine, we kept running into small bass. I wound in the 10-inch DFW rainbow, shook it off the barbless hook and was about to get back to it when I saw something heading our way on the dirt path.
I soon recognized it as a DFW stocking truck, and it was accompanied by a DFW SUV, and I remember thinking they were coming in pretty hot. They pulled up and parked next to where we were, and a threw them a wave and thought, "well that's cool. I'm going to be able to get some photos of them stocking trout for the Opener!"
Sure enough, the guy in the stock truck started doing his thing, netting trout out of the truck and releasing them into the sand trap. The warden got out of the SUV as he approached I asked, "You need to see my fishing license?" which I was already getting out.
"Well, yea, there's that," he said.
I handed it to him and he asked, "do you know the regulations for fishing around here?"
"Yea, we can fish the creeks coming out of the mountains south of Independence and west of…"
I realized before I even spit it out that I was screwed and stopped in my tracks. Then I finished the sentence a lot slower than it started out. "…and west of Highway 395."
In those decades of northward travel on the holiest of highways, it was always with the season wide open in summer. I wasn't used to these restrictions, and even though I was clearly aware of the fishable water after the early opener in the Owens Valley, my crossing over the highway to the east side of it was a simple matter of muscle memory. I simply was doing what I had always done, albeit, not prior to the first Saturday in April. I was accustomed to being able to turn right while heading north.
The warden was actually cool, and he realized it was an honest mistake. When my brother moseyed out of his tree line, the warden said, "you're lucky. I didn't see you." He was glassing us with binos from who knows where like big game prior to his quick arrival to the scene. So, my bro didn't get a ticket, but I did. So did my buddy. So, there I was. A WON Editor on location to cover the Eastern Sierra trout opener getting busted for fishing out of bounds on Fishmas Eve. Since I know you're wondering: $550 a pop.
Later that evening, I attended the annual media dinner in Bishop with the rest of the WON crew that made up our "boots on the ground" on hand to cover the Opener: Pat McDonnell covering his last opener before retiring from full-time duty at WON, veteran WON NorCal editor Bill Karr and long-time Sierra beat writer, Ernie Cowan. Not only did I have to hide my soul-crushing frustration at what had happened just hours earlier in hanging out with that Mount Rushmore of Eastern Sierra royalty as far as WON staffers are concerned, but also to the others in attendance including reps from Bishop and Mammoth, local guides who were now among my stable of sources on the region, DFW biologists and more wardens, Berkley reps, even Bart Hall goes to that thing every year.
I buried it. No way was I telling anyone what had happened, in fact, for many of them, this will be the first time hearing it. Always the prankster, while someone was speaking to the group, McDonnell took the opportunity to cram a bunch of PowerBait into my business card holder which I was TOTALLY in the mood for, so I had to act like that was hilarious, too.
The thing is, it was hilarious. Looking back on the incident five years later, it was pretty funny. How freaked out I was, how I got my buddy who counted on me as the guy who was supposed to know what he was doing up there a ticket, how my brother got off by hiding behind a tree, even the PowerBait.
These days with the new regs, the Early Opener isn't really a thing anymore, but there are now new and exciting ways to get popped by the game warden prior to the Opener. Now almost all the creeks are open year-round, but prior to Opening Day it's barbless artificials only and zero limit. That's not going to pinch me, because that's how I roll anyway, but based on how "well" people know these new regs, I think it's only a matter of time before the "educating" period passes and people start "gettin' got."