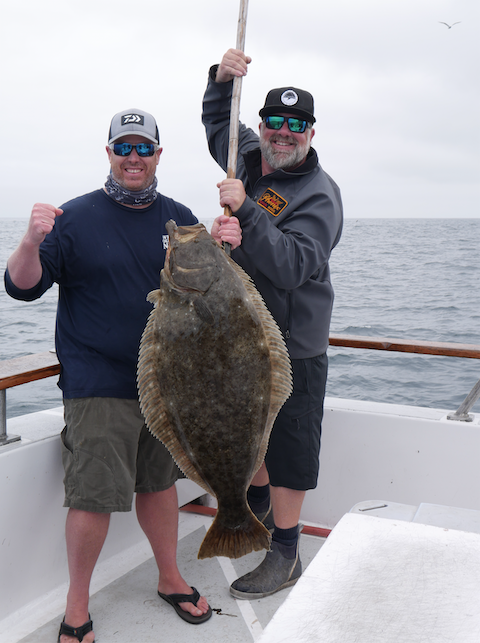 BY MIKE STEVENS 
While the Big Fish Challenge accepts all standard fishing platforms from sport boat to private boat and kayak and beyond, there are adjustments that can be made for an angler looking to zero in on larger fish in particular, regardless of what they are fishing from.
Sure, many participants in the annual WON Big Fish Challenge just fish like they always do in hopes of catching a tuna, yellowtail, white seabass, halibut or lingcod big enough for a shot at one of five grand prize packages or even a weekly prize, and that's fine. It plays right into the "you're fishing anyway" thinking that this every-angler competition is based on, but focusing only on bigger fish is another way to get after it.
Every year, there are familiar names that routinely show up in the weekly recaps on WONews.com, and while they don't always end up on top of one of the five species catergories when the dust settles after 10 weeks, they're always in the hunt. Why do you think that is?
Every year, WON has a couple trips on the Options six-pack operation out of Pierpoint Landing. One was as recently as the first week of June, and that trip stacked up 23 very legal halibut to 40-pound class for six anglers (see story on WONews.com or in last week's paper). Captain Wes Flesch on the Options is all about not only targeting big fish, regardless of species, but also making sure once a tanker is hooked, it stays that way.
Flesch has a lot of strong if not polarizing theories that go into how he makes sure that happens, and regardless of what a recreational angler's thoughts are on the matter, the track record of the guy who is doing it all-year-long speaks for itself. Here are some key doctrines in play aboard the Options, straight from the Captain's playbook.
Heavier outfits than you're used to
Beefy rods, reels and are mainstays. I've been on the Options five times, and on the last four, I only brought one rod. That's a Daiwa Proteus 7-foot-6 heavy (rated 20 to 50) matched with a Saltist 35 loaded with 50-pound J-Braid with fluoro leaders that vary from 30- to 50-pound test. I really only bring it because that's the one outfit I don't board any boat without, and on some trips I never touch it on the Options. Long story short, that's the lightest I dare use on that vessel, and if I need something heavier, I grab one of the many pre-rigged outfits on board (all Accurate reels on Phenix rods) knowing it will draw the approval of the crew because I'm following the program.
Scaled up terminal tackle
The crew of the Options will also mix in huge hooks. I remember being handed an outfit with a Gamakatsu J-hook with a shank the size of my index finger to jam through a sardine's face that I'd otherwise reach for a 3/0 live bait hook, tops. My first drop with it resulted in a 20-plus-pound personal best hali only to have a 30-plus inhale it on my next drop. All on an outfit that would tackle a triple-digit tuna that made quick work of the biggest halibut I'd ever seen in person at that point. It also resulted in my making a promise to myself, that I will only do whatever the crew of the Options tells me to do. Zero freelancing based on my own experience is allowed, on that boat anyway.
You rarely see less than 40-pound test anything put in play, and it's usually 50 and up. "Even when we are calico fishing" said Flesch, who also routinely acts as if line weight means very little in terms of a gamefish's willingness to bite. As one of the most successful white seabass operations in Southern California, they make their own customizations of terminal tackle for specific situations as well. One comes to mind is leadheads with minimal weight, but the hook needs to be heavy gauge and unbendable when tussling with monster fish on heavy gear. The types of heads they need don't exist on a production level, so they make their own.
Those guys are also open to taking a page from other captain's playbooks, too. This year, Flesch is mixing in some dropper-fishing wrinkles he learned from a San Francisco Bay skipper who fishes halibut. We were all rigged with that on that halibut slugfest a couple weeks ago. So, by all means tinker with your own rigging as it could make all the difference when chasing any brand of big fish.
 Sticking with the latest tech
I've heard Captain Flesch say, "monofilament belongs in a museum" multiple times on the water. He's all about braid to fluoro and to an extent, he's not crazy about long topshots. On our last trip while drifting for island flatties, once we had a good number on the boat, we went braid straight to the dropper (sinker) with only fluoro between that point on the hook. Flesch calls it "direct drive" and you feel every wiggle of the sardine, whether or not the bottom of soft or hard along with a fish so much as breathing on the business end of the rig.
Don't pump and dump
Lastly, when fighting a fish, Flesch is all about a steady wind rather than the classic pull-up-and-wind-down stuff we're all accustomed to. Depending on what's attached to the other end, it could be a fish with a soft mouth that the pumping angler can wear a big enough hole in for the hook to drop out, or it's causing brief moments of slack that could be an opportunity for the fish to escape, or even just turn its head and make the fight last longer than it needs to be.
There's actually a long list of reasons the steady wind is the way to go, but rather than going into all of them, just take the word of the guy doing it for a living and do it that way.
All this stuff applies for whatever boat is being used in a big-fish situation. Obviously, the WON Big Fish Challenge fits the bill. Try some of these, or figure out your own adjustments, and it could put you on top of the leaderboard and winning a grand prize package worth thousands of dollars.