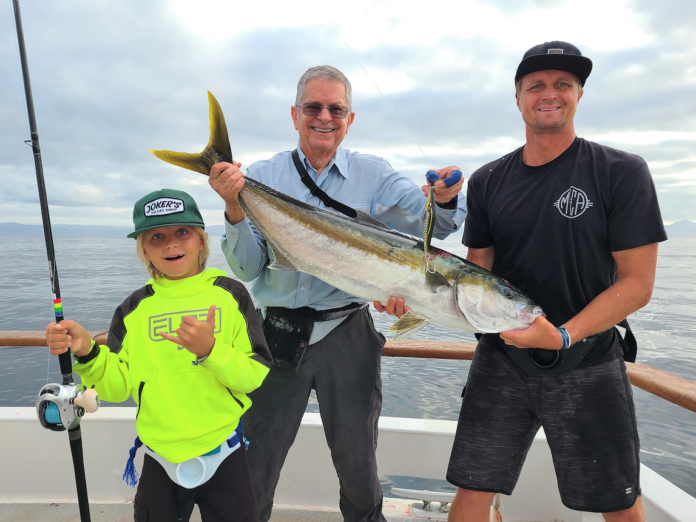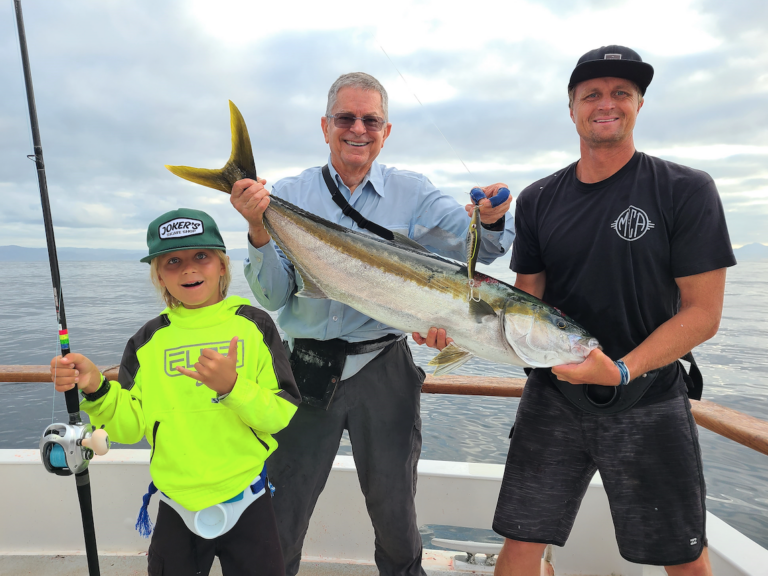 Five keys to introducing new anglers to fishing
BY LARRY BROWN
The future of sportfishing, including the profitability of sportfishing boats, tackle manufacturers and retailers and the course of future political decisions affecting fisheries' regulations and access will likely be determined on recruiting future anglers to replace those who are retiring from the sport. There are many youth fishing programs that introduce angling to young people, and there is a growing interest by ladies and women's angling clubs promoting the sport for women. This article addresses the best ways to introduce newcomers to the sport, young and old, and boy and girl.
Here are five tips for introducing new anglers to fishing:
Try to avoid chaos
There are very few "don'ts," but please don't introduce new anglers to the sport by taking them on an overnight tuna or yellowtail trip. These are great trips for experienced anglers but potentially way too much chaos for the average beginner. The long periods of locating fish, the possibility of rough seas, the chaos of a wide-open bite, the possibility of overnight anglers aggressively grabbing baits and employing aggressive and rude rail etiquette are a turn off for many anglers, especially youngsters and ladies. Don't get me wrong, ¾-day, overnight and 2-day trips are great and I encourage all anglers to enjoy these venues. But at the risk of pissing off my friends who are the overnight venue captains, there are better ways to introduce kids or newcomers to ocean fishing. So,what are some better alternatives?
Midweek half-day trips
One of the best ways to introduce newbies is a short half-day or ¾-day trip for bottomfish midweek when the crowds are half that of the weekend passenger load. No casting. no backlashes, no finesse, fewer tangles, no stress and it's very relaxing. And there's nothing better than bringing up two fish at a time, like a wind chime of sanddabs or a variety of rockfish, and there's nothing better tasting. A half-day trip during the sand bass spawn or sculpin bite is a perfect venue.
It's also a great venue for kids, as depth and weight are the great equalizer. Most importantly, it's a good test for the new angler's propensity for sea sickness. Just make sure you tell the crew and captain it's your buddy's first time and any extra help would be greatly appreciated. Most crew members love to take newcomers under their wings and have them outperform some of the veterans.
Go small – Take control
Taking a 6-Pack is also a smart way to introduce new anglers to the joy of fishing.  You control the boat. You can tell the captain you want easy fishing where size doesn't matter, trophy fishing is not as important as numbers today, the protection of the lee side of an island to escape a heavy sea is your option and an early return home if you sense boredom or if your guest becomes sick are all within your control. There are scores of quality 6-pack operations with whom you can discuss your game plan and decide if this option fits your situation. There are high-end, deluxe 6-packs where you never need to touch a bait and where the meals are 5-Star quality and there are more budget-minded, blue collar operations where you may bring your own food and beverages and bait your own hooks. But they all catch fish and they all carry a maximum of six anglers, so your new anglers will not be elbowed and intimidated at the rail by the one or two possibly rude, discourteous anglers who occasionally ride the regular overnight boats.
Go long
After a ton of experience and a ton of thought, I'll step out on a limb and tell you the very best way to introduce new anglers to fishing the Pacific Ocean. Take them on a 5- to 7-day long range boat. Taking the necessary precautions about sea sickness, this will likely hook them for life. With obvious exceptions, anglers on 5-day or longer-range trips catch a ton of fish. You will find a more relaxed, laid-back group on board. Everybody knows they have to co-exist for five days, so there is an obvious incentive to be cordial and polite at the rail and throughout the trip. There is plenty of time for teaching and learning and reinforcing these newly learned techniques.  The crews on the long range boats tend to be a lot more experienced and professional and the service tends to be extremely first rate.
The quality and variety of fish we expect to catch in the range of these longer trips is also exciting with yellowtail, bluefin tuna, yellowfin tuna and dorado all possible, sometimes even all on the same trip. As a charter master, I frequently see first-timer kids and adults out-fishing their parents or experienced buddies by the second or third day because they arrive with no bad habits and learn what the crew members drill into them. I have seen 8-year-old kids and new lady or male anglers expertly selecting their own baits and catching tuna and yellowtail and sometimes better than good ol' dad, husband or a surprised buddy. It is really cool. But again, be sure to keep reminding the crew to help your guests as much as possible, and of course, do your best to hook and hand them fish to hook them for life.                                
Lots of other venues
There are many other outstanding venues for new anglers. Trout ponds for young kids are great. Fish are guaranteed and the photos are priceless. Vacations to the famous fishing resorts in Mexico and Alaska are gorgeous, too. Mothership vacations out of San Filipe are some other one-of-a-kind true adventures. Plenty of fish is nearly guaranteed, and other non-fishing activities are available at the land based resorts, while land is just an hour or less away if your guest or child becomes bored or sea sick.
If you are reading this article, you are likely and already an avid angler and know the joys of being on the water and the adrenaline of catching fish. We all want to share our passions and see others experience what we love doing. Share your passion of fishing with a friend or relative and she/he may be hooked for life, just like you are.