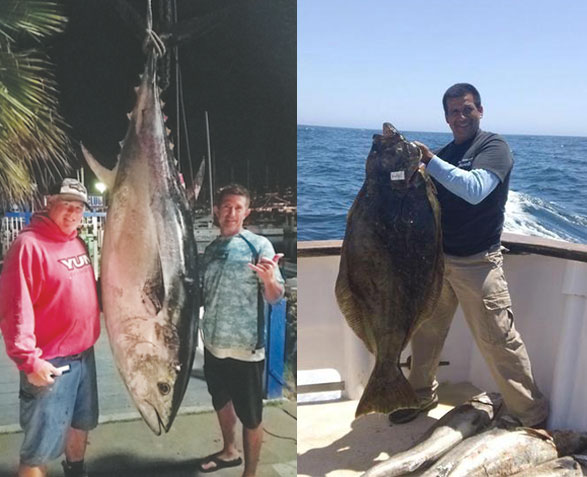 LEFT: FLOYD SPARKS and longtime buddy Rob Thompson pose with Sparks' huge CA state record 395.4-pound bluefin tuna after weighing the fish on the certified scale at the San Diego Marlin Club. RIGHT: Francisco Rivera of Camarillo, CA officially holds the IGFA World and CA State record for catching his 67lb 5oz, California Halibut aboard the Mirage, July 1, 2011 at Santa Rosa Island.
We all dream of catching a record fish to take either a state or world-best title, but how do you know if the giant fish you've just caught makes the grade?
To help, we've compiled both the California state and IGFA World Records into one handy list (see below) covering the 31 most frequently caught saltwater fish on the West Coast. If you catch a record be sure to email photos and details to editors@wonews.com or let us know via phone, or find us on social media @WesternOutdoorNews. 
How do you submit a California state record fish application or IGFA world record claim?
For world records, you can find a list of the official IGFA weigh stations here, and details on how to submit a record fish application here. For California state records, you can find the form for submitting a record application here, and a list of rules and procedures to follow here.