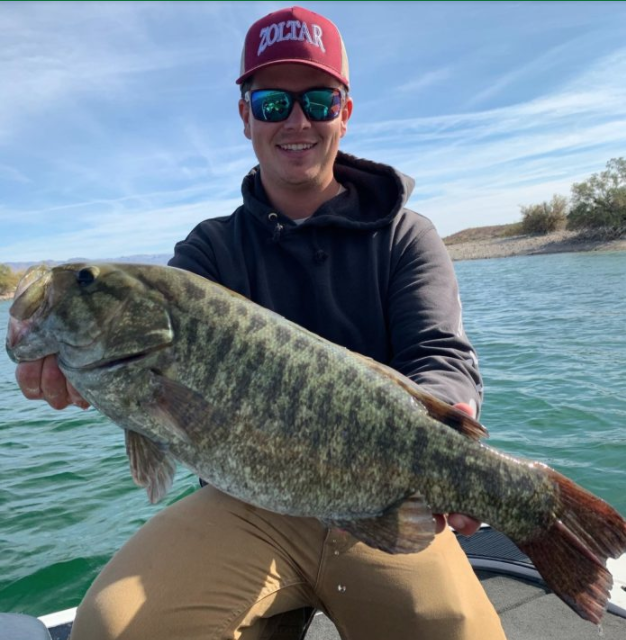 BY MIKE STEVENS
Desert Diversity
Lake Mohave is a diverse fishery both in terms of geography and species available. It's over 67 miles long, its deepest point is about 100 feet deep and it spans 28,800 surface acres with 240 miles of shoreline. The upper half of Lake Mohave acts like a river in many respects. On the north end, cold water from the bottom of Lake Mead is released from Hoover Dam, and it slithers through the canyon for dozens of miles before reaching the Main Basin where it finally starts to feel like a lake. The water at the top end is so cool, it allows for year-round trout stocking at Willow Beach (imagine fishing for trout in cool water in mid-summer when it's 110 out!) which not only bodes well for trout anglers, but also for hunters of trophy bass and world-class stripers.
Generally speaking the water warms the further south you are on Mohave, and that means – among other things – bass can be in different stages of the spawn in different areas of the lake. With largemouth and smallmouth bass both readily available from top to bottom, an angler not only has species options at their disposal, but in a tournament setting, he or she oftentimes can play to their strengths when deciding how to get after it: deep, shallow, structure types, spawn status and even current come into play on Lake Mohave.
Katherine Landing as basecamp
            Lodging options at Katherine Landing (Laughlin Open host marina) include the rooms at Lake Mohave Lodge, full-hookup RV camping and tent spots in the campground. All rooms at the Lodge are recently renovated and have air conditioning and DirectTV. There are also kitchen units with fully-equipped kitchenettes so visitors can prepare meals and store food and drinks with all the comforts of home.
Travel restrictions are a lot looser now, and Katherine Landing's full compliment of amenities including watercraft and beach rentals is available and drawing visitors from all over.
WON BASS pro Todd Kline took a family trip to Katherine Landing back in 2020 as the perfect way to escape all the madness going on back then when travel options were limited. He was looking for a place he could avoid crowds and spend some time on one of his favorite lakes in a self-contained lodging situation, and that's exactly what he found.
"With everything we're dealing with and trying to minimize interaction with other parties, I stocked a cooler and got a hotel room with a kitchenette so once I was there, I didn't have to leave for four days," he said. "They have a small store that is open if you need things, but I was self-sufficient from when I arrived until I left."
WON BASS Laughlin Open anglers and their friends and families will definitely be taking advantage of all Katherine Landing has to offer for this event in particular.
Primo Conditions
The scorching desert heat of summer draws a lot of visitors to the Colorado River and its lakes for many reasons, but fishing —especially that of the competitive variety— is best suited for cooler conditions that allow an angler to "fish hard" from beginning to end for multiple days in a row. In March, Lake Mohave gets 12 hours of daylight, and daily high temperatures average 73 to 81 degrees. At this time of year, it's rare for the temp to drop below 63 or exceed 91 degrees. March on Lake Mohave generally features days with light but consistent wind, usually right around 8 miles per hour and out of the north. Long story short, it's a great time to not only visit the desert and not get cooked, and it's almost always ideal for spending long days on the lake.
Amenities in Laughlin
Speaking of amenities, don't forget about those present in the city of Laughlin. There are eight hotels available for Laughlin anglers to stay in. While staying in one is a condition of competing in the event, they're among Laughlin's finest, most of which with casinos and other fun stuff to do on-site. To check out that list of hotels and the special rates, visit WONews.com and find the Laughlin Open under the EVENTS tab.
Get your personal-best bronzebacks
Record-class smallmouth bass are always a possibility at Lake Mohave.  In 2020, WON BASS pro Gunnar Stanton stuck a 7.03-pound smallie on an umbrella rig worked over one of Mohave's  countless points. That fish fell just short of the 7.6-pound lake record. While that sounds like a one-off lightning strike, for one reason or a another, big smallmouth over 5 pounds have been showing up at Lake Mohave with increasing frequency over the last 10 or so years. In an interview with Western Outdoor News after catching his football bronzeback, Stanton closed with "The hunt for the 8 pounder begins!"
Click the image below to sign up and get more info on the WON BASS Laughlin Open.