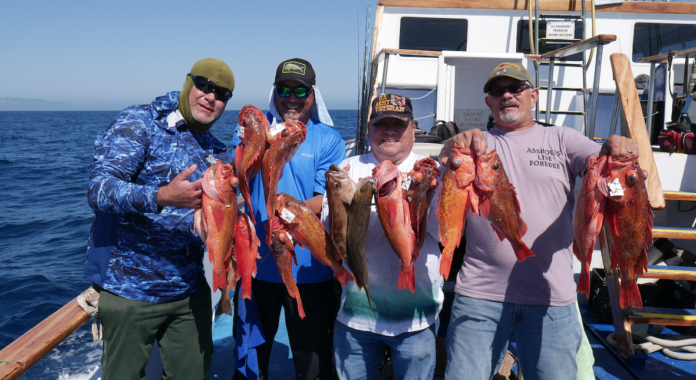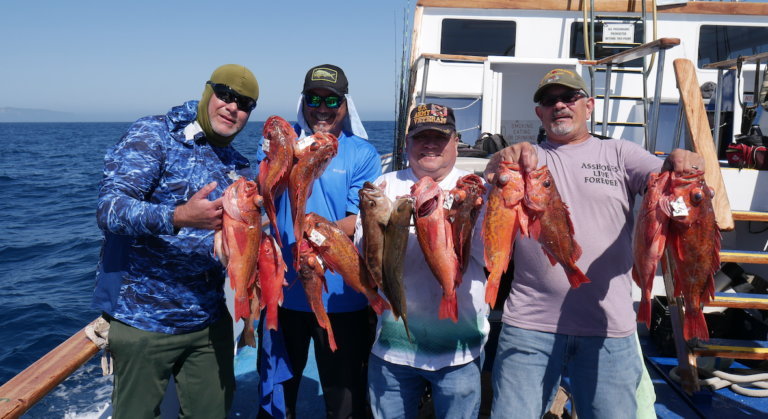 BY MIKE STEVENS
DANA POINT – The waterfront scene in Dana Harbor last Thursday night overwhelmingly consisted of St. Patrick's Day revelers, but there were 20 guys who definitely weren't there for corned beef and cabbage. Green beer? Perhaps.
Actually, there were cases of one crowd evolving into the other as a handful of the anglers there to board the Fury out of Dana Wharf Sportfishing did appear to leak out of the crowd at Turk's "waterfront hangout" and hop into the line at the dock. This first Western Outdoor News charter of the season was destined to be a good one from the start: overnight to San Clemente Island with Captain Marcus Bailey to fill sacks with quality rockfish near the bitter end of winter, and no operation does SCI better.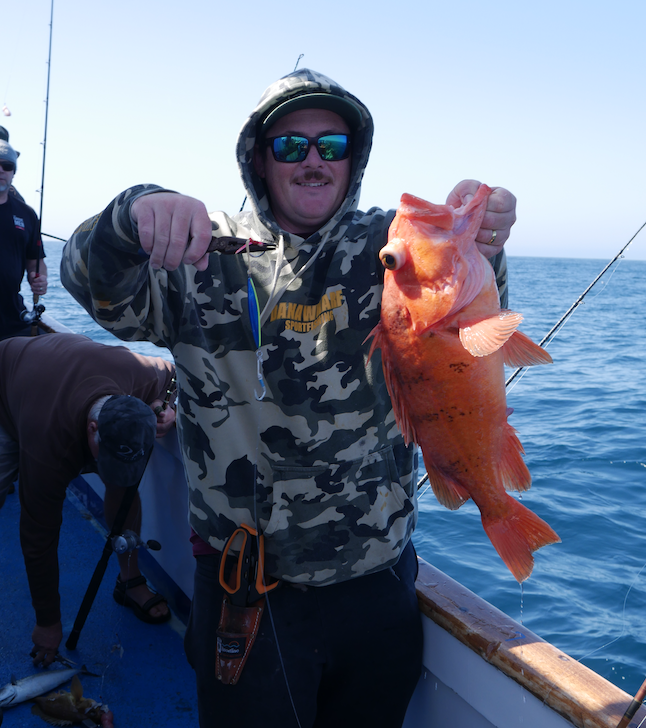 WON staffers and Fury anglers alike were keeping an eye on the wind forecast leading up to the trip, but Bailey was confident about this Friday run getting out prior to the blow that did ultimate slam the door on countless trips over the weekend. While full rockfish sacks headlined the game plan, it was also mentioned that squid have been around and yellowtail had been caught on several previous trips on the Fury. They gave it an honest shot from well before gray light in the right zone, but there would be no forkies on this trip.
From that point, Bailey worked to set up optimal drifts over historically productive rockfish spots in his playbook, and it only took a handful of them to plug the big plastic tote on the Fury custom-built to keep fish cold during a full day of island fishing.
Double dropper loops with 8- to 10-ounces of weight and 2/0 or 3/0 hooks were what got the job done as the Fury drifted over spots that on the low end were still a decent pick on bottom grabbers while the better deep rocks gave up flurries of doubles featuring very nice fish. The few guys dropping jigs got their fill as well with most of that damage coming on Flat-Falls and a heavy, red iron. A nice cowcod was among the jig eaters, and that fish was successfully released with the aid of the onboard "descending device."The bait tank had plenty of 4- to 5-inch sardines, but squid strips took the top spot on the bait side of things.
When the Fury was closing in on rockfish limits, Bailey called it quits on the deeper stuff and slid the Fury into shallower water to finish the day with a different flavor of bottom fishing for a different variety of fish. Mixed rockfish still came over the rail, but sure enough, the group would finish strong by piling up whitefish, a half-dozen sheephead and a quality lingcod.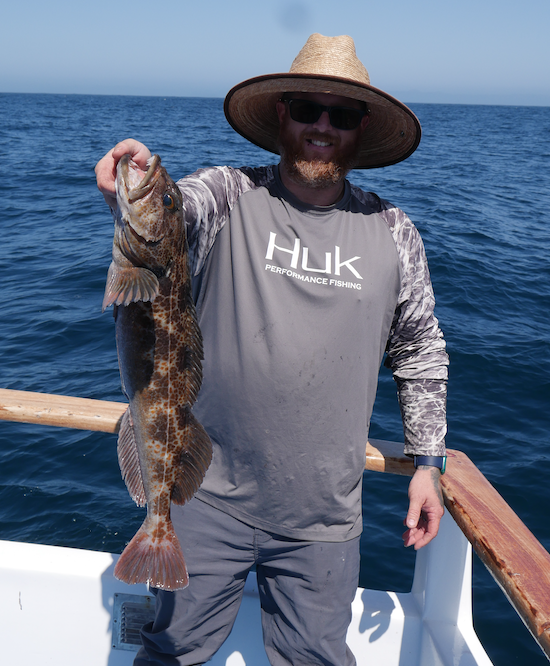 The ling was caught by Perris angler Josh Widmer who was on his first overnighter. That fish was in the jackpot conversation, but a big vermilion he caught earlier in the day ended up holding off all others at JP time. Along with the cash, Widmer picked up a $100 credit for Huk Performance Fishing Apparel (which he happened to be wearing) and a spool of Berkley ProSpec Premium Braid, both WON charter sponsor prizes that are a part of all WON charters. Sponsor giveaways going to each passenger included a Gamakatsu tackle box, and a spool of HI-SEAS Fluorocarbon all stuffed into a handy dry-bag.
On this particular trip, a passenger-supplied Bluetooth speaker provided background music consisting of a respectable mix of oldies, classic rock, '90s metal, early-2000s cheese and a sprinkling of standards from various titans of yacht rock. That, for better or worse, inspired impromptu karaoke sessions from anglers and even crew throughout a day that featured better-than-expected conditions considering the weather that was slated to arrive as early as that night.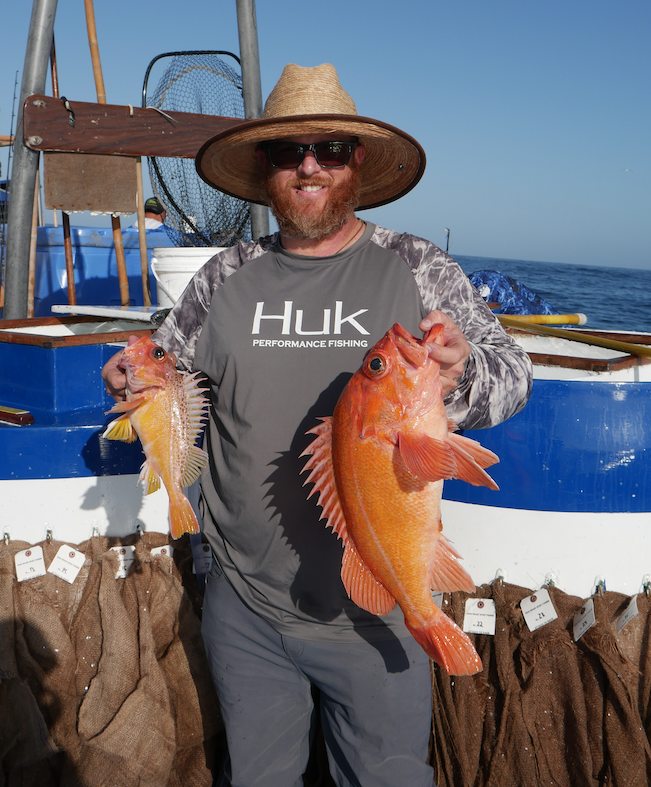 This group of anglers was the type that make any trip fun: zero egos, plenty of humor and ribbing an easily-detected appreciation for "just being out here" across the board along with a smattering of off-color jokes. A casual observer might think they were all buddies before boarding the Fury. While that wasn't the case when got on it certainly was when they got off.
That was one of two recurring themes in the conversations on the way back in from this trip: how great of a group it was to fish with, and the lofty performance level of the Fury's top-notch crew.
The final tally for the trip was 210 rockfish, 111 whitefish, 6 sheephead and a lingcod for 21 (this WON editor covering the trip got in the game, too) anglers.
To see the full WON charter schedule for 2022, click HERE.