BY DYLAN DEPRES
With a new fishing license and a new set of fishing goals I jumped on board with my friends on the Victory out of Long Beach Sportfishing. They'd had some nice fishing in the last week with limit-style sculpin daily and hit-or-miss coastal bass fishing. It seemed like a worthy gamble to take with 80-degree weather predicted and little to no wind.
Captain Phil announced our plan first thing and informed us that we'd be spending a lot of time in the deeper water for sculpin before heading shallow. He mentioned the "catching" in the shallow water the previous day was miserable. The suggested rig was a leadhead and plastic (tipped with squid) on a single dropper loop above a 8- to 12-ounce torpedo sinker. My weapon of choice was a red AA Baits Scampi. The "trick-rig" is to have your dropper-looped plastic just a few inches above your weight so your presentation is right off the hard bottom. Everybody prepared and we motored out to the deeper sculpin zone by the rigs.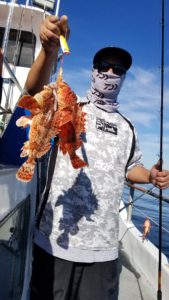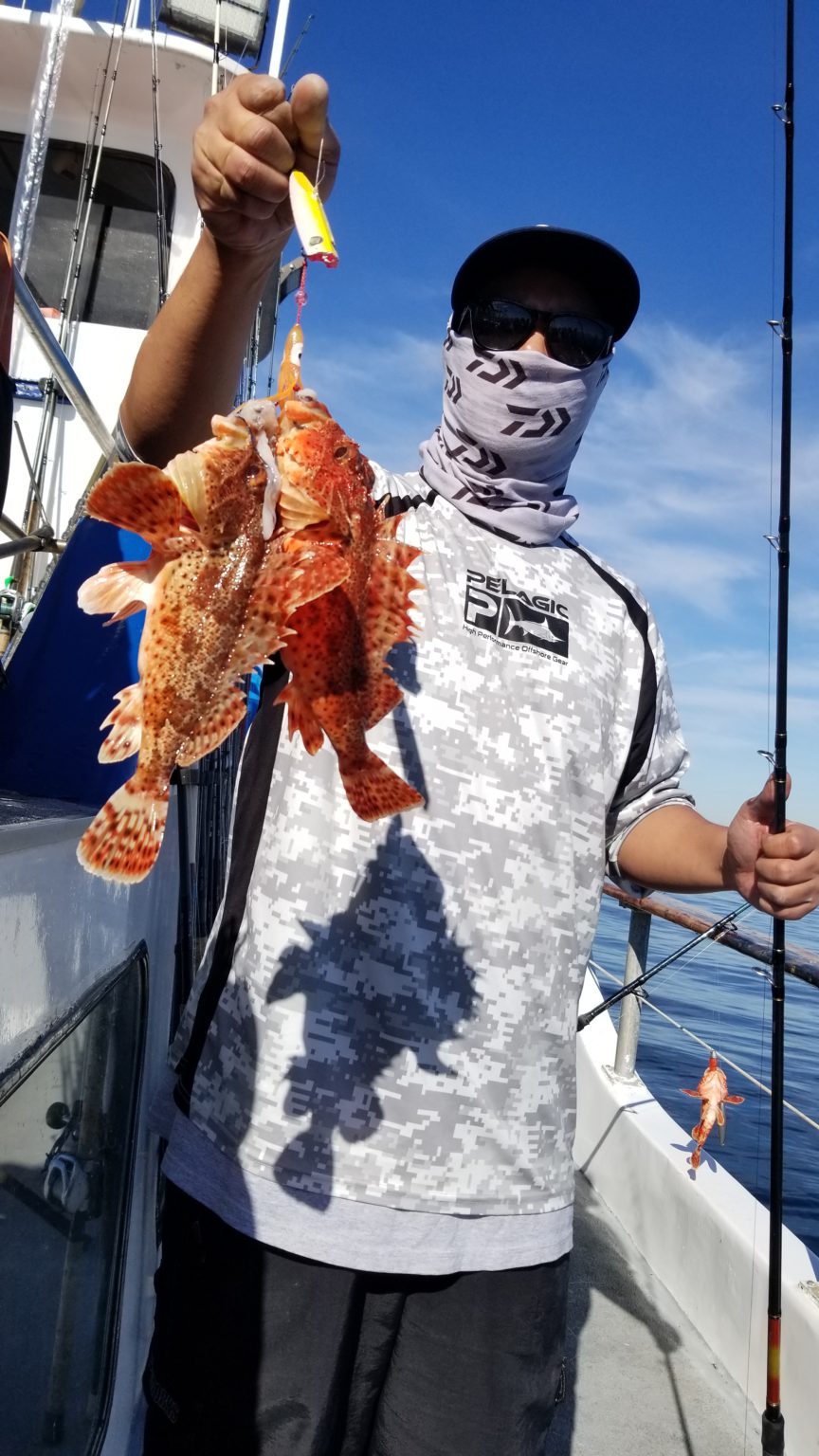 It was a busy-body bite which wasn't a bad thing. We fished between 200 and 250 feet of water. With a fresh piece of squid it was near-instant bites when we were on the spots. Anglers sorted through the shorties to sack up some prized legal sculpin, and anglers who fished a bare hook rather than a plastic hooked more small rockfish which needed to be descended down. Catching, releasing, keeping and streaking on legals was the program. After a couple hours in the zone, everybody who fished the suggested rig had near-limits or better in their bag. There were a couple exotic double hookups on artificial jigs, including Arnell Benitez's double-legal on the Daiwa Rock Rover jig tipped with squid.
In the afternoon we swung closer to the inside trying a few shallow water spots for sand bass and perch. Regular angler Michael Macdonald mentioned that fishing the shallow spots can be like a chain-reaction. If we could get the perch fired up, the bass could follow suit. The blacksmith perch on this day were nice ones, with some of them around and over 10 inches. Great consolation fillets for those who didn't want to grind out a bass.
It wasn't until our second stop in the shallows that a bass found its way onto our lines. Chris Martin of Daiwa landed the first two of the day, a short calico then a fine legal sandy. A few other rods went off and hooksets were swung. Some big structure sculpin were welcomed aboard. I had been fishing for perch at the start in the shallows as I wanted to get 8 or 10 of them in the bag. Once the action picked up, I grabbed my leadhead rod.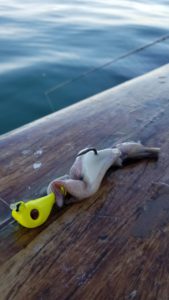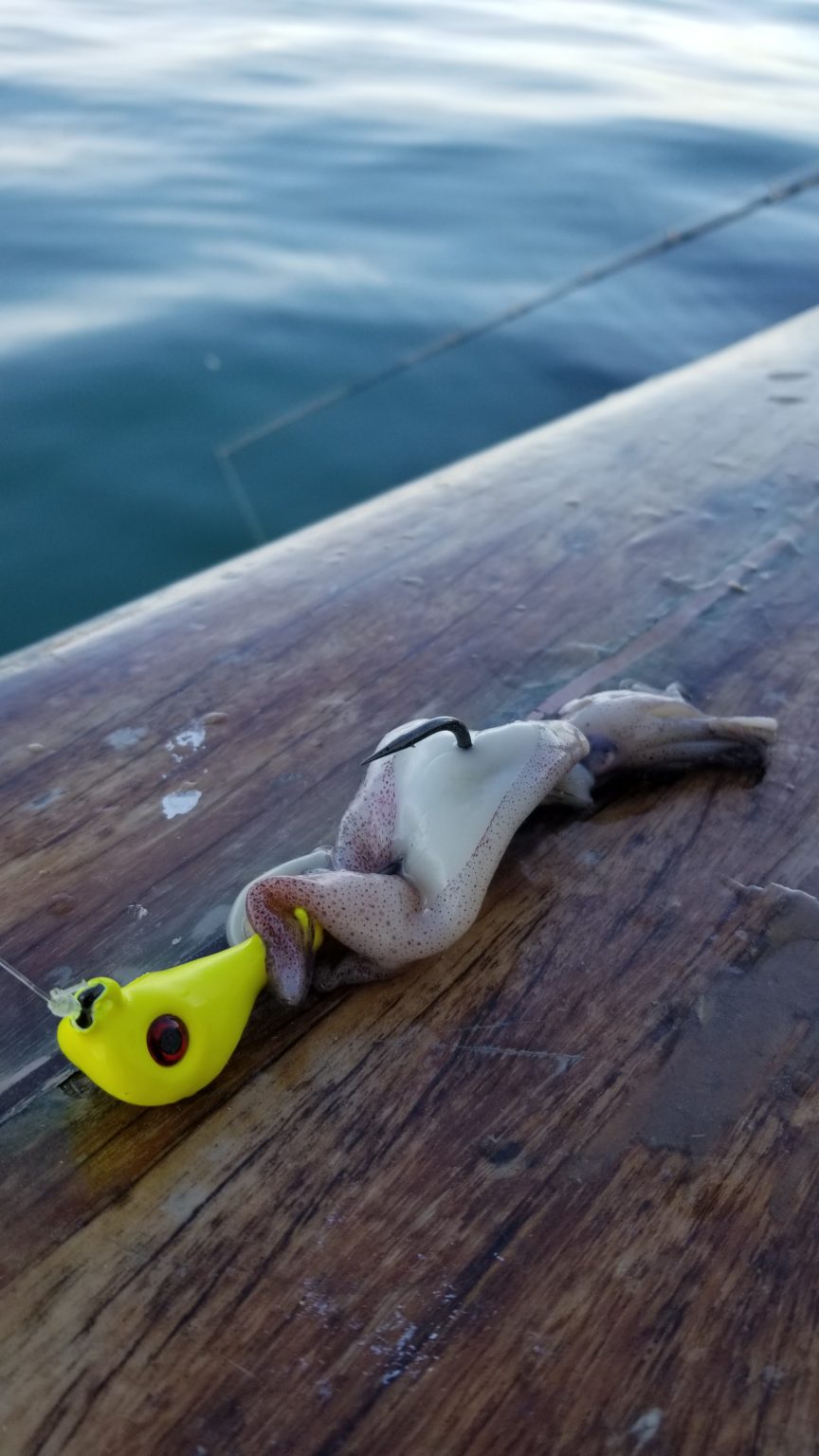 It was key to watch not only who was getting bites, but who was getting stuck in the structure. The better gamefish were biting tight to the rocks. I managed a few bites, with the first of them being a quality 3.5-pound sand bass. It was fun to get to swing a rod at a bass on my first outing of the year! In short order, on the same spot I was bit a few more times. I wound in a 13.5-inch sandy, and another better one flipped me the fin and shook off on the way up. Some keeper sheephead bit lines in the shallow water, too, and successfully swam off as anglers released them (season closure!)
Our day ended with 2 legal sand bass, dozens of perch for who wanted them, and limits of sculpin all-around. It was a nice local outing for putting some white-meat fillets in the bag, January to boot.