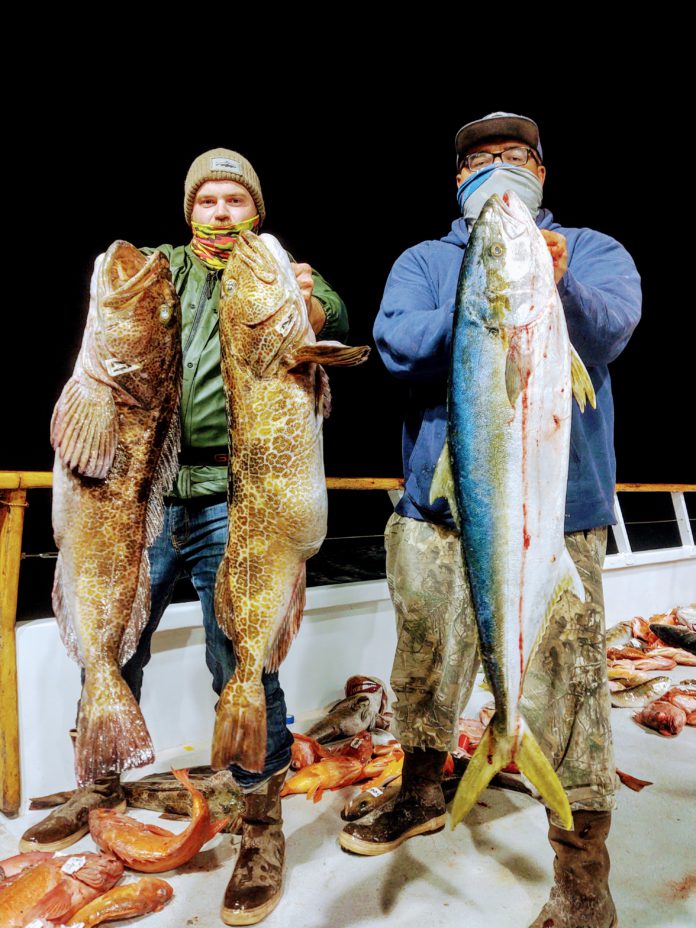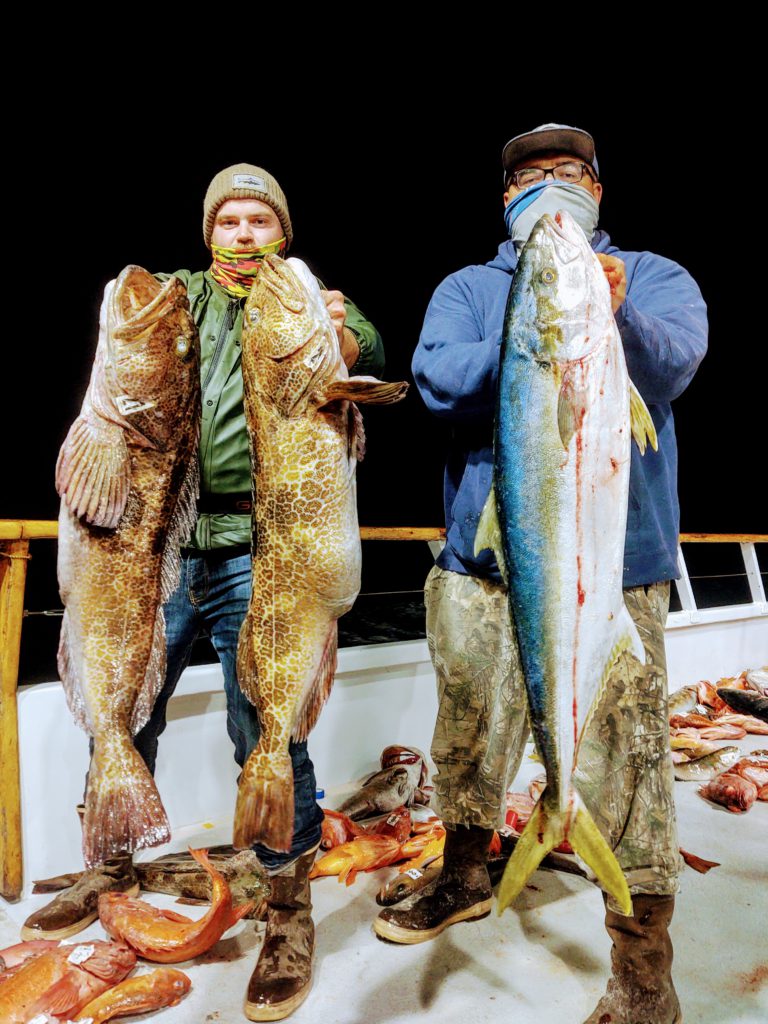 SAN DIEGO – I packed the truck and headed down to H&M landing in San Diego to jump aboard the Ocean Odyssey for a 1.75-day trip sponsored by fishing.evike.com. We departed the dock at 11 a.m. sharp after Captain Rick Scott, owner of the Double O, already filled the bait tanks with live sardines.
We were on a straight shot out of the harbor, and two hours into the trip we were south of the Coronado Islands coming up on a high spot to fish for the first part of our day. The captain turned the boat, shut down the motors and we were fishing.
This spot produced a good number of rockfish from vermilions to some starry-eyed rockfish and many other varieties. We were already well on our way to get our first day limit of rockfish for day one. The last set, angler Larry Moore hooked up to a good lingcod and all of a sudden a sea lion appears and snatches it and it was gone. The sun had just set, so it was time to continue on to Punta Colonet.
For the next few hours, most of the anglers stayed up sharing fish stories getting to know each other on board. With such a big galley area and space on deck, there was plenty of room to spread out. After a night of traveling, we finally arrived on the grounds around 6:30 Saturday morning.
The captain got on the intercom and said he was already marking fish and told everyone to get ready. As soon as the motors turned off it seemed like the fish were just waiting for us, and it was non-stop action almost the whole time we were drifting on the spot. Once we drifted off the prime spot, we had to reel up and reset. Around 10 a.m. while resetting, the Captain marked a few yellowtail on the meters so I quickly grabbed my yo-yo set up and waited till we were set.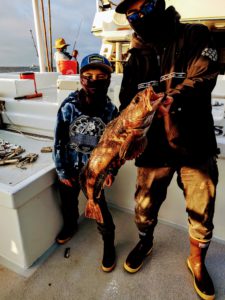 Now, the way I was set up wasn't your normal yo-yo rig. I used my Jigging Master underhand reel and JM jigging rod and tied on a Savage Gear squid bait dropper loop-style.  Since it's not very heavy, I tied an 8-ounce torpedo to get me down to the bottom — however, I still fished it like a yo-yo iron. My second drop about halfway up it got slammed and I was hooked up to a 19-pound yellow, which ultimately ended up being the jackpot fish for the trip. We hooked five forkies in total and managed to boat three. We even saw a huge blow-up of bluefin tuna that made a lone appearance.
The Pacific Queen was not far behind us, and they actually hooked up to one in the 100-pound class but lost it before they could get a gaff in it. Just as soon as the bluefin appeared, they had vanished.
After we continued rockfishing, the action was still on fire all day until the sun went down. As a boat we almost had full 2-day limits of rockfish up to 8-pounds, almost 2-day limits of lingcod to 15 pounds, and three yellowtail up to 19 pounds.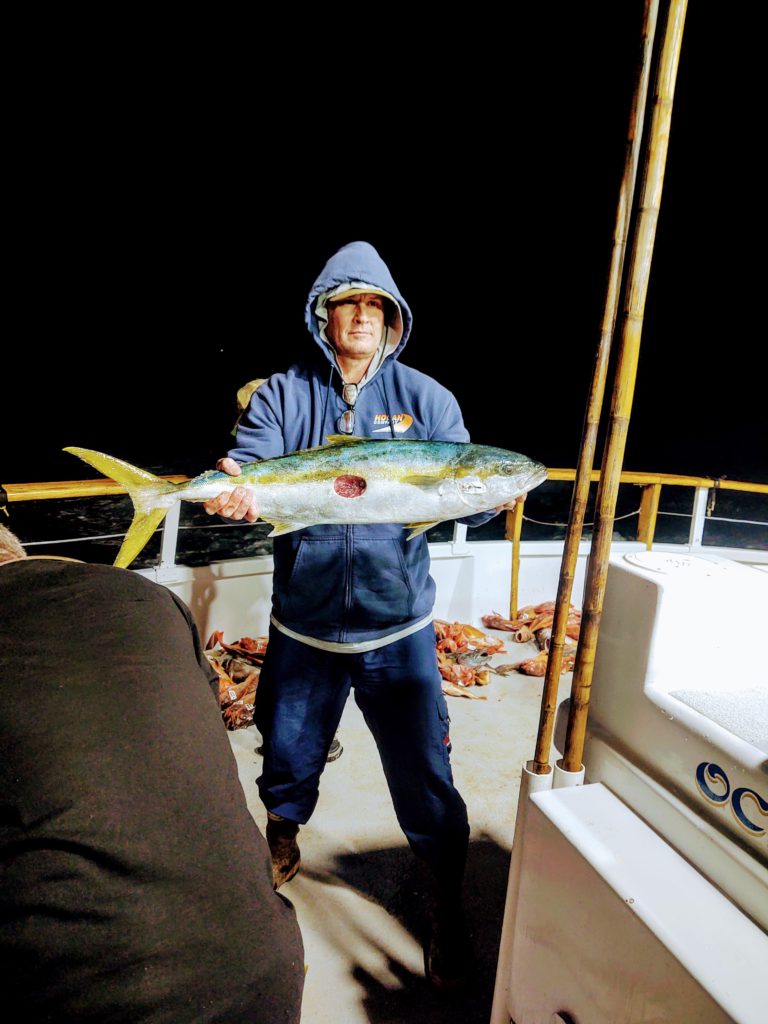 Everyone on board fished hard all day, so by the end of it everyone was ready to eat some dinner and go to sleep. It was definitely an epic trip and a great way to start 2021 on the ocean.
The Ocean Odyssey has Punta Colonet trips departing every Friday and returning on Sunday moving forward. For this trip you do need a passport, but on their trip all meals and a Mexican fishing license is included. Www.oceanodysseyfishing.com is how you can book a trip for yourself out of H&M landing.