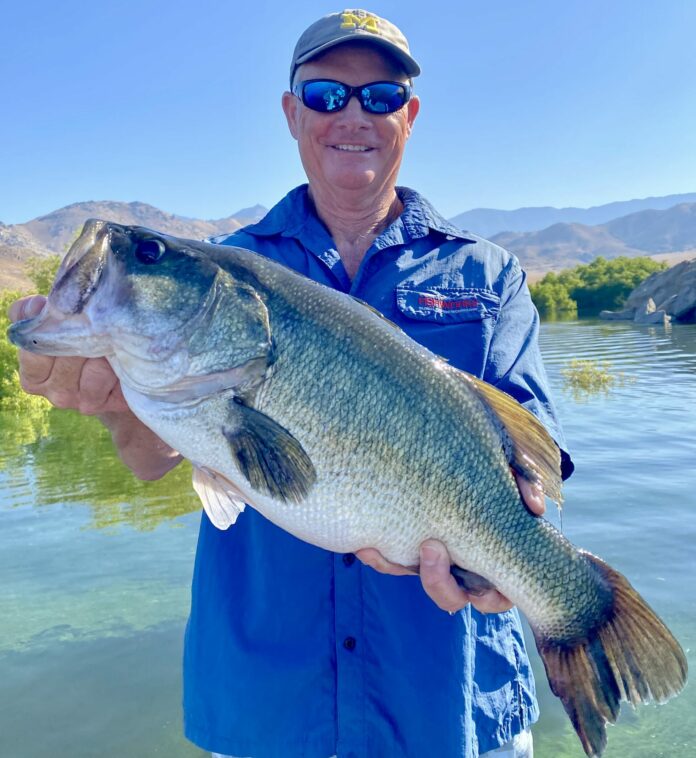 LAKE ISABELLA – Out of all the lakes in the state that got major facelifts thanks to this winter, Lake Isabella is one of them that is getting attention outside of the fishing world since its new look is a lot more dramatic than most. At first, anglers had to deal with crazy conditions ranging from floating debris to dangerous conditions brought on by larger, newly submerged objects, but as conditions stabilize fishing got really good really quick.
Bass numbers spiked first, but the quality was not far behind and the double-digit trophies Isabella is known for this time of year are starting to show up. Guide Rusty Brown (RustyBassHook.com) recently put Chris Hendrickson in position to land a 10.15 pounder on a Rapala DT10 crankbait in crawdad color worked through 10 feet of water along a rocky bank Brown told Western Outdoor News the water temp was 73 degrees with about 4 feet of visibility when his client made that noteworthy catch.
In addition to that one, Brown says Lake Isabella's bass scene has been a productive one overall.
"Isabella is fishing pretty solid right now," said Brown. "Bluegill-color chatterbaits, chartreuse/white 1/2-ounce spinnerbaits, Texas-rigged 8- to 10-inch worms in green pumpkin, or watermelon red flake and also DT 10 Rapala crawdad or shad cranks have been producing. Lime Dyke, Rocky Point, Camp 9 and the Tilly Creek area has been good. Water temps are low to mid 70s and the lake is almost full, and summer bassin' should be good all the way through fall with lots of flooded bushes and submerged rock piles. Covering water is the key right now with some shad popping up in the shallows. They are healthy and so are the bass chasing them."
The lake level is up over 70 feet since January 1 and it's less than five feet short of full pool.