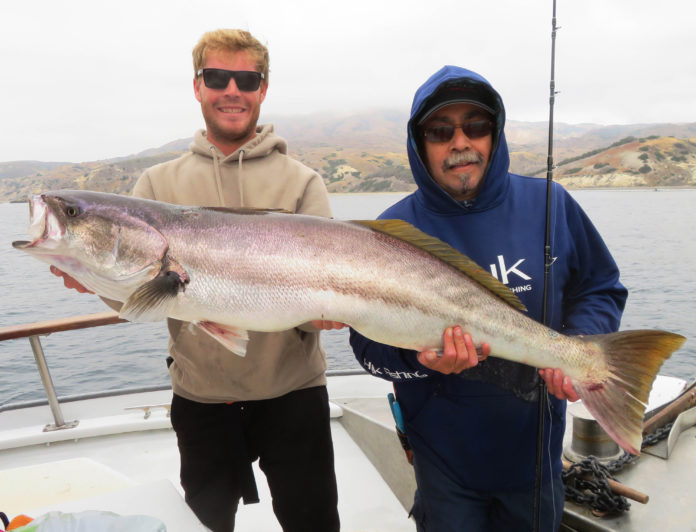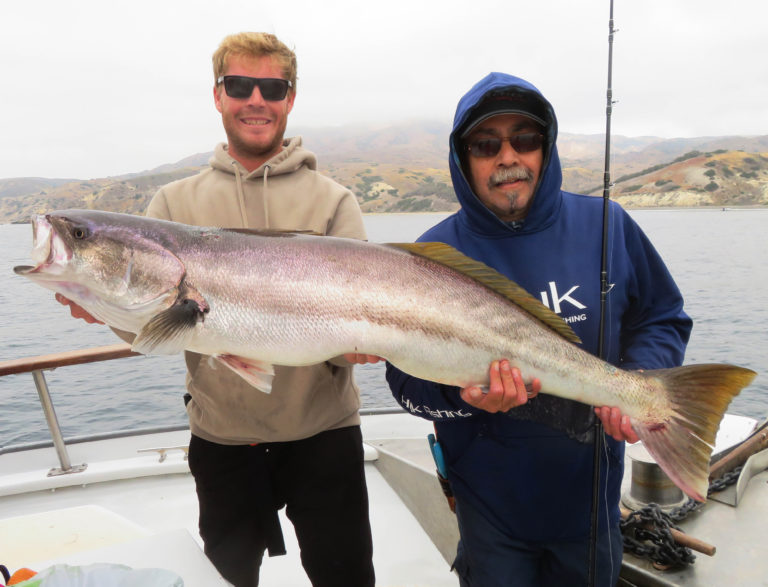 BY BOB SEMERAU
OXNARD — One of the best things about being a staff reporter for Western Outdoor News is the number of great people you meet while fishing and telling their stories. Bigg Lou Terrell and his son Ty (shout out to brother Herb, as well) come out on many of the charters to the Channel Islands WON runs each year, and recently Bigg Lou gave this reporter a call.
A group of Marina Del Rey Anglers club members were putting together a charter aboard Aloha Spirit out of CISCOS in Oxnard, smack in the thick of white seabass season, and Bigg Lou wanted to know: did I want to get on board?
The seabass bite had been strong for days with limits on most of the local boats, when the 19 anglers loaded up the 50-foot sportfisher. Captain Kelly Carlberg gave a quick but informative briefing before tossing the dock lines just after 4:30 a.m. to begin the short hour-and-fifteen-minute run to the east end of Anacapa Island.
Plenty of other skippers knew the bite was on and we joined a fleet of boats hunting white sea bass, the ghosts of the Channel Islands, as daylight broke under gray skies.
Dropper loops were carefully tied and big 6/0 Aki hooks hung down into the 45-foot water tipped with live or fresh dead squid. In short order the affable young cook aboard Aloha Spirit, Sam Whelden, showed how it's done, putting the first fish of the day on the deck with a 28-pound WSB. Everyone would get a piece of that fish to take home.
Looking across the water in front of the boat on sonar, the skipper found small clusters of the tanker seabass roaming the area, stopping the boat to drop baits down each time. After a few minutes if nothing bit, Capt. Kelly would call for all to quickly reel up and get back on the hunt.
Angler Paul Abdon connected next and boated a 30-pound white seabass off Anacapa's backside, as did 18-year-old Tyrone Terrell. Ty's fish was his first ever WSB and the angler did a great job of getting the fish to gaff.
With the bite slowing around 9:00 a.m. Aloha Spirit made the move over to Santa Cruz Island and found another CISCOS boat, Graylight, finishing their limit alongside the island. Not long into the hunt the call to drop down came and the first to get bit was 14-year-old, Matt Flowers. Matt had come out with his cousin Demetrius and Uncle Ron Flowers, for this first time chasing white seabass. Matt had a time of it, but with the help of deckhands Angel and Gage he managed to boat a feisty 22-pound fish.
Big fish honors for the trip went to Marina Del Rey Anglers member, Ramone (Ray) Morales, besting a 40-pound-class tanker WSB to win the b