BY MIKE STEVENS
JUNE LAKE – Following a casual dinner conversation, a group of friends took an impromptu road trip to the Eastern Sierra with a mutual understanding that fishing would be no higher than third priority. While all adventure and sight-seeing boxes were checked, an absolute unit of a German brown trout decided to make this a fishing trip after all.
Regardless of the game plan, the party responsible for bagging the double-digit class fish were using Silver Lake Campground in the June Lake Loop as their base of operations which put them smack-dab in the middle of trophy brown trout central. The group also consisted of experienced if not professional anglers including long-time brown bagger George Dutton of Garden Grove and commercial fishers Reece Stratford and Paige Phillips who were visiting from Alaska.
"We were talking over dinner, and the next thing you know we're up at Rush Creek," Dutton told Western Outdoor News. "I know that place like the back of my hand, and have been fishing for big trout up there since the '80s."
They were fishing nearby Grant Lake and Silver Lake before the wind pushed them off, so they headed back to the campsite to regroup. They moved into Rush Creek and started casting into some pools "a stone's throw from our campsite," and it didn't take long for them to connect.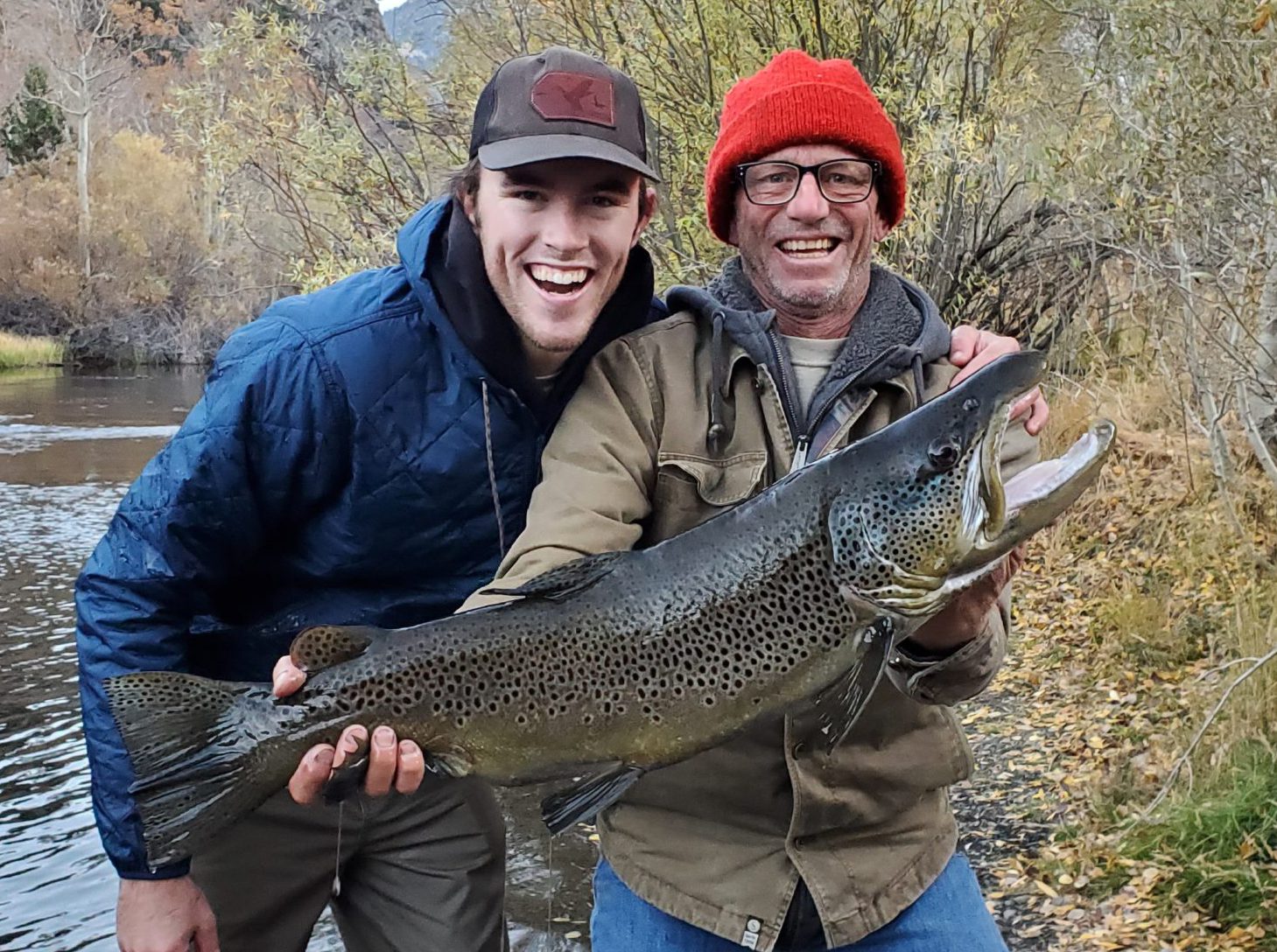 After catching a nicer stocker rainbow and a decent brown, Stratford hooked a huge trout on a gold and red Thomas Bouyant that exploded upstream. He had no choice but to hand the rod off to Dutton so he could get around a tree that was blocking him from following the fish along the shore. When Stratford was back in the water, Dutton handed the rod back to him and took off running to retrieve a net from the campsite. He spotted a bigger net in a stranger's campsite, asked if he could borrow it and found himself sprinting back to where the battle was taking place.
"It was kind of wild running into someone's campsite and grabbing their net because ours wasn't big enough," said Dutton. "I don't think I've ever run that fast in 55 years!"
When he got back, Stratford handed the rod back to Dutton, and both Phillips (a native Alaskan and commercial halibut/salmon Captain) and Stratford were shoeless and in the water, one upstream and one downstream of the fish as they worked to corral it into the net. Despite the size of the fish, the obstacles in their way and the fact they were only connected to the tanker trout by 4-pound test, Dutton said the whole ordeal from hookup to done-deal didn't take more than 5 to 7 minutes. Phillips also spent some time on the rod and reel in the second half of the ordeal
"We all ended up in the water, and it took all three of us to catch that fish," said Dutton. "It was in all of our hands. That was the only way we could have caught it, and that was truly the biggest trout I've ever tangled with."
Without anything to measure or weigh it with, Dutton's estimate was around 12 pounds, Stratford's call was 11 when he first picked the fish up out of the water and Phillips thinks went 11 or 12 but "I don't think over 13."
The big brown was released back into Rush Creek where so many big fall browns are caught. In an ironic twist, this is a stretch of creek that will not be open this time of year if new proposed trout regulations are put into place in 2021, which is the likely scenario. That particular update to the regs is intended to protect the big brown trout that move out of Silver Lake and Grant Lake to spawn from inexperienced anglers that are more likely to mishandle such fish. That was not the case here, with three experienced anglers familiar with the best catch-and-release practices, but this catch did serve as a great example of what needs to be protected.
"When it was over, all three of us were shaking so bad," said Dutton. "We were just sitting there and laughing."