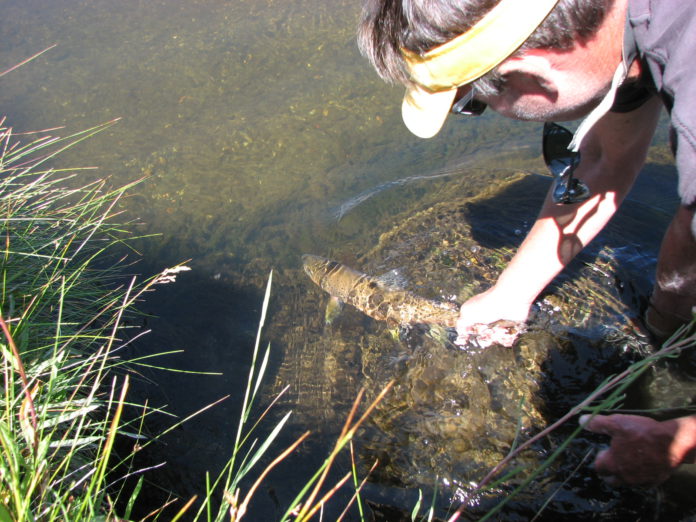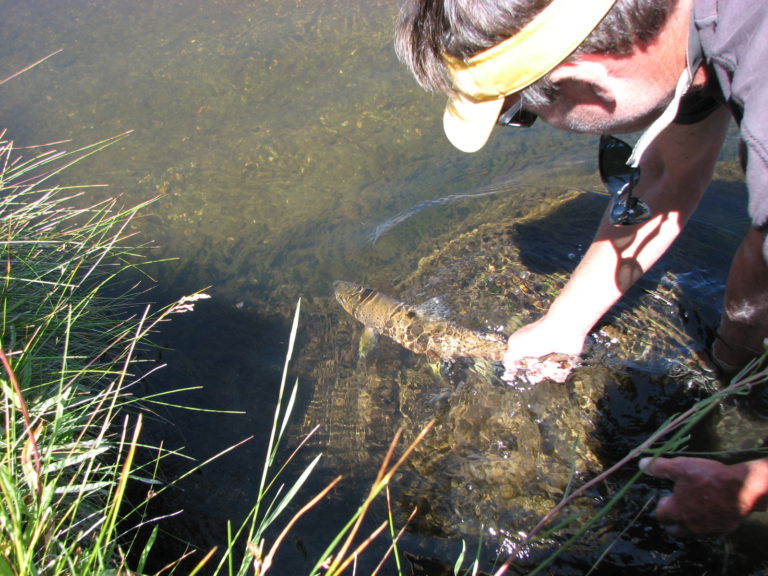 BY MIKE STEVENS
SAN MARCOS – From the first fish to the last cast, there are stages an angler moves through over the course a lifetime of fishing. While the specifics can vary, the general path is shared by most anglers, it seems, and all of them can recall when and under what circumstances they ascended to the next step. Writing about this journey is nothing new, so in this one, I added local flavors and personal accounts of my own trip.
Initial Hookup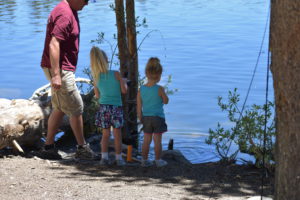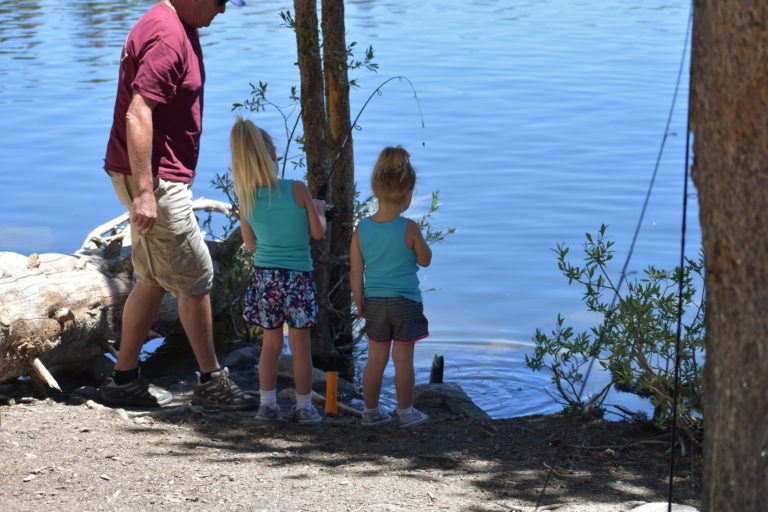 Everyone remembers their first fish, or at least they know the story of it, but this stage stretches beyond that first bluegill in the bucket. The young angler is going to be sold after that first catch — that you can bank on — but that fire can burn out relatively quickly if he or she isn't lucky enough to have a mentor on hand to get them on the water with some level of regularity. Those follow-up outings are where they learn things like patience, avoiding distraction and the hard truth that sometimes, you're not going to catch anything. Graduation day from this stage is when a kid starts asking "when can we go fishing again?"
My first fish was a Lake Hemet bluegill. Actually, my first 20 or so fish were Hemet 'gills because I do remember them biting everything that hit the water. Like many of us, it was my grandpa that made that trip happen. He always had a motor home, so follow-up trips brought me (and my brother, who took longer to exit this stage than me because when he saw ducks, the rod was dropped and he was on the chase) to a lot of membership campgrounds with ponds, a couple local lakes, the Kern River and ultimately, Montana. My dad got in the game when I was a little older and took us to Crystal Lake in the San Gabriel Mountains before upgrading to the Eastern Sierra when I was about 12, and those trips never stopped.
Numbers Game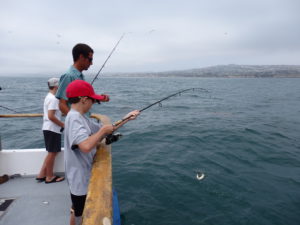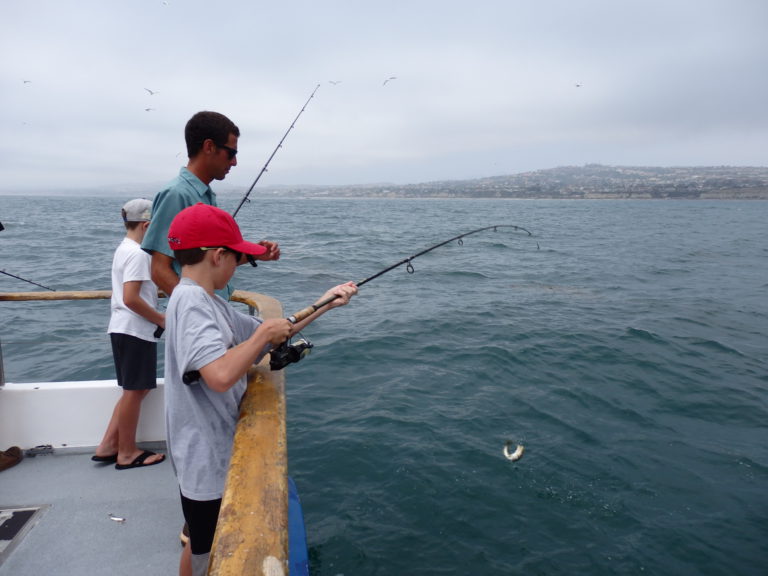 What you have now is an armed angler: second-hand rod-and-reel combo, two-tray tackle box (that has to include packs Eagle Claw snelled hooks and one of those red hook disgorger things… it's a rule) and a firm grasp of how this fishing thing works with a fair number of successes and skunks in the rear-view mirror. Catching fish is starting to become a mission, and despite that knowledge that some days are fishless, an empty stringer is a bummer. It's now a "best bite" situation in which the angler is going to target whatever is biting regardless of what it's biting on. For freshwater, it's a lot of Carolina rigs, bobbers or split shots. Nightcrawlers, floating baits, shiners and crawdads are all top options at this point.
If saltwater is in the mix, be it boat, beach, jetty, bay or lagoon, just getting bit remains top priority. Shore anglers are putting in work with sand crabs, bloodworms, cut baits, mussels, stuff that a wide variety of inshore gamefish might pick up. First sportboat trips are learning the routine on a boat and lessons in fishing with live bait: fly-lining, sliding-sinker rigs, bait selection, line management at the rail, listening to deckhands and making sure to puke over the rail rather than in a booth in the galley.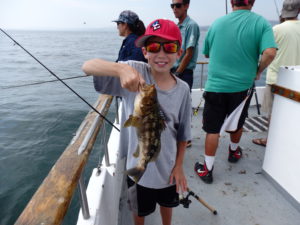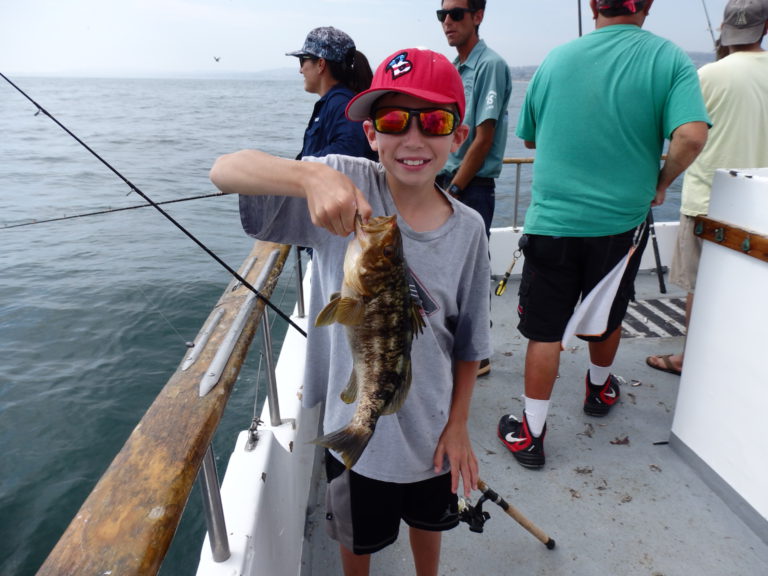 I remember it being all about the scoreboard, in fact, I fall back into it from time to time on local trips along the coast. Under certain circumstances, I've been known to just see how many calico bass I can boat on nothing but plastic. When I get home, I don't tell people how many legals I caught (I don't keep them anyway), I say something like, "I caught 32 all on plastic." No need to mention they were all 13 inchers! I also keep track of my fish total on Sierra trips, which at this point is more for data and curiosity than anything. I've just been doing it too long to stop. But yea, there was a time in my pre-teen years where the hash marks were all that mattered. It was also a time I was constantly reading Field and Stream, Sports Afield, Western Outdoor News and any tackle catalog I could request free by mail. Pouring over those catalogs got me all squared away as far as lingo, current gear and different methods of fishing
Fishing whenever possible
This is an important evolutionary period. At this point, the angler now has fishing buddies, so everyone motivates each other. Ideally, one of them is 16 and has a car, because that's when the floodgates really open up. Seasonal vacations from school are still a thing, but having a job isn't. At least, not one that's going to eat up one's off time. This is when an angler really ramps up taking it upon himself to learn as much as possible from reading, listening to more experienced anglers, and trial and error. Still keeping tabs on the numbers, he's still not picky about the target species. If lucky, there was some water close enough to home to make afternoon fishing a possibility. It's all about free or low-cost fishing, but it's fine, at this point there's typically a starting rotation of spots that fit the bill.
I remember being 16 and bragging about the fact that I (along with my only fishing buddy with a car) fished every day of spring break, never repeating a location. Free or cheap: Agua Hedionda Lagoon, surf fishing in Carlsbad, the ponds in the canyon below the Lake Hodges dam, golf courses at night, we even fished the little pier inside Oceanside Harbor, dropping Sabiki rigs on smelt schools and providing other anglers (targeting worthy fish) with live bait. We'd take a $5 hit for fishing permits at local lakes and maybe another couple Lincolns for two-dozen shiners, but that was it. Before that level of vehicular access, I would spend that night at a buddy's house and his mom would drop us off at Dixon Lake at 6 a.m. Then I'd use the pay phone at the end of the day to call my mom for the ride home. The funniest thing about this period, is I don't remember ever packing food or eating at all.
Species specificity and bigger fish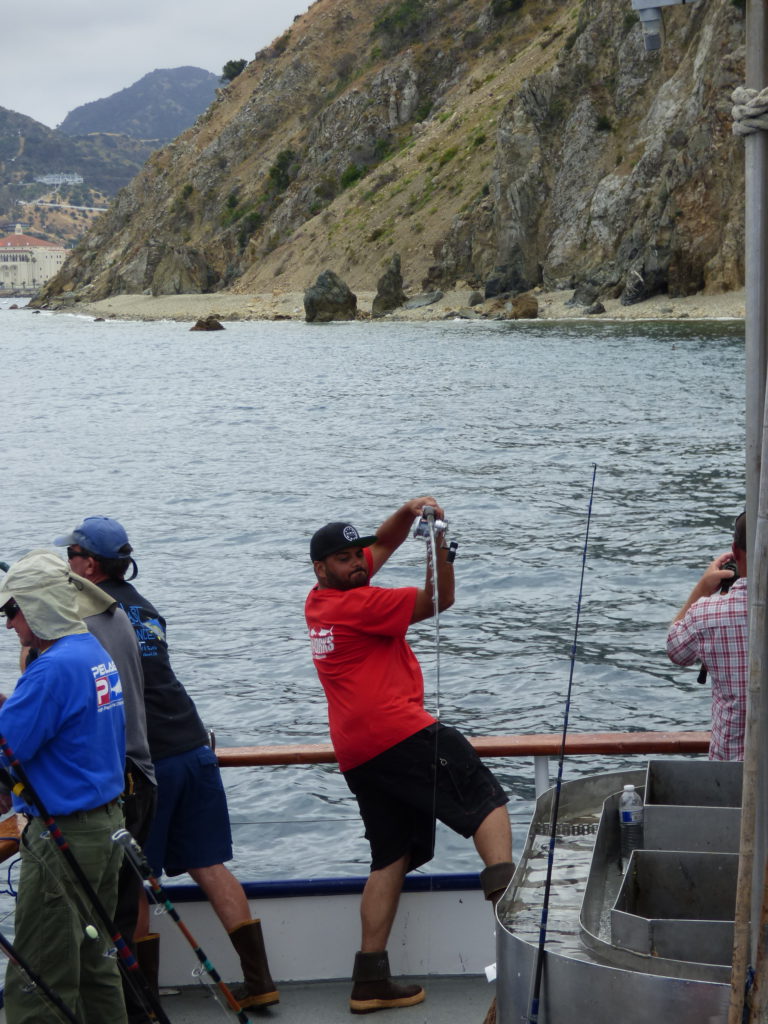 Skills are solid thanks to the previous stage, and it's time to get picky. Setting new "personal bests" are now on the dashboard of success. There is still appreciation for solid numbers, but now, if all that's biting is smaller models, it's time to switch something up. Salt fishers are keeping tabs on fish counts, weather conditions, water temp, the moon and other relevant intel. The three-quarter day got into yellowtail yesterday, so, that's where you're headed tomorrow. It's not all-or-nothing trophy hunting, but getting a photo with a nice one is now held in high regard. Tackle arsenal now features species specific tackle bags rather than everything in one big box and rods for specific applications and species. Lures or flies are now riding shotgun with live bait taking a backseat, in freshwater anyway. In the salt, you now nose-, collar- and butt-hook a 'dine, and you don't freak out if there's only pinhead 'chovies in the bait tank. Firsts of a species, "new PBs," biggie on light line, fishing the iron, it's all gold at this point.
The thing that most stands out from when I first entered this stage was the weird order in which personal milestones were set. My first, notable non bass, barracuda or bonito wasn't a yellowtail like almost everyone else, it was a dorado on an overnighter, and next came albacore of all things. After that, I checked off yellowfin tuna, and what seems like a relatively long time later, I finally landed a rat yellowtail on a half day aboard the New Seaforth. I mean, who catches a yellowtail fourth?
Tactical Snobbery
            The angler has now evolved to a point he can talk shop with anyone else who fishes. It starts with firsts: yellow on iron, trout on a fly, striped bass on topwater, swimbait largemouth, bluefin on the butterlfy jig and so on. Now, you may hit the water with a specific game plan, but it's not anywhere near the "I'm throwing nothing but the big swimbait all day!" level of obsession. Switching it up after an honest try is an option.
            However, staying on the bow with a jig stick without getting your hands wet for an entire 3/4-day trip is well within the realm of possibility. Shaming another angler for not catching fish your way is possible, so, some will one day look back at this era and realize they may have been a bit of a tool. Only artificials (or only the fly rod) go on Sierra trips, and the shiner/crawdad era is a thing of the distant past. It's very much a time to talk about techniques you shun than those you approve of. There was a time in which this rank of salt angler wouldn't be caught dead with a "coffee grinder" but West Coast fishing society has been progressive on that front (and the reels are light years better) so, there's no longer a real reason to remain in the spinning reel closet.
Let me just describe guys I actually know in this category:
– One trout guy first shunned floating dough, but salmon eggs and nightcrawlers were cool because "they're at least natural." Then it was lures only, jigs and Thomas Buoyants for years, followed by spinning gear not even making the trip. Later, he loosened up on the fly-fishing only, but his latest is, if it's not a fly, it's going to be a big jerkbait.
– I know a freshwater bass guy who won't use stickbaits (Senkos and the like) because, "they always work."
– Similarly, I once found myself on a half-day boat featuring poor conditions and very slow fishing. The one thing that was working on calicos was chunks of sardine with a light sinker. This guy I met on the boat who clearly a serious angler told me about his best bass caught this way, but he wasn't currently fishing that way. I asked,"well why aren't you doing it now?" His answer, even on a slow trip, "it's too easy."
Fly anglers take this to such levels they're really deserving of their own article. They all think it's the only real way to do it, but even in their own circles of poofy jackets and Patagonia hats, they attack their own. Some poopoo stripping streamers (too much like retrieving lures I guess) and others give no credit if a fish was caught on an attractor nymph that doesn't specifically mimic anything. And even those guys aren't immune to such attacks, because the top level of fly-fishing purists only approve of dry-fly fishing.
While anglers in this category can be obnoxious, it's usually the point at which the fish carnage you leave in your wake is at its peak.
"Unlicensed guide"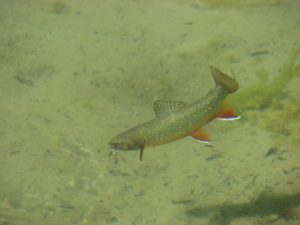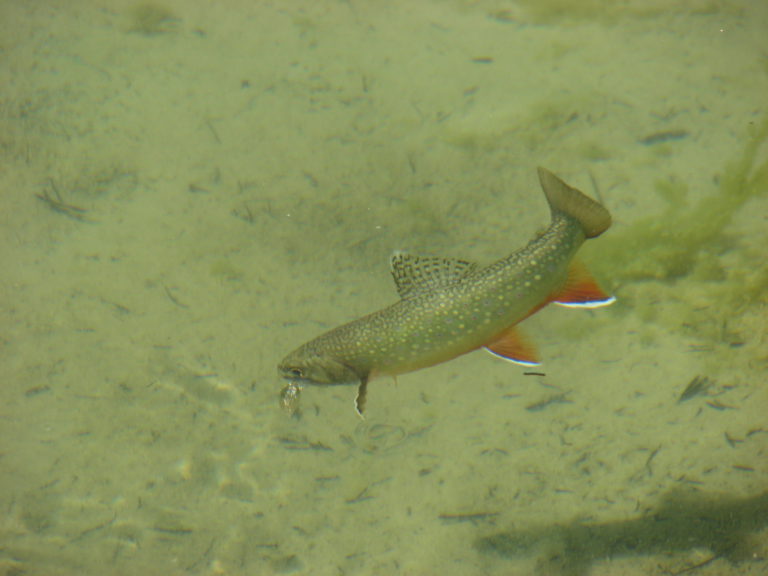 Eventually, it starts to become less about padding your lifetime fishing resume' and when you're clearly the authority on what's going on and you're fishing with anglers further down this timeline, putting others on fish becomes a priority. At this point, you're more likely to give up the honey hole, virgin water, hot bait or stern corner than the younger you. It might even be an equal in the fishing power rankings, but you've already got four and he's yet to hook up. Now, telling someone what to do or where to cast and it resulting in someone else catching a fish feels as much like your catch as his or hers. You're no longer trying to smoke everyone the rest of your party, but that's okay, because depending on who you're with, you've already earned your spot as an angling alpha.
This one is very situational, because no one is the top dog in every type of fishing they do. The same guy who's a Czech-nymphing Jedi on Hot Creek might be toward the bottom of the food chain at the La Jolla kelp or back side of San Clemente Island.
            This is definitely where I'm at in the Eastern Sierra. If someome I'm with is struggling and I notice an aggressive flash on a creek, and I know that fish is willing to bite, I'll wait for them to catch up and give up the hole. I've also inspired non anglers – or at the most, beginners – to take family trips up Highway 395, and I always fill up a starter trout kit for them. I'll give them maps, spots and basic rigging info, and I love when they come back at say they caught fish, or even better, "I can see why you've been going up there that long."
I've taken kids on their first sportboat trips, and I've been amazed at how quickly some of them pick up the routine and how quickly they are off and running on their own. Usually, I don't even pick up my own rod and plan on following them around for a couple hours, and I've noticed if the kid is at least 12 and has some freshwater know-now, they're on their own in that time frame, and that means, I get to be off on my own.
Loosened up
            There's little left to prove. You'll find elements of all these stages show up at one time or another. Some days call for numbers, others you'll go for big fish, you're not above throwing it back to a lower-tier technique and getting others hooked up is still a top priority. The setting, backdrop and whole journey is as highly-regarded as the fishing, and you're way more likely to create a great experience even through weak fishing. Destination fishing further than you've ever gone and even out of your element occupies a greater slice of the pie. The conservation light comes on, or if it was already lit, it burns even brighter, and through reflection, you are able to take it back to the beginning and pick individual moments within these stages that have made you the angler you are today.