BY MIKE STEVENS
PERRIS – Huge schools of shad continue to swarm all over Lake Perris, and while most of the bass are plugged with them, they're still willing to bite with plenty of anglers reporting double-digit numbers in a day on the water.
San Bernardino angler John Rowe and an outstanding day on Perris with his dad, Gilbert, who holds three IGFA line-class records for spotted bass at Perris and formerly held the all-tackle high mark. The Rowes teamed up for a total of 21 fish between 6:45 a.m. and 2:45 p.m., but the highlight of the day was when Jim caught an 8.3-pound largemouth only to bag a bigger one a few casts later.
"Fish were busted shad near Power Cove," said John Rowe. "Around noon, a monsoonal front came in with light rain and heavy clouds, and fish became super active. I caught the 8.3 and three casts after taking a few photos and releasing her I caught a 9.1. These fish are stuffed with silversides and shad."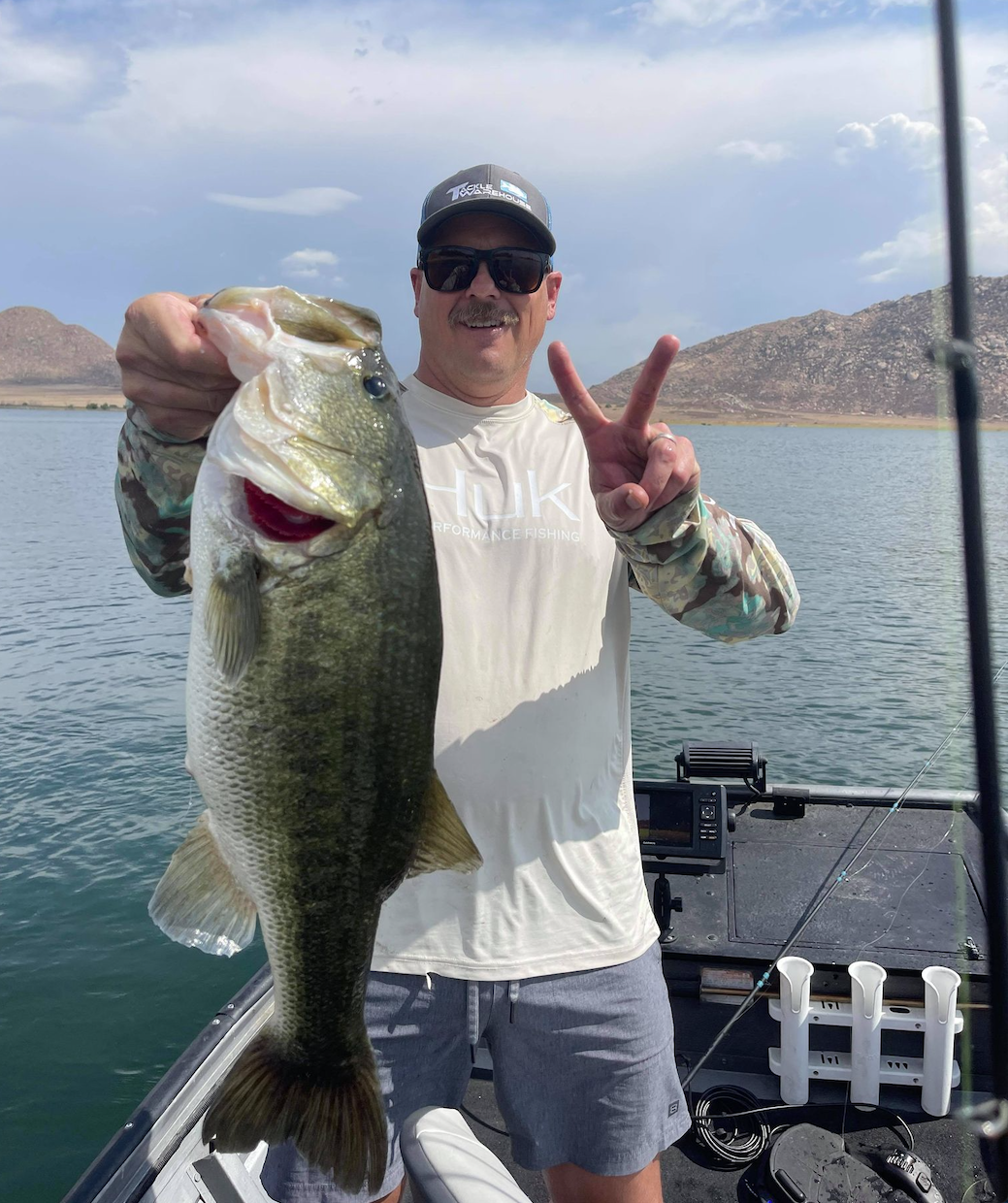 He went on to tell WON he's never seen schools of baitfish as thick as they are now (and he's a lake regular), and he also bagged a couple right around 5 pounds to go along with a few in the 2.5- to 4-pound range. His dad also had a 5 and some going 3 to 4 of his own, and they were doing the majority of their damage on small spoons fished vertically, double-Fluke rigs and underspons on 10-pound fluorocarbon.
"I also lost two I couldn't stop in the tree line," John added. "Incredible day."
WON reader Al Lecesne hit Perris with Jim Slack and the duo combined for 20-plus bass in the 2- to 3-pound range. They did most of their damage on Yamamoto Fat Ikas, but the big surprise was a 10-pound catfish that picked up a watermelon Ika worked by slack. They were fishing in 15 to 20 feet of water all day in various spots on the lake, and Lecesne told WON the water was 78 degrees all day.
Other anglers hitting Perris lately did well on topwater, especially the Strike King KVD popper in white, football jigs, and worms on a darter head. WON's regular contributors of Perris Reports James Montes and Kenny Baldwin actually hit the lake together in recent days and killed it in predictable fashion.