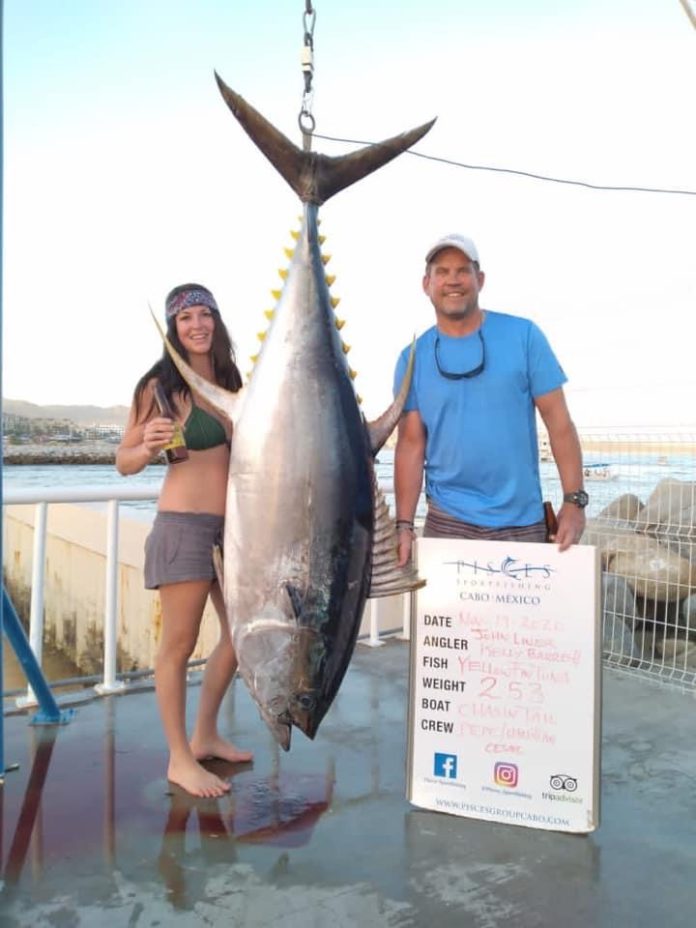 Meanwhile, southern Baja is cranking with a 253-pound yellowfin caught just two miles off Cabo, with tuna, dorado and wahoo highlighting fall action at Lands End
PAT McDONELL
CABO SAN LUCAS – Cabo just keeps rolling along on the tuna and dorado scene and some of those tuna are the bigger grade when running with the porpoise. And sometimes those porpoise are right off the Cabo Arch.
Last Thursday and Friday the Pisces Sportfishing charter boat Chasin' Tail had what could be termed a fairly tough day on the outside at 30 miles, working the temp break. They had released one marlin and were two miles from the harbor when the captain spotted porpoise feeding, and five minutes after dropping in the lures, a big boy jumped on.
The charter customers, John and Kelly, pulled on the tuna for 90 minutes and when it was weighed, it tipped the scale to 253 pounds, one of the biggest tuna of the season. The previous week a Florida man caught a 310 pounder while trolling a skipjack at the Gordo Bank just 8 miles out from San Jose Del Cabo, so a big tuna is always possible no matter where you are.
On Thursday, the Pisces 42 footer Whiskey and angler Robert Edleman had a heck of a day, getting a 136 pounder, a 40 pounder and four striped marlin, all released. The Bill Collector that day had 9 yellowfin including a 190 pounder, plus 15 dorado. Pretty spectacular action.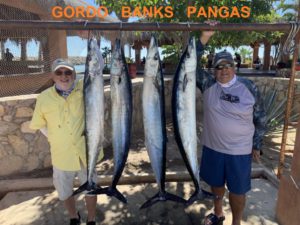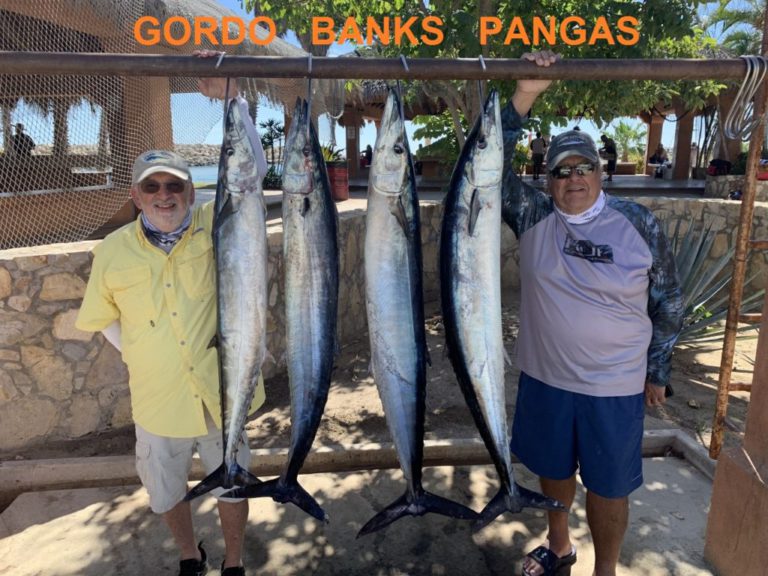 BAY OF L.A. – Ulrick Fong fished with Rick Jensen and Wrede Whitney on a quickie three-day run down Mex. 5. It was an epic trip organized by Jensen during an optimal weather window to fish with Capt. Juan Cook on his 23-foot Parker Slapfish for cabrilla and tough yellows.
"If you're ever lucky enough to get an invite to fish with Rick Jensen, don't hesitate," wrote Fong in a recent Facebook post. "This guy has his finger on the pulse and saltwater flowing through his veins, but you'll have to keep your reels spooled up and leaders tied, because on short notice, he doesn't waste an opportunity to take advantage of favorable conditions."
They had three days to plan before they made the 10-hour run from SoCal to hit a window of calm seas.
"The first spot we hit was a 150-foot deep drop with massive current on very healthy bruiser size yellowtail," said Fong. "After watching a few other boats in the area and guys shouting four-letter words while throwing their arms up in the air, you could tell these heavy current yellows normally have their way with bait fishermen. We tested out the 230-gram Prohunter Rankaru speed jigs, as well as 220-gram Zcraft Cyclops slow fall jigs which were all very effective. Finding the bottom was a little tricky with the heavy current, but once you found it, it was only a matter of minutes before the show started. These fish are strong, and they know it, so they really don't care about line thickness.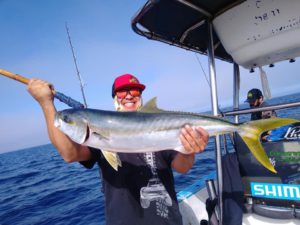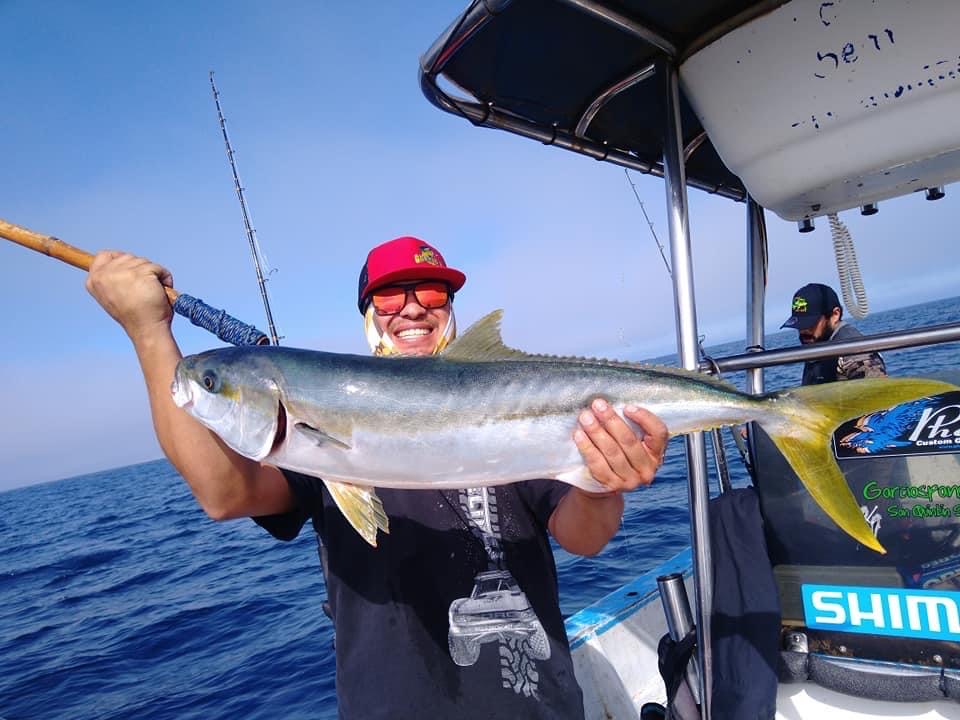 "We used 100- to 150-foot leaders for abrasion resistance, and were able to wrench a good number of them up from the depths, only losing a few to some unknown freakish monsters that will probably continue to haunt us as 'the ones that don't care how much drag you have on your reel, I'm gonna bust you off anyway.'"
After the early morning workout, they decided to head up the coast to throw stickbaits at the cabrilla. They were a little elusive, since they weren't in their usual shallow water rocky hideouts, Fong said, but instead found them in about 20 to 50 feet deeper water, huddled up in schools.
"We threw Prohunter Beitos in multiple sizes and colors, both bibbed and bibless, which all worked great. The added weight of a Beito made 150-foot casts a breeze with 65-foot braid and 80-pound leader, and in my opinion, dollar for dollar, it's one of the best stickbaits to have in your quiver.  We caught so many cabrilla that we left them biting just to make it back to the boat ramp at dusk."
Wrede Whitney not only hauled up the largest cabrilla on the trip, a 20 pounder, but also never misses any excuse to jump into the water (to the benefit of unsnagging lures on the rocks). A true waterman. He said, "Captain Juan Cook ranks right up there as the guy to book if you ever want to go. He knows his spots, the conditions, and has a very comfy pilothouse that can easily fish three people."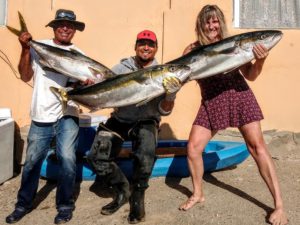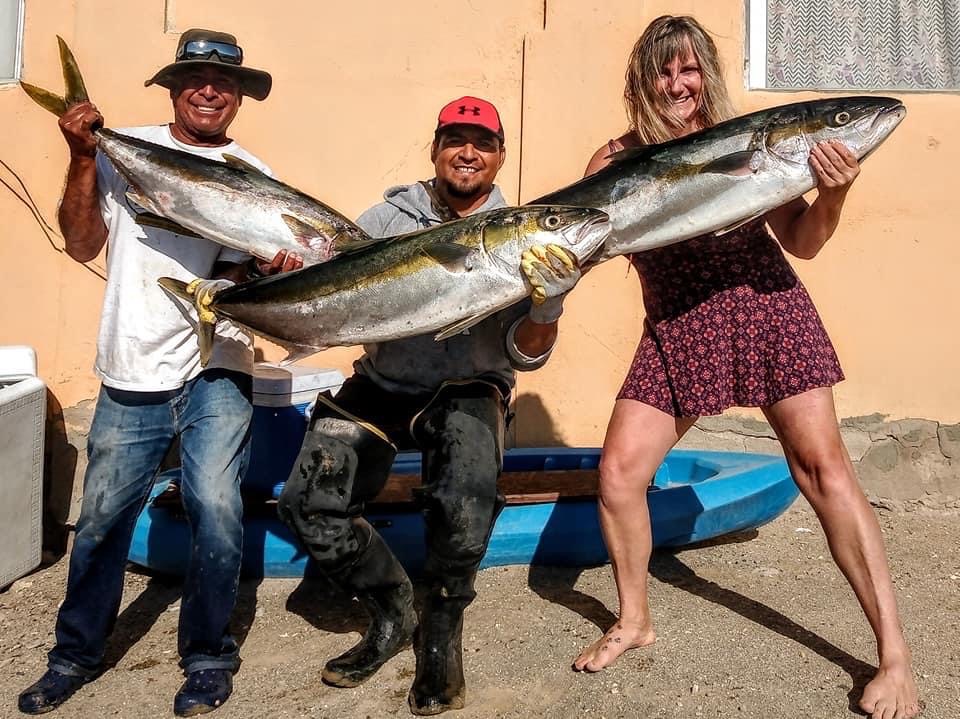 SAN QUINTIN BAY – The start of the fall and winter season in San Quintin is officially on with any weather window affording pangeros a chance to make bait at the mouth of the bay and get their customers on the high spots for yellows, bass and bottomfish just outside. It has been exceptional action, so bring your yo-yo iron or Butterfly jigs. Dropper loops with the small mackerel on the drift have also been productive.
LA PAZ – Fall is in full swing here and whale sharks are attracting tourists and temperatures have dropped to a very comfortable 79-82 degrees during the day with a lot of sunshine. Nights are a cool 61.
"Interestingly, water temps are actually warmer than the air temperatures and are holding at just about 80-85 degrees which is keeping the warm water species around," said Jonathan Roldan at Tailhunter International. "North winds are starting to blow which will eventually drop water temperatures and change the fishing to a cooler-species production like sierra, amberjack, pargo, cabrilla and snapper. Not to mention it could be getting rough and choppy."
He added, "In the meantime, with just a bit of breeze, most days were pretty nice and the warm-water species like dorado, wahoo, smaller roosterfish, and billfish stayed productive. Most of the catch focused on the dorado which are fairly abundant once you find the right spot and limits can be the rule rather than the exception. Fish are running 10-20 pounds on the average with some larger units mixed in. Live bait has generally not been an issue."
Still no tuna, he said, but it's been like that all year in one of the strangest years ever down here.
"However, there's a good jag of wahoo on the south end of Cerralvo Island with fish as small as 20 pounds, but as large as 50 pounds. The ticket seems to be to fish them on the right tide change and then dragging dark colored Rapalas, Yo-Zuris or similar lures."
BAHIA ASUNCION – Shari Bondy at La Bufadora Inn, perched on the very point, is seeing great yellowtail fishing just a few miles from the beach launching area near the Inn. She said, "The yellowtail are putting on the pounds in Bahia Asuncion! Colette Palin-Taaning went out with captain Juan Arce and deckhand Omar Cruz and they got some big yellows. She is a rock star on the fishing and gotta say, she knows how to hold a big fish!" said Bondy. "Great fishing so come on down! The village appreciates your business."
SAN JOSE DEL CABO – Eric Brictson at Gordo Banks Pangas in Marina Puerto Los Cabos said the weather has been great, warmer than usual fall conditions continue. There has been some persistent wind out of the north, but close to shore anglers were able to find fish in more protected areas.
The concern now as the fall season winds down are second wave COVID pandemic worries, though locally they have not seen a surge in cases and safety protocols have been strict. Brictson said people locally are living in fear as to what is going to happen in the coming months.
As for fishing, schools of sardinas remain healthy near the marina jetties, also some caballito being found. Other bait options included ballyhoo and slabs of squid. The majority of charters are now heading towards the north, from the Gordo Banks, Iman, San Luis and to Vinorama, while a few boats are working areas from San Jose del Cabo, south towards Cabo San Lucas. The tuna were a bit picky, with only light line getting bites, no big fish were landed, most 50 to 75 pounds.
"The tuna proved increasingly finicky this past week, most days the yellowfin were seen in good numbers coming out of the water, putting on a show boiling on the chummed sardinas, but were extremely line shy," reported Brictson. "It did not make sense to use leader lighter than 40 pounds, because chances of landing these fish on too light of line was minimal, the average fish that were being landed were in the 50- to 75-pound class, some larger and a few in the 20- to 30-pound range as well. Overall anglers were doing very well if they landed one or two of these tuna, though there are definitely lots of these fish in the area and on any given day could become more cooperative."
On the Gordo Banks there have been anglers targeting cow-sized yellowfin, he said, and a couple of big fish were lost after extended battles, we did not hear of any other monster yellowfin being landed. There were at least a couple of black marlin that were brought in, these fish were in the 300- to 600-pound range.
As for wahoo, he said, "Through the first half of the week there was very good action for wahoo found near Vinorama, these fish were coming up on the chummed sardinas and hitting the small baits on straight mono, not the normal way we usually fish these toothy gamefish, skippers were using small long shanked hooks to help from getting cut off, the wahoo did not like the wire leaders. Many of the wahoo were hooked on cast yo-yo type jigs, at least as many hook-ups were lost as were brought to gaff. Of course, the word on this good action traveled fast, scores of spear fishermen also headed to this inshore spot and the bite slowed way down just as fast as it had developed."
PUERTO VALLARTA – Stan Gabruk at Masterbaiter Sportfishing reported the yellowfin and marlin are full parade. This is the best time of year to fish the region.
"One thing about fishing that never changes is 'everything changes.' Sometimes in a day, sometimes in several days, but things will change. That's why it's so important to keep up with the reports and strike while the bite is hot!
"Corbetena was difficult last week but as the theme goes, things changed. Blue marlin are running around the rock at 350 to over 600 pounds and with any luck could be even larger. Black marlin are normally here by now and should be coming in shortly. Sailfish are running the entire area and are good sized. Yellowfin are taking baits again and are in between 60 to 180 pounds and again there are probably much larger out there so be at the ready.
"Dorado at 25 to 35 pounds are a real gift from the heavens. One interesting thing is cubera snappers are running 60 to 100 pounds for those not afraid to do some jigging! The bite has regressed a bit to mid-morning so leaving before sun-up doesn't help your cause amigo."