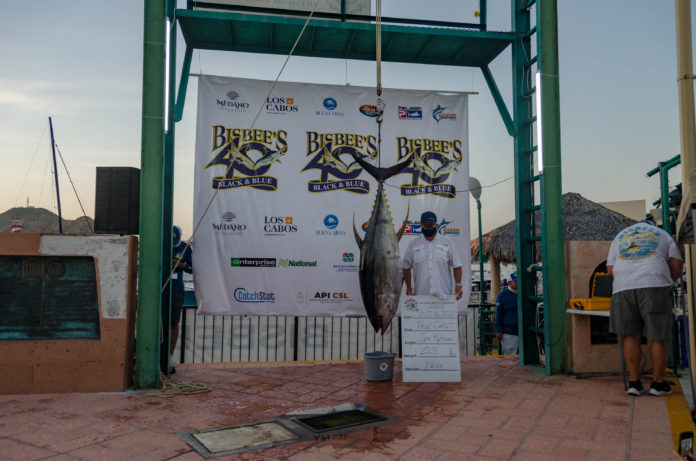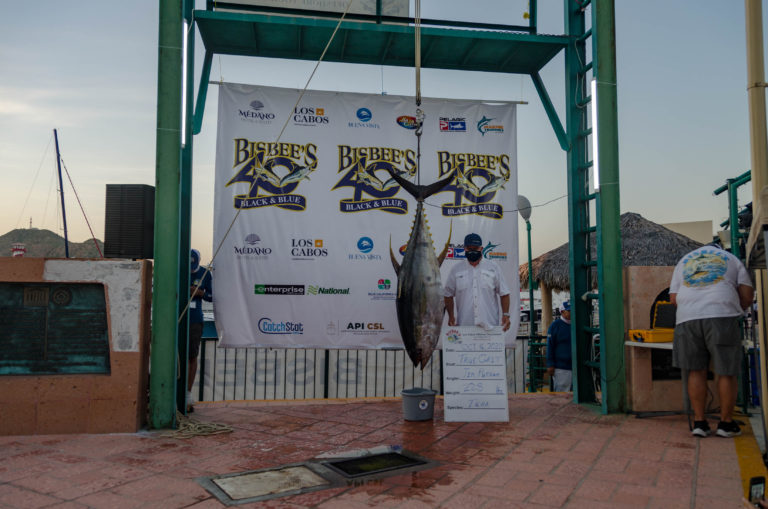 Cabo's first two jackpot events, the LCBT and Bisbee's Offshore go off with big fields and bigger bucks than last year; next up is Bisbee's Black and Blue, then the Los Cabos Tuna Jackpot Nov. 4-7
BY PAT McDONELL
CABO SAN LUCAS – If one thing is clear after the first two big game tournaments in Cabo, it's that Cabo has become a refuge of sorts from the COVID pandemic as fishermen are heading to Lands End for some solace and normalcy. This is despite the news all tournaments must emphasize stringent health protocols, and there will be no large gatherings or parties allowed.
While the first big game jackpot event, the Marlin Magazine Los Cabos Billfish Tournament drew nearly the same number of boats, 49, as last year for three days of competition, the Bisbee's Offshore Championship a few days later broke event records for boats with 10 more teams for a field of 128, and was up more than $300,000 in prize money at $1.44 million.
The LCBT's champion was Team El Suertudo, an 80-foot Weaver yacht, taking a 350-pound marlin on day 1 and a 396 pounder the second day for 1,244 points and $344,700. The third day,  Team Stella June, a 45-foot Sea Hunter captained by Evan Salvay, weighed in the biggest fish of the tournament, a 593-pound black marlin caught by legendary local angler Hugo Pino, earning them second place, for $249,300. They also caught a 236-pound yellowfin. Third went to Team Artemis with a 315-pound fish for $31,500.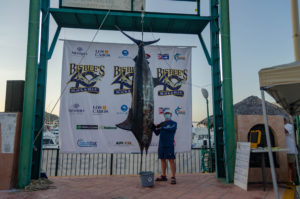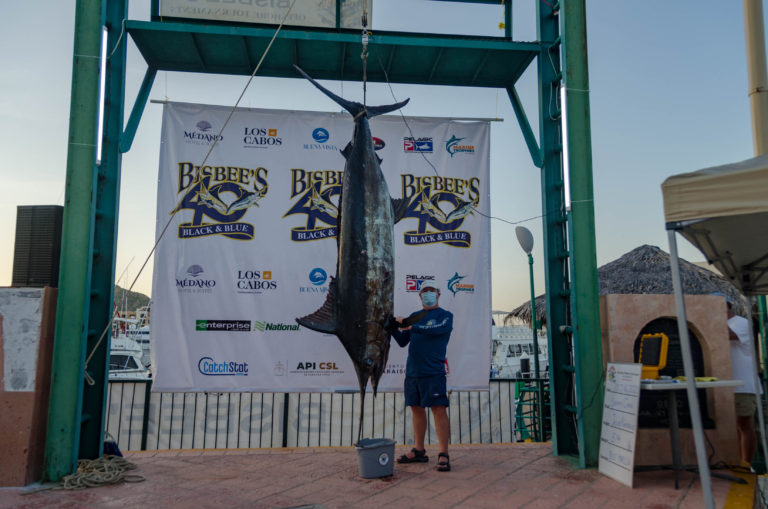 Then came the two-day Oct. 16-17 "Baby Bisbee's," a precursor to the monster bucks Bisbee's Black & Blue Marlin Tournament coming this week, starting Oct. 21. A long line of anglers at check-in wanted to play and pay in, sniffing the sweet smell of a growing pot of marlin, tuna, wahoo and dorado optional money that shocked even the Bisbee family when the sign-in dust settled.
Here's how it went down the first day, according to Gary Graham who was chronicling the event
"Captain Felipe Robles, aboard the Sporty Game, had notified tournament control that they had boated a blue marlin and were on their way to the scale," reported Graham. The team was made up of anglers Steve Kaiser, George Landrum, and Jacob Rodriguez, and mate Carlos Rodriguez and owner Dan Lewis.
"The Sporty Game Team has the distinction of being one of the 19 teams in the Bisbee's Millionaire Club, qualifying with their second-place win of $1,682,612 in the 2014 Black & Blue," said Graham. The question was, would lightning strike twice?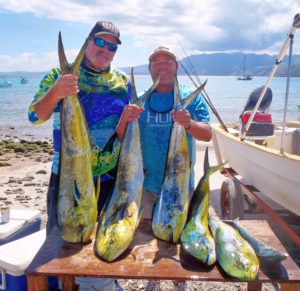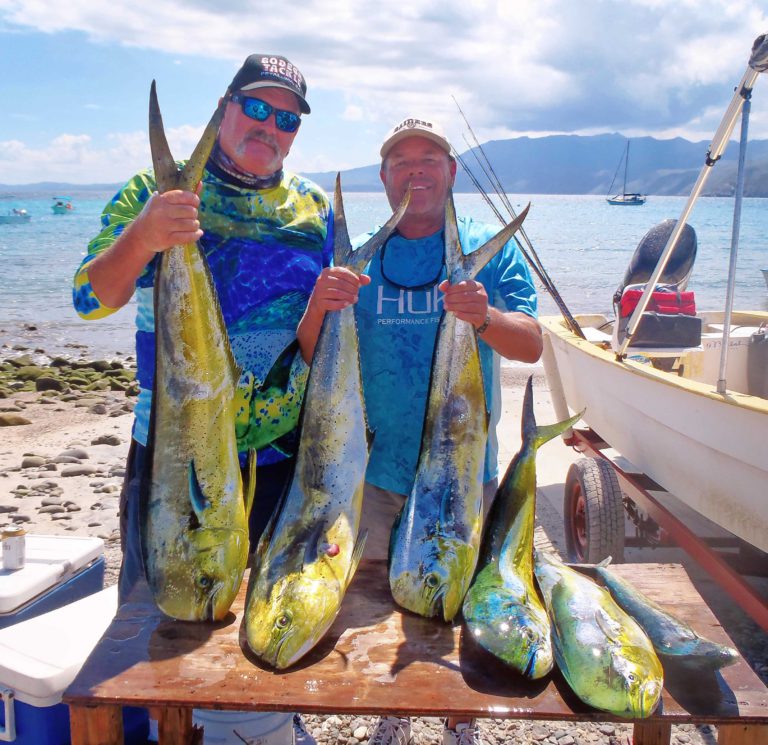 It did, to the tune of 514 pounds, the Sporty Game taking the title and all four first day marlin optionals and claimed the $5,000 optional money the second day that did not get claimed by a team, and therefore rolled backwards. The total winnings for Sporty Game over the two days were $837,816. Not another cool mil, but close enough. Pocket Aces brought in a 424-pound black marlin the second day and won $293,544. Full results can be found on the Bisbee's website.
There were some big tuna brought in over the two tournaments, which should excite the tuna crowd coming in for the 22nd annual Los Cabos Tuna Jackpot. In the Baby Bisbee's there were four quality yellowfin brought in.
Another member of the Bisbee's Millionaire Club, True Grit, owned by Jim Putman and captained by Tommy Neikirk, with team members, Rey Aguirre, Boyd Decoito and Kai Hoover was the next to arrive with a fish after the Sporty Game blew the doors off with their marlin. True Grit, as many big game tournament followers are well aware, was one of three teams that were awarded checks for over a $1 million in the 2019 Black & Blue Tournament.
This year they arrived at the weigh station dock with a cow-sized yellowfin of 228 pounds with $130,000 and change in the pot. Then came Team North Star, made up of owner Don Whittier, anglers Alex Pino Aripez, Eduardo Aripez, James Rosenwald, and Edwardo Cota Vega.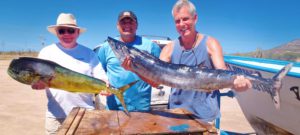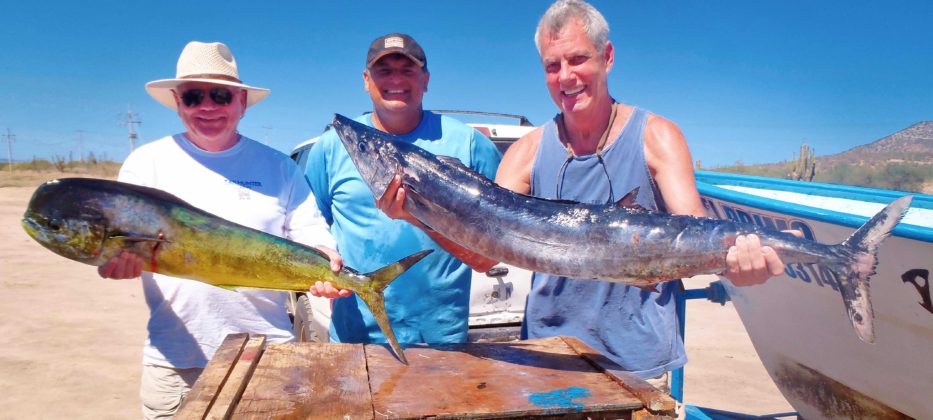 "This team is legendary, well-known for its yellowfin tuna exploits as well as for dominating the yellowfin tuna category throughout Baja Sur," reported Graham. Quite true. In fact, the team is a two-time winner of the Los Cabos Tuna Jackpot.
Whittier said at the weigh-in, before the tail rope was put on the fish, "Maybe we will win by three pounds with this fish to soothe the pain of losing by three pounds at the East Cape Offshore earlier this year."
As Graham reported, "Fortune didn't smile at them at the scale. The 'three-pound curse' continued as the yellowfin amazingly weighed exactly 225 pounds. Yes, three pounds less than the leaders on True Grit." Their 228 pounder won them $138,760.
Those two nearly identical cow tuna the first day were followed up by two quality tuna of 177 pounds by Knot Workin', and a 159 pounder by Champy Team.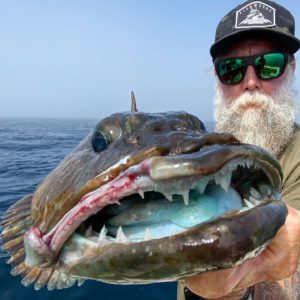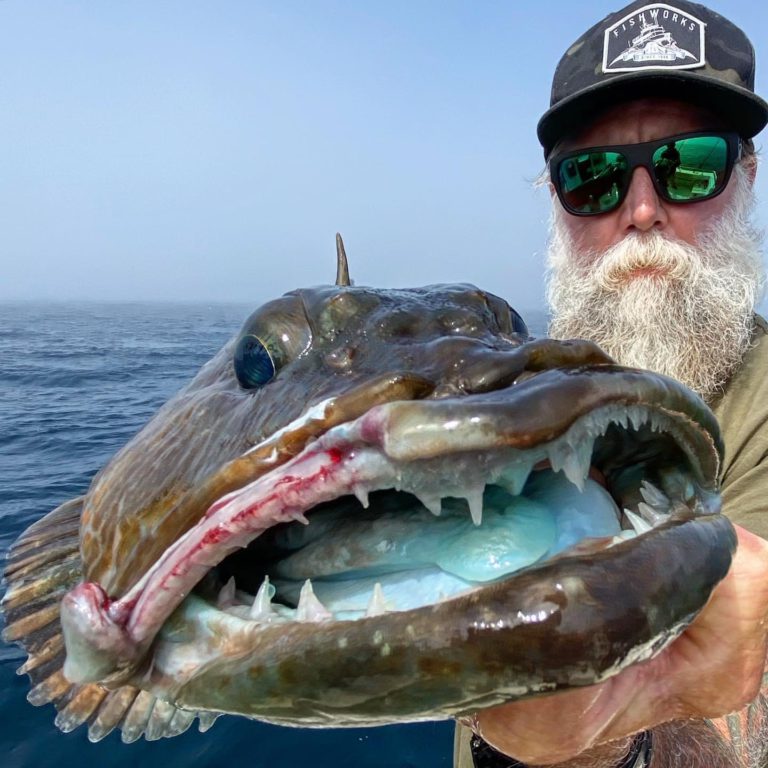 Those four tuna and a 236-pound yellowfin by the Stella June in the LCBT are a solid indication the big tuna are on the grounds, with fishing primed for the Nov. 4-7 Los Cabos Tuna Jackpot with two days of fishing by a projected 120 teams.
How was the rest of the Cabo fishing? Lots of dorado, striped marlin and tuna, said Rebecca Ehrenberg of the Pisces Fleet.
"We had a 92 percent catch success rate for all boats, with dorado still making up for most catches, and lots of them with 75 percent catching dorado with a total of 1,040 fish," she said. "Of course, this includes release numbers, and as always we are respecting size and catch limits. It was not uncommon to see vessels return to the dock reporting 20 dorado each, as was the case for 3-year-old angler Jorge Cooper Jr. and his family who fished on Pisces 31-foot Tiburon catching 20, releasing 10, along with 1 striped marlin they also released."
From there, she said, 32 percent of boats caught billfish, 59 total released, mostly striped marlin, but still a few blues and some sailfish, too. Tuna accounted for 12 percent of catches, with 52 fish.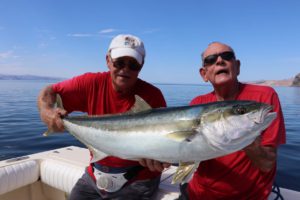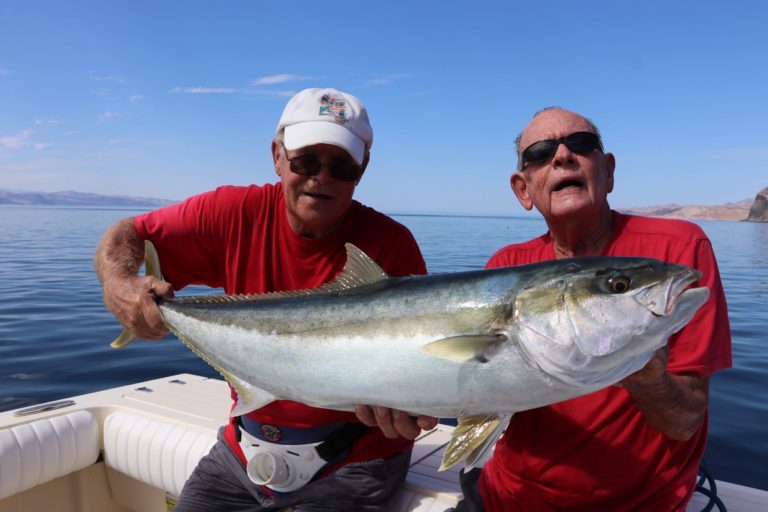 SAN JOSE DEL CABO – The Gordo Banks Pangas fleet operating out of the Marina Puerto Los Cabos, is a little busier these days, said Eric Brictson, owner. He said the said the uptick in crowds is obvious. Any crowd would be obvious after the spring and summer Cabo endured.
"This is always one of the busiest times for sportfishing fleets in the Los Cabos area and it's big tournament time," said Brictson. "We just had two tournaments and next week is the largest and richest of all, the Bisbee's Black and Blue event, followed early next month by the WON Tuna Jackpot. Overall, this season will be remembered as the year of unprecedented numbers of changes and cancellations, all this due to the ongoing global coronavirus pandemic."
So, how's the weather? Brictson said, "Weather patterns were again increasingly tropical, as mornings had started to be a little chilly, not anymore, as lows were back in the upper 70s and highs about 90 degrees, but combined with humidity factor the heat index was more like 99 degrees. This change all happened at the start of this past week, as a tropical low pressure system developed off to the west of the Southern Peninsula.
"On Tuesday morning we received about one inch of rain, more than what was originally forecast, though we did still have charters fishing that day, as the weather front passed through by mid-morning. The rest of the week has been clear with slight swells and little wind. Ocean water temperatures actually warmed back up, as it had been on a cooling trend, but now it was back into the 87 degree range."
Local fleets were mostly fishing the grounds from the Gordo Banks and north towards Vinorama, he said, with the main bait source sardinas, with slabs of squid also being used.
"Despite ideal ocean conditions most days, the all-around action was more hit-or-miss. Perhaps the sudden warmer water put the fish off the bite, hard to say, also added pressure. The main catch we saw was for dorado, with the majority of these fish taken while trolling and they were weighing in the 5- to 15- pound range. Very few wahoo landed, but we did see a handful of them brought in, most of these hit on trolled Rapalas and were in the 20- to 40-pound class. As water temperature drops back near 80 degrees we expect to see much fishing on those."
While the tournaments produced three fish over 200 pounds, most tuna for the Gordo Fleet have been in the 50- to 70-pound class. Most of the tuna were taken on sardinas, though larger baits were also used for chance at the cows.
"The Gordo Banks produced a few of the larger tuna, though more charters are trying their luck on the Iman, San Luis and Vinorama grounds where action had been more consistent."
BAY OF L.A. – Capt. Juan Cook reported late Sunday and said fishing has been excellent on the yellowtail from 15 to 40 pounds. "The bait has returned and it's easy make it near the boat ramp." Also there has been good leopard grouper fishing. Fishing with Capt. Cook on his 23-foot Parker Slapfish on various trips for the week were Mike Tomlison, Steve Rodriguez from Austin, Texas earlier in the week, and near the weekend were regulars  Ed Atkinson of Los Angeles, and his friend Mike Fish.
SAN QUINTIN BAY – Very good yellowtail fishing on bait and iron was reported throughout the week. Lawrance "Squig" Quigley of Fishworks clothing was on a run down the west coast with family to his home in Abreojos and on the way home scored some great fishing with the Catian family of K&M Sportfishing. Wide open on the yellows, all on iron, said Quigley.
EAST CAPE – No formal report available, but Facebook posts indicated very good weather for the annual charity Lynn Rose event based at Palmas, and nice selections of tuna, dorado and even some yellowtail, reported by WON sources now that the water is cooling.
LA PAZ – Jonathan Roldan of Tailhunter International reported "After last week's slow fishing we were ready for a come-back and we were happy to get it. The fishing has been up, down and sideways all season so it was good to see more smiles than frowns this week.
"Despite some light rains early in the week and some post-storm chop that made it rough, we were able to get out every day. Not every boat did well. Not every day was great. But overall, compared to previous weeks, the fishing took a definitive upturn as dorado finally decided to blow back into the picture."
Roldan added, "The better fishing was with our Tailhunter La Paz Fleet where easy fast limits were the rule rather than the exception with fish somewhat larger than previous weeks where most fish were 5 to 10 pounders. This week 10 to 15 and even 20 pounders were found. Many times our boats got into the schools and came back early or, simply stayed out and released fish for the rest of the day."
For Paul Machado and Tim Butterworth from Petaluma, Calif. it was a quick two hours of fishing then figuring they had enough good fillets for the ice chest to top off the wahoo they had caught the previous day. They were soon back on the beach taking photos at Bahia Muertos.
In other action, Craig Brown was down again. Roldan said Craig buys a fishing trip to La Paz for his cousin, Bob Layko, and for eight years they have come to La Paz to fish with the Tailhunter Fleet and Captain Armando. Craig got a nice dorado, but Bob stuck anice wahoo. Craig is from Vancouver, Wash. and Bob is from Portland, Ore.
"Our Tailhunter Las Arenas fleet made up for the quantity of fish found outside of La Paz Bay, by turning in quality fish," said Roldan. "So, fewer fish and you had to work hard to find them, but the fish were larger. They included some nice-sized 30- to 50-pound wahoo that bit on dark Rapalas and Nomad lures trolled just outside Bahia Muertos or on the south side of Cerralvo Island. Many times the fish were found in shallow water and about half the fish hooked were lost."
LORETO – Rick Hill of Pinchysportfishing.com said dorado and cabrilla are hitting flylined sardinas along the coast from the west side of Coronado to the "mainland" side.
"The north side of Coronado is solid for bottom fishing snapper and pinto bass," said Hill. "Bottom fishing will be getting more attention now that the blistering summer sun is mellowing out. Great weather, the best time of the year in Baja for being outdoors!"
PUERTO VALLARTA – Stan Gabruk of Masterbaiters Sportfishing said it finally happened, Puerto Vallarta fishing exploded.
"Yellowfin tuna, blue marlin, striped marlin, sailfish, dorado, rooster fish and the list goes on," said Gabruk. "As predicted, actually after all these years in the fishing business it's expected. This is some of the best fishing of the season. Plenty of bait everywhere, beautiful high visibility blue water with 'any-fish-you-wish' conditions. You'd be hard pressed to find a better time to go fishing. Yes, folks if you've been holding on to those pesos in your Mexican piggy bank, well it's time to break it! We've waited for this time of the year for the last eight months and any halfway decent fishing operation is catching fish. Dorado especially which has exploded in the bay. Finally!"
Corbetena, after a week of jumping and boiling yellowfin tuna are at 60 to 120 pounds and probably larger. Sailfish are thick north of the rock, dorado in the 20-pound range and blue marlin to 600 pounds. Bait is available in the form of skipjack tuna, google eyes (best bait for now), bullet bonito, red runners and more.
"The water is blue and the water temperatures are perfect. It's hard to make it sound any better than that."
Pat McDonell is former editor of WON, director of the Cabo Tuna Jackpot is a Baja Reports editor for WON. He can be sent fish reports at patm@wonews.com