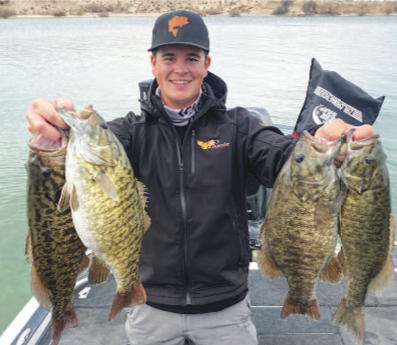 Annual 'Battle for Pounds' returns to Clear Lake, April 13-15
BY BLAKE WARREN
LAKEPORT – The third leg of the 2022 WON BASS Open tournament circuit is now just over a month out, as the 10th annual California Open will blast off April 13-15 at the Golden State's ultimate big bass factory, Clear Lake. The Cal Open will follow the latest addition to the ever-popular tournament circuit which is now less than two weeks away, the March 23-25 Laughlin Open at Katherine Landing on Lake Mohave.
After anglers battle it out in the desert for big springtime smallmouth, it's a beeline north to renowned Clear Lake in mid-April, where butterball largemouth will be the primary targets. And, it's no secret that Clear Lake's long-standing reputation as a producer of prodigious numbers of trophy-caliber bass is indeed well earned.
One needs to look no further back than the 2021 California Open to get a glimpse at just what a world-class bass fishery Clear Lake is home to. Of the massive 214-boat field last year over three days, just two teams failed to post a limit on the final day, making it an eye-popping 640 bags out of a possible 642 for the tournament that were flush with 5-fish limits — a truly stunning number for such a highly pressured event of its caliber.
Weights were impressive at the 2021 tourney as well, with Ione's Cliff King ultimately prevailing with a stout three-day total of 67.31 pounds on the back of a final day bag of over 25 pounds. It will surely take a similar effort come mid-April, as last year 10 anglers posted a sack of 25 or better during the event — 70-plus pounds (or an even heftier total) is by no means out of the question as the winning weight in 2022.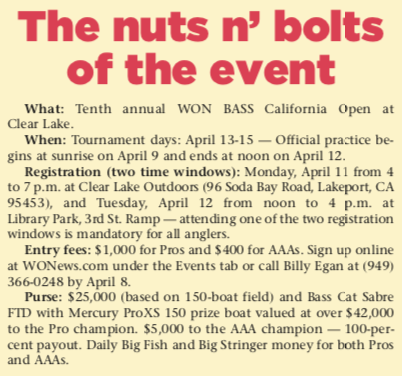 The California Open will also resume the year-long WON BASS Angler of the Year points race, with top-shelf prizes from Daiwa and PowerPole awaiting its winners along with the chance to qualify for the inaugural Bass Cat Western Shootout among other top pros in 2023 (date and location currently TBD). And don't be surprised if the AOY prize pot only continues to grow throughout the year.
Up for grabs to the eventual champion at the 2022 California Open is a cool $25,000 paycheck (based on a 150-boat field) and a stunning Bass Cat Sabre FTD outfitted with a burly Mercury ProXS 150, 8-foot PowerPole blades and Next Gen Lithium Batteries, a prize boat worth over $42,000 in its own right. Of course, the 100-percent payback at WON BASS will also ensure more than a handful anglers will be heading home from Clear Lake with a check as well. Based on the same 150-boat field, the AAA champion will earn $5,000 plus additional prizes.
Anglers will also be cashing the usual Big Fish checks over the course of the three days of competition, with WON BASS doling out $1,000 for the Pro Big Fish each day of the event and $500 to second and third Big Fish on the Pro side, while the AAA Big Fish will be $500 and second and third each day getting $250. There's another $1,000 kicker thrown in each day for Pro Big Bag and $500 for the AAA Big Bag.
"I'm sure we'll be seeing the usual big fish we've come to expect over the years," said tournament director Billy Egan. "It was just unreal last year how nearly every single boat weighed a full limit and just how healthy all the bags were. If we get anywhere near the fishing we had last year, it's going to be one hell of a tournament. Maybe this is the year we'll see a new tournament record posted? You just really never know what you're going to get when you're at Clear Lake, especially smack dab in the middle of the springtime."
If recent years are any kind of indicator, WON BASS anglers will find Clear Lake's bass in all three stages of the spawn come tournament time, giving the anglers no shortage of options in formulating their plans of attack or adjusting on the fly. Fish shallow, fish deep; fish spawning flats or suspending fish mid-lake — any strategy could in fact be the winning one next month at Clear Lake.
Official practice for the California Open starts at sunrise on Saturday, April 8 and runs until noon on Tuesday, April 12. There will be two event registration windows — attending one of the two is mandatory for all anglers: Monday, April 11 at Clear Lake Outdoors from 4 to 7 p.m. and Tuesday, April 12 from noon to 4 p.m. at Library Park, 3rd St. Ramp. As an added bonus, anglers will also be receiving complimentary Berkley MaxScent Worms and Craws at registration.
Along with stalwart event title sponsors Bass Cat Boats and Mercury Marine, other primary sponsors of the 2022 California Open include: Western Outdoor News, Berkley, Abu Garcia, Gamakatsu, Plano, Seaguar, Huk, Daiwa, Phenix Rods, PowerPole, Frabill, Next Gen Lithium Batteries, Chevron Techron Marine and Century Marine.
The 2022 California Open at Clear Lake blasts off Wednesday, April 13 at safe light fishing through Friday, April 15. To sign up for the event, visit WONews.com and click on the 'Events' tab, or contact tournament director Billy Egan at (949) 366-0248. Don't miss the boat!