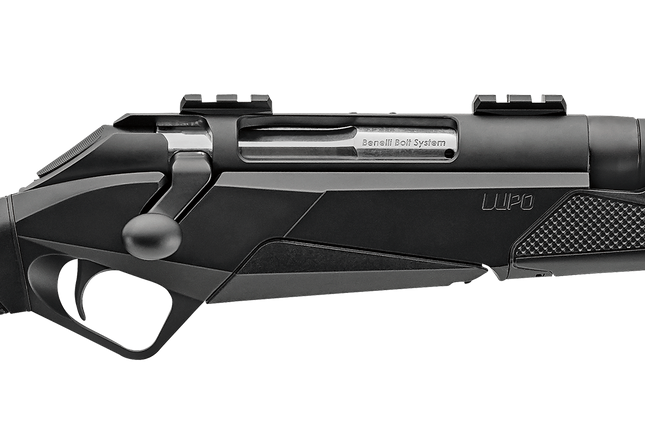 ACCOKEEK, Md. – The National Rifle Association's (NRA) American Rifleman magazine has awarded the Benelli Lupo with the Golden Bullseye Award for 2021 Rifle of the Year. Given to new products that display overall excellence, quality and innovation, the Golden Bullseye Award recognizes the Lupo rifle for its outstanding performance and ergonomics.
"When we decided to launch Benelli's first bolt-action rifle, we knew it had to be special and outperform hunters and shooters' expectations," said Benelli USA Director of Product Management George Thompson. "Winning Rifle of the Year is a testament to our commitment to producing high-quality firearms, driven by innovation and high performance. We are honored to receive this prestigious award."
This marks the 19th year the NRA Publications have recognized outstanding products with the Golden Bullseye Awards. After months of testing and evaluation, a seven-person committee, consisting of editors, graphic designers and veteran NRA Publications staff, presents awards to those products and companies that have exceeded the evaluator's expectations and are innovative in design and function.
The Benelli Lupo bolt-action is loaded with innovative features—including seven exclusive Benelli patents—adding up to a hunting rifle that handles beautifully and provides a truly customizable fit. The Lupo features a chassis-style construction built from an alloy lower receiver and fitted with a synthetic stock and forend. The stock incorporates Benelli's patented Progressive Comfort recoil-reducing system and Combtech cheek pad for comfortable shooting.  This 3-shot, sub-MOA rifle achieves repeatable, consistent accuracy thanks to a precision CRIO-treated and free-floating barrel, securely bedded (steel-to-steel) into the alloy chassis receiver. This accuracy is unleashed with a crisp and adjustable trigger mechanism.
An innovative barrel attachment system creates an unaltered chamber and perfect alignment on every gun.In addition to great accuracy, the Benelli Lupo's design features modular adjustability to provide the perfect fit between shooter and rifle. The chassis-style configuration of a separate stock, receiver and forend allow the shooter to customize the Lupo to one of 12 drop-and-cast positions with the included shims. This is easily expandable to 36 positions by utilizing optional combs. Further fit adjustments can be made with included LOP spacers. Finger reach to the trigger is also adjustable with included spacers that can be placed between the receiver and the stock. Additional fit choices include two raised cheek pad styles and one optional length butt pad.   The Benelli Lupo tames recoil with a patented built-in Progressive Comfort system and a Combtech cheek pad. The double-stack box magazine is incredibly easy to load in or out of the gun. A two-position, tang-mounted safety offers ambidextrous manipulation. Airtouch Grip surfaces provide a safe and firm hold on the rifle. A threaded muzzle (5/8 x 24 thread) gives the option of adding a muzzle brake or suppressor. The short bolt throw quietly chambers and ejects rounds for quick and smooth follow-up shots.
For the latest Benelli news and product information visit www.benelliusa.com.