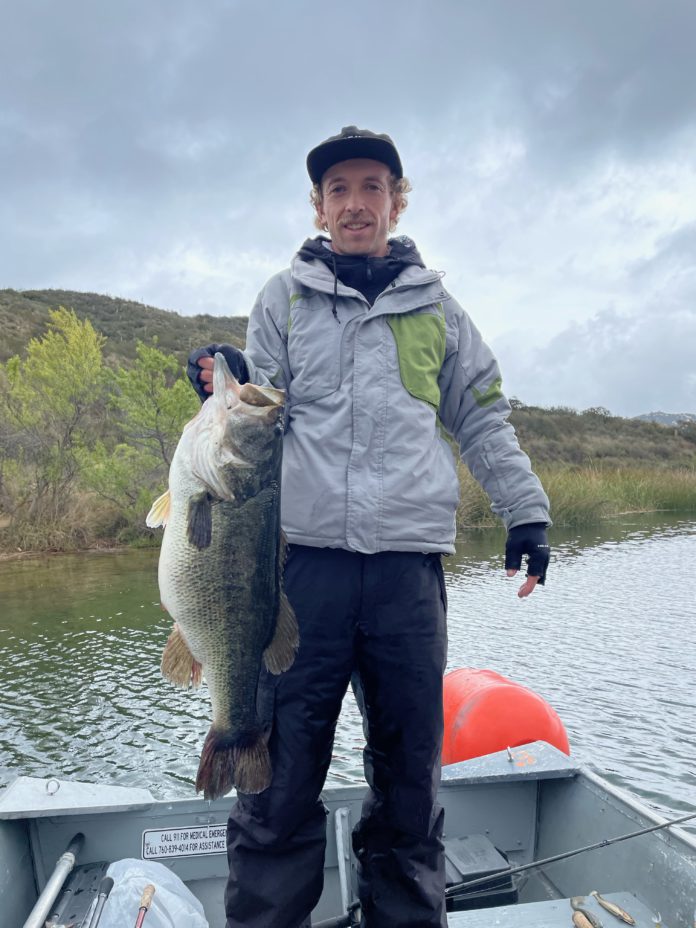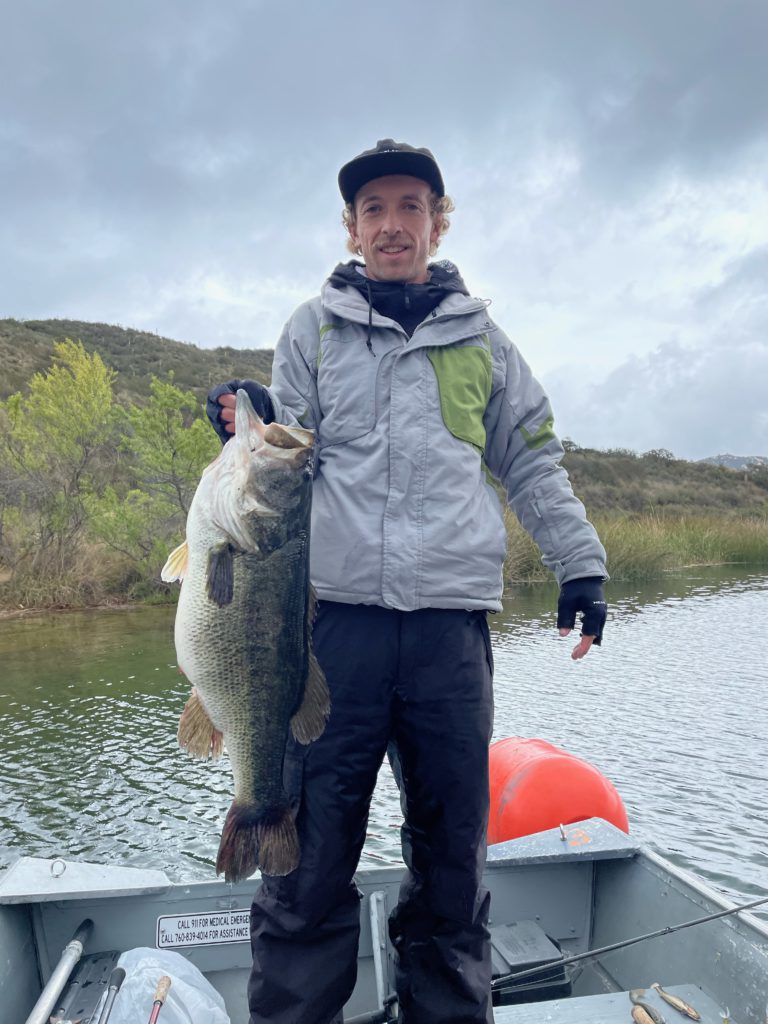 BY MIKE STEVENS
ESCONDIDO – There are several months between the final trout stock at Dixon Lake and the kickoff of catfish season, and this is when local bass anglers take advantage of the spring bass bite at the world-record caliber bass haunt. Successful bass anglers at Dixon are almost always those who have put the time in working its gin-clear water either from shore or a trolling motor-powered rental boat without electronics, and the latest angler to land a double-digit largemouth definitely fits that bill.
"I've grinded this lake for three to four years, two or three times a week, and this has never happened to me," said San Diego angler Grant Barnard. "It's a very rare occurrence in such a clear water reservoir, especially for a random cast."
Barnard was referring to the 11-pound, 7-ounce bucketmouth he boated while fishing with Dixon regular James Horton who's also one of those bassers who spend a ton of time at that specific lake and targeting its largemouth in particular.
"What a rad morning at the home lake today," said Horton. "Grant got himself his personal best coming in at 11-7. It was hooked then it jumped the first and only time before pulling drag for five mintues with headshakes throwing all the trebles but one. What an amazing fish."
According to Barnard, Horton convinced him to come fishing and wound up being the net man that closed the deal on the monster bass. The fish chased down a Megabass Vision 110 worked on only 8-pound fluorocarbon.
"I knew lots of fish were moving into post-spawn, so I knew the jerkbait was a perfect option to throw for the day and caught many 1 to 2 pounders that were probably guarding fry. It wasn't until about 4 hours in that we came up to a spot, casted up shallow and retrieved out into deeper water. I casted into a cut in the reeds and started my retrieve, and about 10 yards away from the reeds it felt like I just hit a rock that started to move."
Barnard told Western Outdoor News they didn't realize how big the bass was until it tried to breach but only the upper part of its body made it out of the water. After a long battle on light line that included the largemouth dodging the first net attempt, she was landed on the next try.
After the fish was weighed and released, the fishing that followed seemed to suggest there was indeed something special in the air, at least for a while.
"We chose to go on a cold front," said Barnard. "Stormy, rainy and windy, but the air pressure must of gone up during when we caught it because after the 11 pounder, we started to get solid 3 and 4 pounders. Our quantity of bites rose up for about 30 minutes, then there was nothing really else all day."