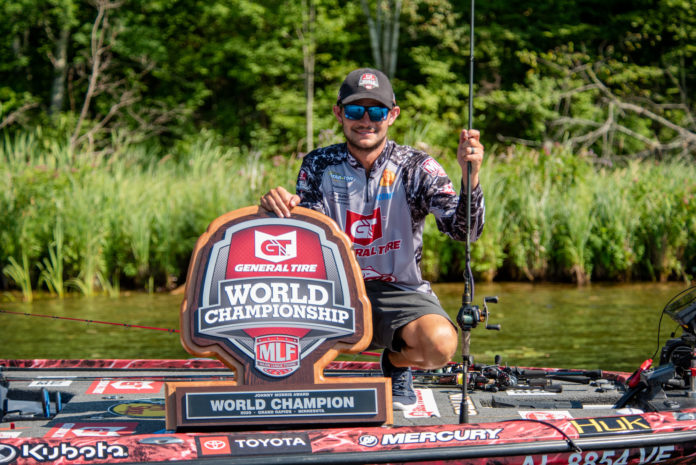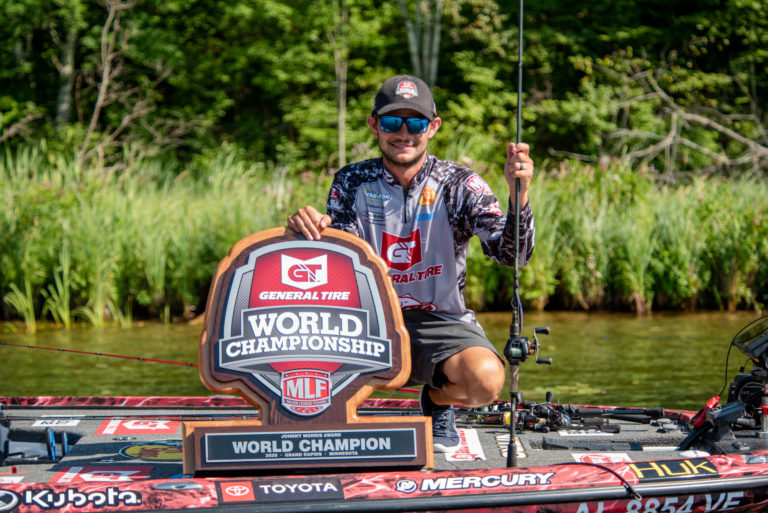 Largemouth gamble pays off, resulting in a $100,000 payday and a third major championship
COLUMBIA, S.C. (November 16, 2020) — Looking at his fourth new lake in four days, Berkley Pro Jordan Lee had a decision to make. After sliding into the championship round of the 2020 General Tire World Championship in the sixth and final spot, Lee had 30 minutes to decide his plan of attack for the final day: go after the greater numbers of smallmouth or fish for the bigger largemouth? Either could be boom or bust, but he felt confident the fishery held championship-clinching largemouth.
Luckily, his boat held a lot of Berkley PowerBait MaxScent, the same bait that dominated the professional tournament trails in 2020.
Predominantly flipping PowerBait MaxScent The General around lily pads, Lee recorded 69 pounds, 4 ounces of largemouth in the championship round of Major League Fishing's 2020 General Tire World Championship, picking up another major championship and a $100,000 first-place payout. With the win, the list of successes for both Lee and PowerBait MaxScent grew even longer.
The win gives Lee, who also has back-to-back Bassmaster Classic wins to his credit, his third major championship while adding to PowerBait MaxScent's incredible 2020 highlight reel. Earlier this year, PowerBait MaxScent dominated predominantly smallmouth tournaments as the major professional bass fishing tours took their northern swings. But you won't find the Alabama angler pigeonholing PowerBait MaxScent.
"Largemouth, smallmouth, it doesn't matter. MaxScent makes me not want to fish with anything else because my confidence is so high with it," said Lee, who is quick to remind that Berkley's bait scientists tested PowerBait MaxScent almost exclusively on largemouth during the product's lengthy development period. "It gets more bites. And if something gets more bites then that's what I'm going to be using."
Flipping black and junebug PowerBait MaxScent The General with a 1/4-ounce tungsten weight and a Berkley Fusion19 4/0 straight-shank flipping hook, Lee's gear consisted of a 7-foot, 6-inch Abu Garcia Fantasista Premier rod paired with a 7.3:1 Revo Premier spooled with 50-pound-test Berkley X9 braid—key for getting fish out of thick swaths of lily pads. As consistent as the bites were as Lee fished the edges of the lily pad jungles, so was the tendency of the hooked fish to try to wrap him around the roots of the pads. With X9, Lee was able to muscle the fish straight to the boat, which he did repeatedly on his way to building a commanding lead.
Lee entered the third period of competition with a 20-plus-pound advantage over second place, but the lead was evaporating as other anglers began to key in on quality fish. With 15 minutes remaining in the event, Lee's 20-plus-pound lead from the third period was gone and he trailed the new first-place leader by a pound. Absent the time needed to get to new water, Lee decided to make one more pass through his favorite stretch of lily pads, confident that the PowerBait MaxScent could fool even pressured fish. It did, producing a two-pounder to seal the victory.
"Without MaxScent, I wouldn't have gone back to a spot I had already hit that hard earlier in the day. With all that pressure, these fish just wouldn't be caught without it," Lee said. "MaxScent just gets bites when other baits won't—even these pressured fish. The lake wasn't big, and it was getting a lot more pressure than it normally ever sees.
"People can talk about PowerBait MaxScent for smallmouth all they want—and it's definitely the best smallmouth bait I've ever used— but I'm an even bigger believer in fishing for largemouth with MaxScent because it gets bites that other soft plastic baits won't."
Major League Fishing's made-for-TV 2020 General Tire World Championship wrapped in July, but competitors were barred from revealing the outcome until it could air on Discovery Channel on November 14.
"It was a long wait to find out what happened, but when we saw what Jordan was able to do with the PowerBait MaxScent on such a big stage, it was the perfect ending to an incredible year for both our pros and this incredibly effective line of baits," said Berkley Vice President of Marketing Jon Schlosser. "We're incredibly proud of Jordan for his clutch performance in such a pressure-filled situation and can't wait to see him and the rest of our pros continue this hot streak in 2021."