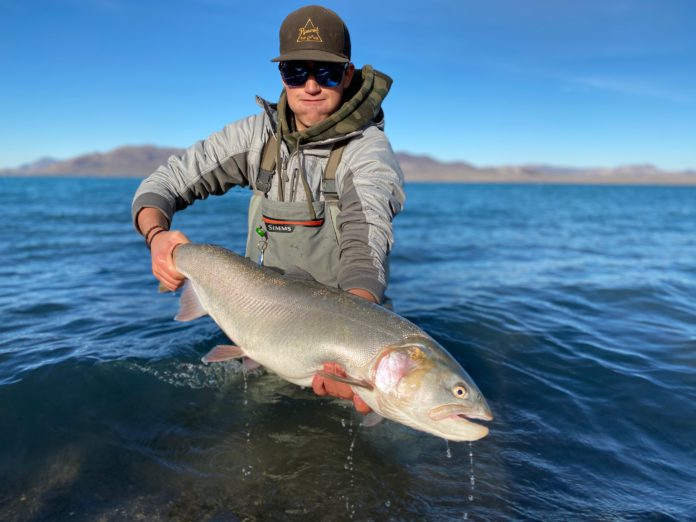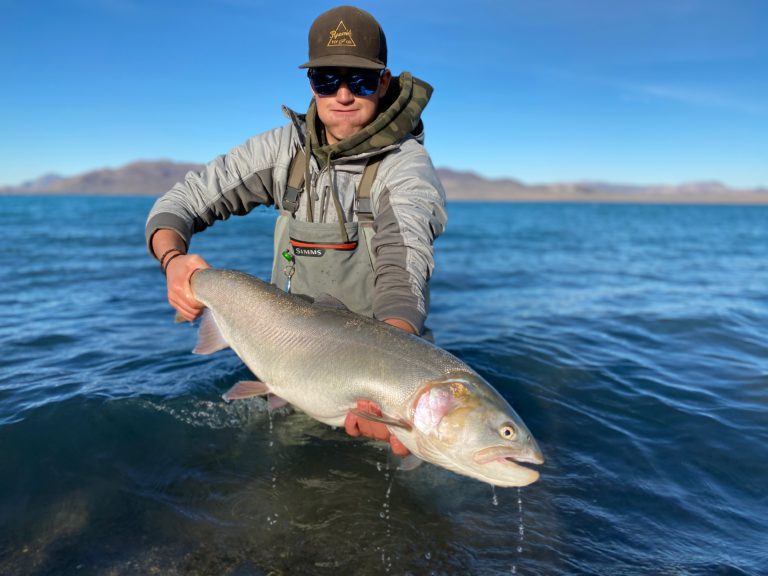 SUTCLIFFE, Nevada – What a combo! Light crowds and biting trophy Lahontan cutthroat trout. It's hard to see how it could be much better at Pyramid Lake, Nevada.
Still, it pays to know the pattern. According to Robert Hagerty of Pyramid Fly Co., shore fishing is picking up at deeper beaches such as Blockhouse, Wino, Sand Hole, Warrior and Popcorn.
"Friday and Saturday alone, we heard of or saw at least 30 double-digit fish being caught each day from shore," Hagerty said. "That's just DD fish, that's not including the 3-10 pounders that have been caught. Anglers like Wild Rivers Guide Chris Van Tassel from Lewiston, Calif. caught 6 DD fish (up to 20 pounds!) and a handful of smaller 'shakers' from shore on a custom tied PFC Casey Anderson olive balanced leech 8 feet under an indicator. Way to go Chris. What a great day you had. Is this the norm? No, but just landing 1 double-digit fish would make anyone's day."
Hagerty added that the indicator and retrieving bites seem to equally productive. "You will never go wrong retrieving a Doug O's original popcorn beetle or hanging a balanced leech under an indicator," Hagerty said. "I say it time and time again, pay attention and don't miss your bite."
Shore anglers spin fishing Carolina Rigged popcorn beetles, boobies, wooly worms and Tui chub patterns have also been doing well. "Don't rule out throwing 1/4-ounce and half-ounce marabou Zig Jigs in olive/white," Hagerty said.
Trollers and jig fisherman have also been having good luck on spoons, Dirtee Dancers and P-Line Laser jigs in 20 to 60 feet of water.
Hagerty had some encouraging words to share. "Pyramid can humble us all, keep at it, have the PMA (positive mental attitude), and just enjoy the time on the water. At any moment she can reward you with a fish of a lifetime."