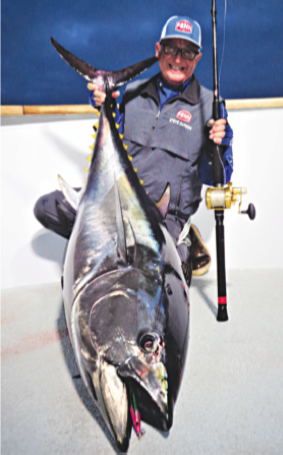 BY MERIT McCREA
SAN DIEGO — Over the weekend, bluefin catches climbed as the primary area moved to within just 30 miles of Point Loma. The grade remained all-time with fish from 30 to over 200 pounds, with the bulk of the catch above 50, and a quarter or so over 100 pounds.
Tackle techniques for the larger fish switched from Flat-Fall and knife-type irons on 80- to sinker rigs on 60-pound tackle. There were some fly-line bites too, fishing lighter line when a school of daylight biting "smaller" fish was stopped.
Capt. Markus Medak of the New Lo-An at Point Loma Sportfishing posted, "We started our trip off with a bang, hooking a round of 80- to 150-pound bluefin. As is usual, not all of the hook-ups turned into tally marks on our fish count, but after a few missed opportunities we scratched away on quality bluefin throughout most of the day. By quitting time we ended up with 30 bluefin, the majority of which were 40 to 60 pounds with a half dozen standouts from 80 to 150."
His 26 anglers finished a one dayer with 52 bluefin in the hold — boat limits.
Aboard the Red Rooster III out of Lee Palm Sportfishing, H&M Landing, the word was, "Great night and day on the bluefin grounds. Flat-calm and biting fish! We've been on a drift for a few hours picking away at these nice 100-pound class bluefin tuna – 100-pound line with a sinker rig has been the key."
Sunday morning the Sea Adventure 80 docked with 40 bluefin for 28 anglers. "The weather is beautiful, the fish are biting… and we've got a trip on the schedule for tonight with spots open!"
Also from H&M Landing, the Old Glory had limits, Poseidon – 72 tuna, Constitution – limits with 10 fish from 60 to 120 pounds, Excalibur – limits, Ocean Odyssey – limits also. The Legend was returning with 2-day limts. The Top Gun 80 had 72 fish for full limits, with their largest a 165 pounder. The full-day boats also got into the action, as the Mission Belle at Point Loma Sportfishing put 19 on deck.
At Fisherman's Landing the Liberty called in with 11 – 3 of which went from 110 to 170 pounds – on a 12-hour full-day trip. On 1.5-day trips, the Pegasus and Pacific Queen called in limits. The Condor had 51 tuna for 30 fishers. The Tomahawk had 47 for 24 anglers, with 10 over 100 pounds.
At Seaforth Landing Sportfishing, the Pride had limits and Saturday, so did the Polaris Supreme. The full-day on the San Diego with 33 angers returned with 42 bluefin. Friday they'd had limits for 15.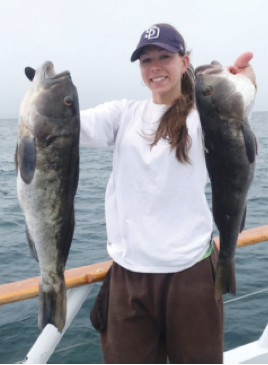 It was an incredible weekend.
Local fishing was all about the surface fishing bite with bass a big part of the picture, especially sand bass.  With 29 anglers aboard, the Daily Double put 70 keeper  sand bass and 8 more calico on deck on the a.m. run. The Point Loma, with 17 fishing found calico instead, 52 plus a few other fish too.
The New Seaforth's Saturday evening twilight connected with almost 80 keeper calicos.
Up out of Oceanside Harbor, the primary producers were the bottom grabbers on local 3/4-day runs. The Chubasco II turned in rockfish limits for 10 Friday. Local bass bit too but most were released it seems. The Southern Cal put back 60 calico keeping 5 for 12 anglers Sunday afternoon on half-day.
Helgren's Oceanside Sportfishing did not post their catches this past week.