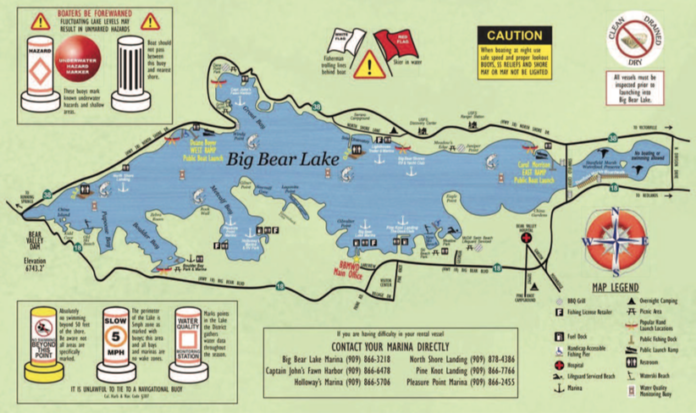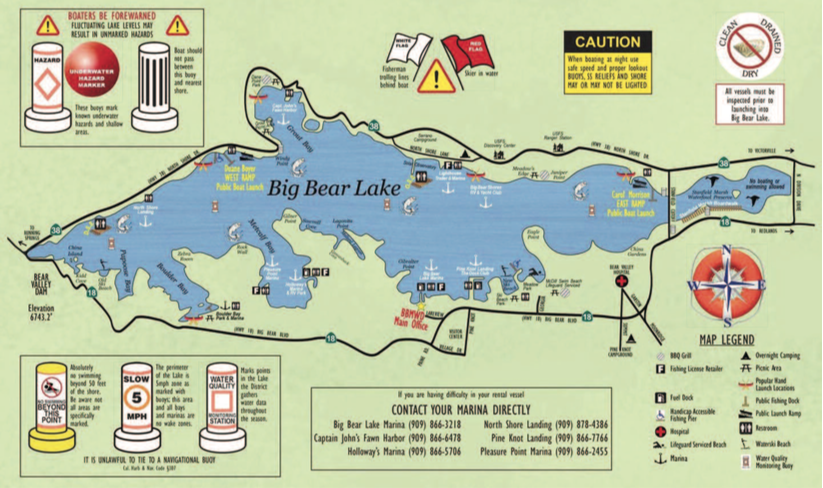 [buzzsprout episode='9203224′ player='true']
To Sign Up for Troutfest: Click Here
BY BLAKE WARREN
BIG BEAR LAKE – The water level may be noticeably low at Big Bear Lake, just like it is at many of our reservoirs throughout the state, but the marinas are still open, trout are being stocked and private boat launching remains a full-go at the West Launch Ramp — the East Launch Ramp is currently closed, but the West Ramp remains open for business. All that combined with the fast-approaching return of the Western Outdoor News Troutfest (Oct. 2-3) and an ever-improving bite have things looking up at the alpine lake. A quick check-in with the good folks at Big Bear Sporting Goods confirmed the positive news.
"The bite is only getting better," Aga Dabrowska said of the current trout scene. "Water temps have continued to drop thanks to the cooler nights we've been having, and that means the trout are spread out all over the western half of the lake. Fish are still being taken anywhere from the surface down to about 20 feet depending on time of day. The best times are still early mornings and later in the evenings when the schools are running a little shallower."
Anglers are catching 'em with many of the traditional Big Bear trouting tactics. Boaters are scoring trolling Needlefish at anywhere from 2 to 4 colors of leadcore along with drifting nightcrawlers, while shore fishermen are connecting on slip bobber rigs armed with 'crawlers. Bites are also coming here and there on PowerBait, Power Eggs and minijigs fished early and late.
Making things even better, fall stockings are already underway at the lake with more to come in the weeks ahead prior to Troutfest, according to Mike Stephenson at the Big Bear Municipal Water District (BBMWD). "We're pulling out all the stops and we're going to be putting in some of those big ones," he said of the September plants, "because we know how much the Western Outdoor News anglers like coming out to catch those big ones and to try to get that trophy. So they'll be in there."
Troutfest is back on the calendar in its rightful spot the first weekend of October after a one-year hiatus due to the pandemic. Sign-ups are well underway, and along with the expected solid fall fishing after ample stocking, there will also be the usual prize haul up for grabs at the event. Trophies and prizes will be awarded to the top five anglers in four different divisions (Adult Male and Female and Junior Male and Female), and the Grand Raffle Prize of a 15-foot Klamath Advantage aluminum boat and Suzuki 20hp motor will be awarded to one lucky Troutfest angler for the finale of the event along with various other raffle items from event sponsors. The biggest overall fish for the two-day derby will also earn that angler a Sea Eagle inflatable boat and a lifelike replica of the fish from Global Fish Mounts. Blind Bogey checks will also go out to lucky anglers and goodie bags will also be doled out.
Adult entries for Troutfest are just $75 and kids 15 years old and younger can fish for $50. Event registration will be held at the BBMWD parking lot on Friday, Oct. 1 from 5 to 9p.m. For more information or to sign up for the event, visit this link: WONews.com, or call tournament director Billy Egan at (949) 366-0248.
The following weekend after Troutfest is the C.A.S.T. for Kids event at Big Bear Lake put on by the nonprofit organization We Can Fish, from 9 a.m. to 1 p.m. on Oct. 9. It is a free fishing event for kids with special needs held at Holloway's Marina, and there will be plenty of free fishing gear on tap along with event t-shirts and caps. Volunteers are very much welcomed, both boaters willing to help children get on the water and on-shore volunteers to assist with various aspects of the event throughout the day. For more information on this great event put on for all the right reasons, contact Carla Rizya at carla.rizya@gmail.com or (760) 275-6462, or visit castforkids.org.
Not to be overlooked with all the current buzz about trout, but bass are also on the angling menu at Big Bear. Dabrowska said throwing mid-range or deep-diving crankbaits around rocky points has been a good way to try to hook a larger model, while Texas-and Carolina-rigged plastics are doing well for numbers.