Listen to Gilbert Hernandez talk about Lobster Hooping on the WON Podcast!
[buzzsprout episode='9241693′ player='true']
BY DYLAN DEPRES
The 2021 Season Opener for recreational lobster fishing in Southern California is just a couple weeks away. Saturday, Oct. 2 at 6:00 a.m. will be the official starting time and before long, our harbors, breakwalls, jetties and islands will be laden with small and big boats alike chasing these tasty invertebrates. Lobster fishing is a fun and accessible facet of fishing for those who are prepared. Promar staffer Gilbert Hernandez recently provided some great insight for Western Outdoor News readers that will help ease the learning curve of hoop netting and help anglers stay safe and organized. Before kneading through these applied tips and techniques, first anglers must be aware of the basic equipment and licensing needed to be both effective and legal when pursuing lobster.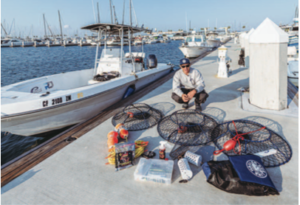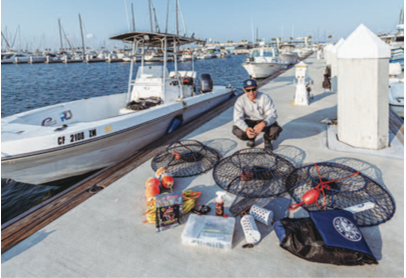 The Basics – Licensing and Equipment
Safety is key, especially with the nighttime nature of lobster hooping, and all private boaters must possess all of the necessary safety equipment and follow Boater Safety laws as prescribed by the U.S. Coast Guard. Before hooping, recreational anglers must possess a CDFW Spiny Lobster Report Card and a California recreational fishing license. These items can be carried in a waterproof case aboard the boat with pens to boot, as it's necessary to fill out the Report Cards while out hooping. Anglers must record the date, number of lobsters retained and the applicable gear and location codes, which can be found on the lobster cards themselves.
Every angler fishing is also
required to carry a device which is capable of accurately measuring the size of a lobster. A lobster gauge is the recommended tool, and Hernandez likes to keep his gauge on a lanyard around his neck for easy access. Due to the curvature of a lobster's carapace, a tape measure or ruler is not capable of measuring the size accurately. While fishing from a vessel, anglers may possess up to 5 hoop nets per person but the total number of hoop nets on a vessel cannot exceed 10, even if there are more than two people on the boat.
There's a fair amount of specialized accessories which are necessary to rig lobster hoop nets like rope, floats, light sticks and more, which will be covered later in this article. Before hoop netting lobster, recreational anglers should familiarize themselves with all applicable CDFW laws, which can be found at https://wildlife.ca.gov/Conservation/Marine/Invertebrates/Lobster.
PREPPING YOUR GEAR
Rigging Nets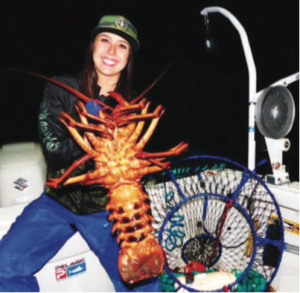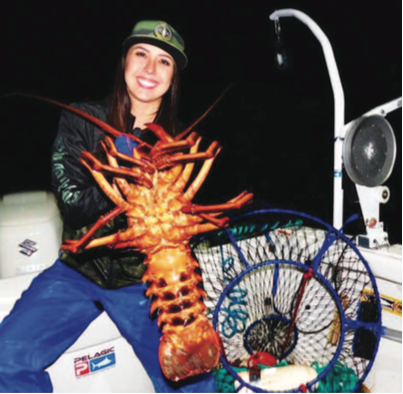 It's important to select the right lobster hoop. Promar currently manufactures three sizes of their popular Ambush series nets: the 32-inch Ambush, the 36-inch Ambush XL and the 36- inch Ambush XL-Heavy. The 32-inch model excels for kayakers and small private boats, while the 36-inch XL is good for larger private boats and the 36-inch XL-Heavy is a heavier net, which is good for hooping heavy current or deeper water areas like Catalina Island. A net puller is recommended for the 36-inch XL-Heavy, as they weigh 14 pounds when empty.
Now: rigging. Rigging your hoop net is the bread and butter of lobster fishing. A rigged hoop net features a float with a glow stick, a rope and rope management system and a bait cage. Floats are an important part of the system because they are used to identify your hoop net. Hernandez suggests placing a name and contact info on the float. Promar produces LED glowsticks with two settings: flashing and solid, which can be super useful for managing which nets have been reset — for example, after checking a round, anglers can switch the setting and know the "flashing" nets have been reset.
Nets are typically attached to polyethylene rope and Hernandez packs 75 feet of rope for his shallow water trips, for example in the harbors or breakwalls. Pro-staffer knowledge: Hernandez likes to use stainless steel carabiners from Home Depot (rated for 1000 pounds) to attach ropes to nets, and extension cord winders are the trick rig to managing rope. They can be dropped in the water and they also allow excess rope to be cleated off and contained.
Hernandez offered another helpful tip: before even hoop netting, he will lay out his en- tire stretch of rope and place a different-colored zip tie every five feet to help with line management on sets.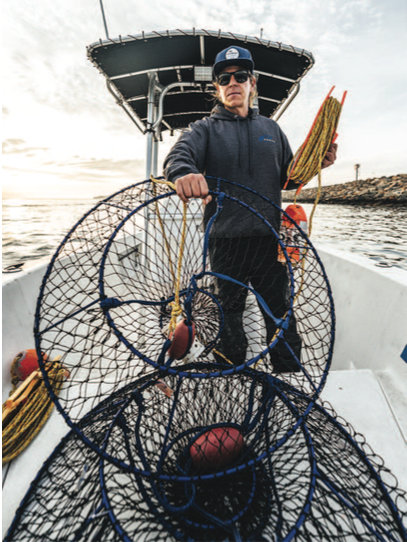 All Promar hoop nets have a built in "bait sack," however, it's recommended to use a wire or seal-proof bait cage. Both have their purpose, as wire cages hold more bait and allow more scent to be released, but the seal-proof cages can be helpful when critters are eating your bait.
Prepping your Boat
It's necessary to follow all prescribed Coast Guard laws for boat safety functions and equipment. Boat owners are responsible for knowing the regulations
and having all the legal requirements met, with running lights, PFD's etc. Further, there's some gear specific to hoop netting that can be a big help out on the water. Flashlights and head-lamps are key when pulling hoops to identify potential threats in the nets like spiny sculpin and other critters. Foul weather gear and rubber boots are recommended for hooping because as Gilbert says, YOU WILL GET WET. It's important to plan in advance how to stay organized on your vessel. Hernandez has been checked by CDFW many times over the years and commented how the wardens like to see organization: keep the nets in one spot, buoys in one spot and keep a clean deck.
TIME TO GO HOOPING
Where to Go
"Lobsters are a lot like calico bass — they need food, current and structure. They hide in rocks and drop-offs," says Hernandez. A prepared angler who's looking for new productive zones can find structure on mapping systems and also on their fish finders during their trips. Sandy, flat bottom areas should be avoided and instead, anglers should look for valleys, drop-offs, rocks and crags on the electronics. Lobsters feed in the dark, and it's a good idea to be on the scene as the sun is setting to stake out and "claim" a certain area. Popular areas like
Long Beach area can be pretty crowded, especially towards the opener. With mutual respect for one another on the water, lots of anglers can efficiently work a given zone.
Deploying your Net
Popular bait choices include mackerel, salmon heads or even sardines, which might be left over after a day of fishing. Attractants are also available and helpful, and one that Gilbert suggests is Bite-On spray, which he will soak a sponge and freeze before his trips, then place it in his bait cage. After finding your spot and baiting up, it's time to throw out your nets. Make sure your rope is at the base of your feet and you throw the net straight out, not sideways. When deciding how much rope to put out, be mindful of changing tides, but Hernandez reiterated the importance of not having too much slack line out. His magic number was an additional five feet beyond what you think you'll need — by leaving too much slack line out, your nets can pose a danger to getting caught in your own vessel's and other vessels' props. When plac- ing multiple nets out, they should be spread a reasonable distance from one another to allow you to reset them easily without getting caught up in the next net down. A good rule of thumb for spreading the nets is to go 10 yards apart, or double the size of your vessel.
Retrieving your Net
Hernandez likes to start his sets right as the sun sets and let them soak for 25 to 30 minutes before retrieving them to check for lobsters and replace the bait. Deeper in the season he lets them soak a little longer. When grabbing the nets, he likes to use a "boat hook," and avoids using a gaff, as it really isn't the right tool and poses unnecessary dangers. He stressed the importance of keeping a clear deck when pulling nets in, as with just water and bait alone on the deck it can quickly become slippery. Gloves are highly recommended both for pulling in the nets and handling lobsters to protect your hands.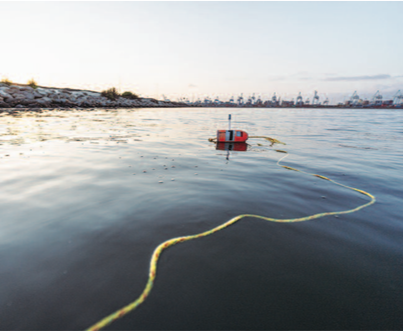 Before pulling all the way, Hernandez gives the rope a quick jerk to knock any bugs on the edges inside, then a steady pull with momentum for the rest of the way. Keep the net next to the boat, and shine the light to check for dangers like sculpin and eels. If all is clear, bring it up on the boat. Then, you can measure your lobsters and immediately release any shorts. Hernandez likes to place his keeper bugs all in one spot, again for organization in case a warden comes. After retaining a lobster, he will fill out his lobster report card right then and there before putting his boat back into gear. If using the trick LED glowsticks, he'll switch the setting to manage which nets have been pulled and go down his line of nets to reset. When it's time to go in, Gilbert detaches his float/rope/carabiner from his nets, stack all the nets in one spot and then all the float and rope rigs in another.
He puts all his lobsters in one net where they can easily be measured if needed.
In Conclusion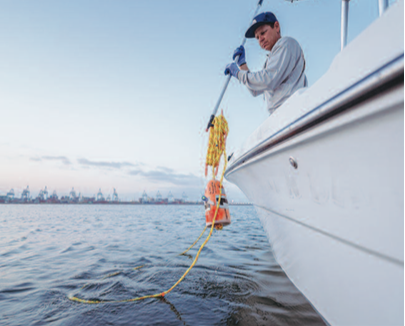 Hoop netting is a very accessible sport for private boaters and kayakers. With relatively inexpensive and readily available equipment and productive areas close to home, anybody with a smell vessel (with their due diligence completed) can hone in their hooping skills. Promar has a wealth of knowledge and tips in the form of articles and videos available on their website for anybody interested in learning about lobster hooping. They also regularly host Photo Contests and other seasonal events to add to the fun and interested anglers can check out more info on this on their social media feed @promar_ahiusa or the website promarnets.com.