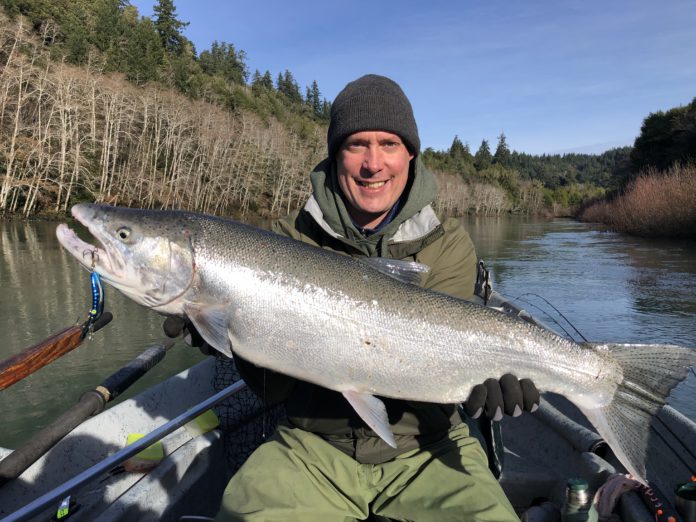 BY ANDY MARTIN
SMITH RIVER – The first 20-plus-pound steelhead of the season has been confirmed on the Smith River, while several large fish also were caught over the weekend on the Chetco River as both runs approach their peak season.
High water is expected this week after a major storm hits, but the Smith may fall back into shape by the weekend. The rivers blew out last week but the Smith was fishing again on Thursday, and the Chetco began fishing Saturday. Both likely will blow out again the middle of this week as up to 7 inches of rain are expected in a day and a half. The Smith could be back in fishable shape this weekend, while the Chetco is expected to remain high for a few more days.
Guide Mike Coopman got a customer into a 21-pound steelhead on Friday morning near the mouth of Mill Creek. The big steelhead took him all the way down to Poison Oak before he measured, photographed and released it.
"We had just landed a 16- or 17-pounder at the Gauge Hole and were pretty excited when we noticed Mike hooked up across the river from us," said guide Andy Martin. "When we got to Poison Oak, Coopman had just released the big steelhead he caught. I let him borrow my measure tape to measure the strings he used to get the length and girth of his big fish. It was around 21 pounds and was as chrome as they come."
The next day, while fishing on the Chetco, Martin got Ryan Parhaniemi of the Seattle area into an 18-pounder while running a 3.5 MagLip plug. Downriver, guide Travis Sallander got a client into a 19 pounder on a Spin-N-Glo near Pepperwood.
"There are a lot of big fish so far this season," Martin said. "Both the Chetco and Smith are producing some nice fish. There also have been a lot of hatchery steelhead on the lower Chetco."
When the Smith comes back into shape from this week's rain, many boaters will focus on the soft edges close to the willows, where they will anchore and run MagLips or Spin-N-Glos. Plunking usually produces more fish the first few days after a big rise, while side-drifting is best once the river drops below 10 feet at the Jed Smith gauge.
The Chetco could be blown out for several days. Some forecasts predicted the river will reach 30,000 cfs this week. It fishes best below 4,000 cfs.