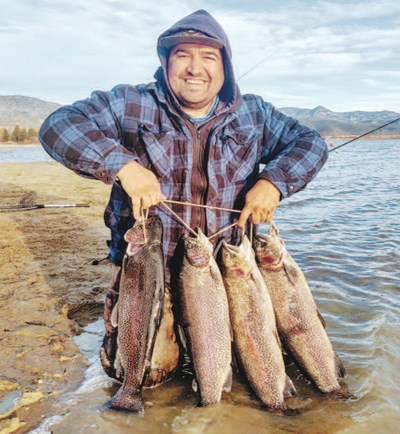 BY MIKE STEVENS
HEMET – Without announcing the actual day of the stock beforehand, 4,000 pounds of Mt. Lassen rainbows went into Lake Hemet on Jan. 26, and the fishing that followed was as good as its ever been at that particular alpine jewel. The bite remains solid, and as a fishery that doesn't receive nearly the angler pressure as Southern California lakes at lower elevations, the effects of the huge stocking should reverberate into next month.
"There were a lot of big trout in this plant," said Jeff Brown of Basecamp Hospitality. "We stocked at the end of the Peninsula (Camp 2A), and some of those fish moved into the deeper waters in front of Camp 5 and 6. It's been so cold, not many boaters braved the lake."
At the time of the stock, it was 16 degrees out, which is about as cold as it ever gets up there. Brown told Western Outdoor News that an angler fishing a white jig with a white trailer on a drop-shot rig was getting bit right away.
WON's newest field staffer, Andrew Mack was on the spot, and he had an epic day of fishing highlighted by a stat line that provides a great look at the quality of trout that are in there.
After some searching around for schools, Mack's first biter was a 6.5 pounder on a shoreline he had all to himself. They kept biting, and anglers starting moving into the area to take advantage of the hot bite which was – believe it or not – exactly what Mack hoped would happen.
"I yelled, 'fresh one!' in hope of calling more anglers over because I found a school of jumbos and didn't want to be greedy, and I love seeing other people catching."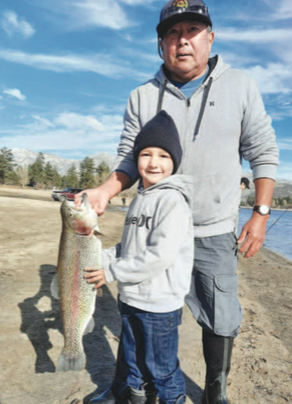 Once Mack had four on a stringer, he went into catch-and-release mode which was a piece of cake with jigs on a drop-shot rig winding up right in each trout's "beak" which made for easy unhooking. When the smoke cleared, he had caught a 9.4-pound rainbow, a 7.38, four over 6, a 5.9, three over 4 pounds, a pair over 3, five 2 pounders and "three 8-inch trout." Those are hall-of-fame numbers on any California trout lake.
All this fish were caught on a Paul Jish Minnow in yellow/white dipped in Bite-On Red Crimson and drop-shotted on a #8 Owner Mosquito hook and 2-pound smoke Izorline XXX.
"It was so worth making the trip up there, I felt like I was fish- ing in the Sierra!," added Mack. "Snow on the ground, I heard a bald eagle, lots of big fish, it was just crazy. A day like today will be hard to top, that's for sure."
WON reader Gerardo Aguilar also reached out with a report from the same day. He compiled his limit working white minijigs and white (plastic) minnows on a drop-shot rig of his own. All the trout in is haul ranged from 4 to 8 pounds.