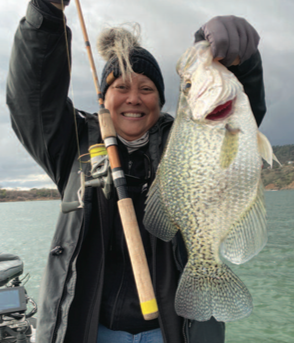 BY DAVE HURLEY
WON Staff Writer
LAKEPORT – Clear Lake has the deserved reputation as one of the two best largemouth bodies of water on the West Coast, but normally, January is prime time for live bait as opposed to tossing artificials. This year, with the early springlike weather, the reaction bite has been solid, and it will only get better and better as the largemouths come out of the deep water towards the shallows. It is also one of few northern California lakes hosting bass tournaments, and the promise of spring looms large.
Luke Lipinovich of Sweeney's Sports in Napa came in fourth during the past week's tournament, and he said, "We must have landed 35 to 40 bass working anywhere from 13 to 25 feet with deep-diving crankbaits, umbrella rigs, or underspins, but the bass were really nomadic and were moving all over the place. We were getting bit in flurries, and sometimes we went over an hour without a bite. The best cut in our limit came on an umbrella rig."
Clear Lake Sports in Lakeport reported the best bass action has been occurring up north near Rattlesnake and Redbud at depths from 20 to 30 feet over rockpiles with Lucky Craft LV 500 lipless crankbaits or umbrella rigs. The weather is anticipated to be 65 degrees by this weekend, and the bass bite
Ed Legan of Clear Lake Crappie Guide Service said,  "The crappie bite continues to be exceptional, and my clients average catch-rate this week was between 40 to 80 crappie a day. Both ends of the lake are starting to produce crappie in huge schools. We are still in the winter pattern, open water and the depth is 15 to 25 feet, and we are finding the larger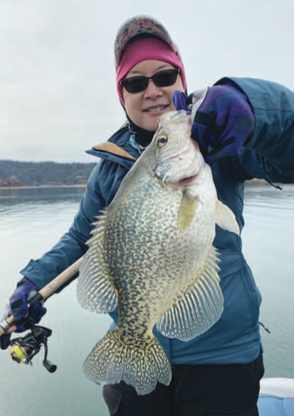 schools several hundred yards from the shoreline. This will continue for another month before the slabs move into their moving spawning grounds. The slabs are constantly roaming searching for minnows so the key to catching crappie this time of year is to keep moving till you find them using your electronics. My bait of choice is the 2.5 Keitech swimbait in the Red Pearl-Pro Blue or Slight Flash on a 1/16 or 1/8th ounce jig. The key is to let it free fall into the school and watch your line for a twitch; don't jerk, just lift into the fish and keep a constant bend in the rod."
Most of Legan's clients release their fish, but with the advanced technology of electronics such as Garmin's PanOptix Livescan, boaters can observe an area the size of a football field around the boat. As a result, boaters are putting a big hit on the lake's crappie.