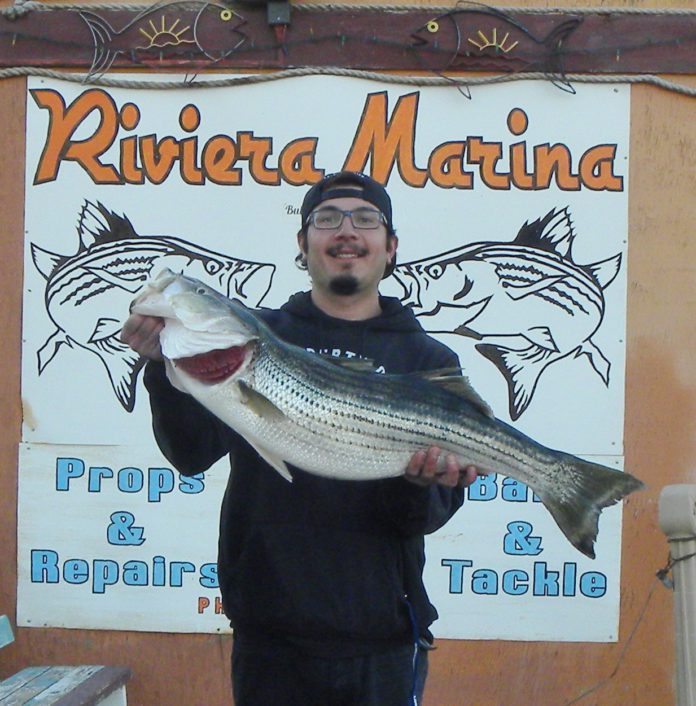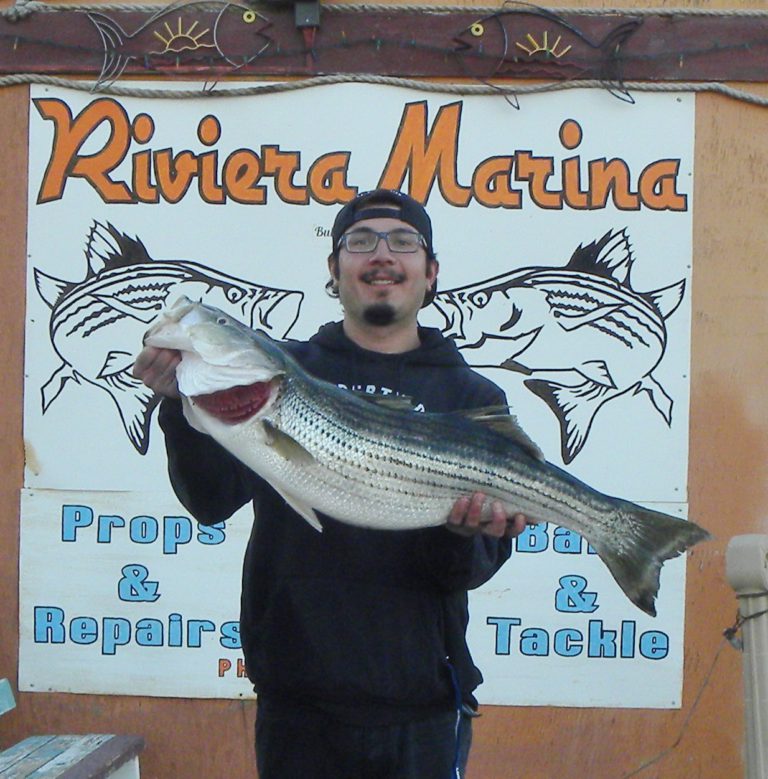 BY MIKE STEVENS and BLAKE WARREN
BULLHEAD CITY, Ariz. – Various areas throughout the Colorado River chain finished 2020 strong on the striped bass stage after a slower-than-usual fall, and that trend is carried right into the new year with bigger fish showing up more frequently.
Below Davis Dam, a regular on the trophy striper scene, Kenan Guleryuz, bagged a 17.04 pounder while throwing a big swimbait from shore at Community Park. Some other quality linesides were caught in this area by anglers throwing their own swimbaits, topwater plugs and glidebaits. Inclement weather has been an issue, so fishing pressure has been light with mostly locals getting out during fair-weather windows.
Shore anglers are also doing well on stocked trout that are regularly being delivered to multiple locations below the dam. According to Rusty Braun at Riviera Marina, nightcrawlers, PowerBait and spinners are regularly resulting in limits for trouters working the shorelines of local parks.
Up on Lake Mohave, high winds have been creating unsafe conditions for boaters, but fishing has been improving for those hitting the water when the blow backs off. Active stripers have been popping up for almost a month in zones in and around spots like Telephone Cove, Katherine Landing and points and coves all the way down to Davis Dam. A 13.44-pound striper was caught on an anchovy a week ago, but WON recently got word of a 22 pounder that ate a custom glidebait on Lake Mohave that managed to evade the fish-report radar.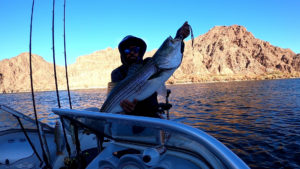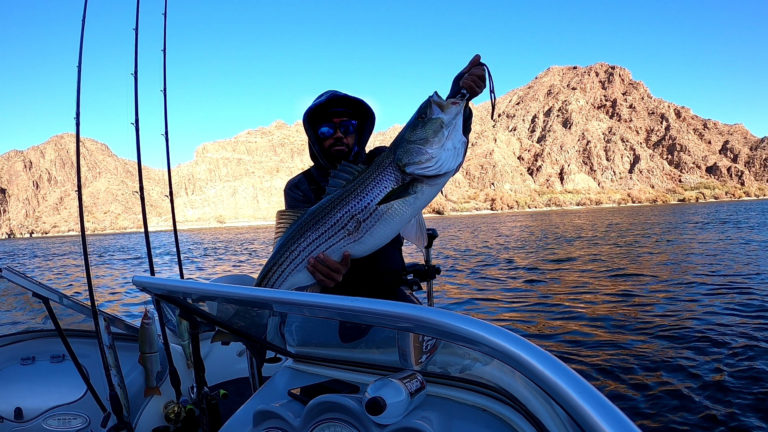 "The weather on that day was overcast with a slight wind which is a condition I prefer, however I've caught several big fish in hundred degree weather with no wind, but cloudy days with onshore winds is a preference of mine which I had that day," said Francesco DiGiovanni, who releases each fish he catches.
Now a Nevada resident, DiGiovanni cut his striped-bass-fishing teeth along the shores of Cape Cod Canal while living in New England where he caught a 52 pounder that stands as his personal best. His adventures can be followed on his YouTube channel, "SoloSwimb8er."
Up on Lake Havasu, winter stripers are also still firing, where the bite kicked into full swing around mid-December and continues to produce for local anglers into the New Year. An abundance of shad — both threadfin and gizzards — are plugged up in numerous coves throughout the lake, making live bait fishing an obvious and effective approach that's been yielding dividends in the form of lineside limits for many in recent weeks, according to Cliff Rubin at Bass Tackle Master.
"It's (the live bait bite) still going strong," Rubin said. "It's still mostly schoolie fish but guys are still getting good numbers of 'em with an occasional 5 to 10 pounder here and there."