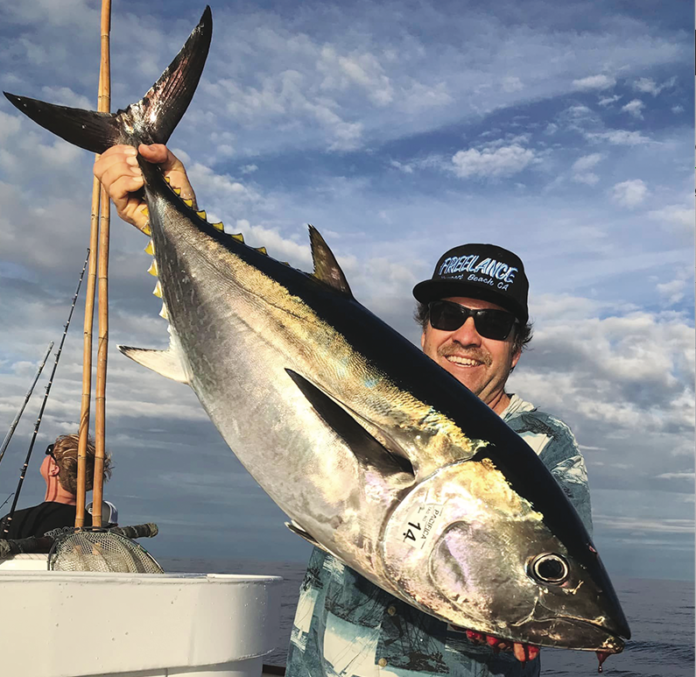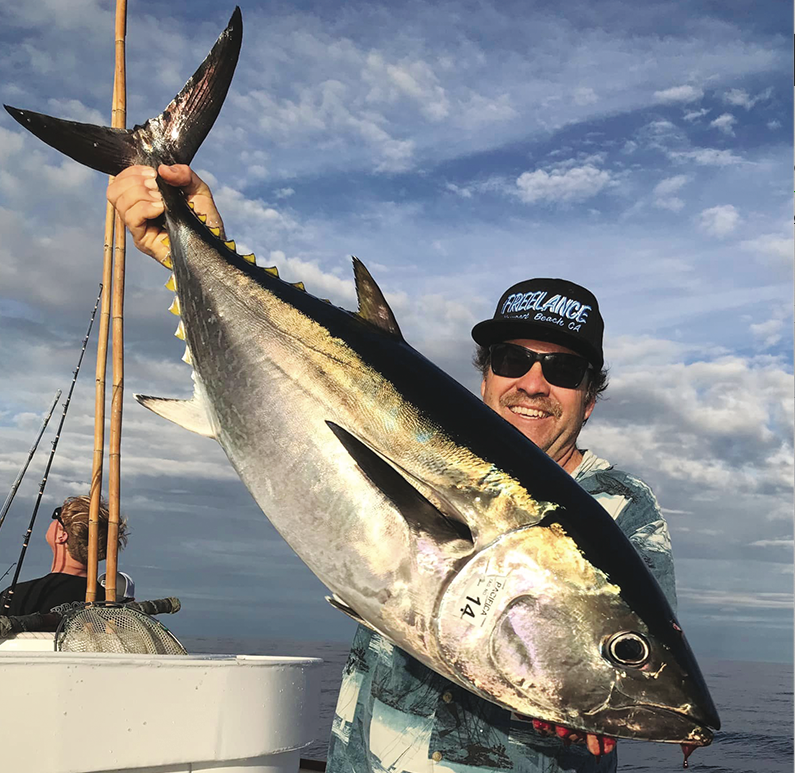 BY MERIT McCREA
SAN DIEGO/OCEANSIDE — With some calm offshore conditions there were several boats out over the weekend looking for bluefin, finding some and landing a few. Plus, the report from Colonet showed yellowtail opportunities came with plenty of rockfish and lots of lings. Locally, winter bass fishing paired with limit-style scorpionfish action.

There were several boats out on the water over the weekend fanned out from the outer banks out west to the inner banks down south. Capt. Rick Slavkin of the Oceanside 95 provided some insight.
Capt. Joey Helgren of Helgren's Oceanside Sportfishing took a look at the Tanner with just 8 anglers on deck — it had to be done, calm seas and all. What they found was bluefin, fish from 12 to 45 pounds "boiling around."
The bite was scratchy and they managed a pair on bait, including one while anchored, along with a pair on the troll. In addition, those big outer banks bonito made a strong showing and they put 34 on deck.
Helgren reported water temps out that way still holding around 61 degrees. He was considering putting the O95 online to fish offshore this weekend, given favorable conditions.
The Daiwa Pacific looked at some areas out to the southwest, the Butterfly, the 60 and managed to scratch up a single bluefin tuna out that direction.

Capt. Andrew on the Pacifica ran back south towards the inner banks and again saw good sign. Angler Jeff Price was pleased to land his first 2022 bluefin limit — 2 of the 3 fish decked on the trip.
Both the Relentless, on a 1.5-day out of H&M Landing, and the Tribute, just wrapping up a 2.5-day out of Seaforth Sportfishing, fished along the Mexican coast in the area of Punta Colonet.
As of noon Sunday, the Tribute had 40 yellowtail on deck and were running for the cod grounds to wrap the trip up in style. The word was the blue and white Salas 6X Jr. was the hot yo-yo iron for the forktails.
As for the Relentless, their final for 20 anglers was 31 lingcod, 14 yellowtail, 35 whitefish and 125 rockfish, which represents limits in combination.
From Point Loma Sportfishing, the Vagabond will join the Colonet fleet this weekend, with a Friday evening departure for a 2.5-day.
More locally, the Malihini at H&M will go online to fish 3/4-day rockfish south of the border. Already running those trips on a half-day time frame was the New Seaforth and they've had steady results — their 27 anglers Saturday bagging 225 rockfish. Anglers will need a passport and Mexican license, of course.
Those fishing half-day in U.S. waters targeted scorpionfish and bass, with squid on twin-tail plastics a top offering.
The Electra fished Oceanside's local artificial reefs and had some decent bass fishing with a few legals landed among the many under that mark.
From the Oceanside SEA Center, the Chubasco II fished half-day and twilight runs with teens passenger loads limited every angler out with sculpin. Highlights included Friday evening's twilight run with 13 anglers getting 65 scorpions, a triggerfish and 68 bass, with 30 sand bass and 6 calicos kept.