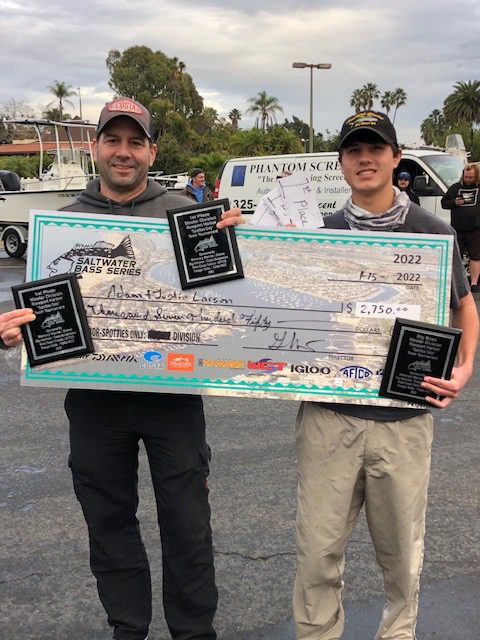 NEWPORT BEACH — January 15 in Newport Harbor marked the day the 2022 Mercury Marine Saltwater Bass Series tournament season began, and as it approached, many of the previous season SBS participants simply couldn't wait for a new season to get started.
With the new coronavirus variant currently going around the state, it was decided that this first tournament would be a non-gathering event. On top of this, teams were greeted with some rain and a surprise tsunami warning that almost canceled the tournament after it had already begun. Thankfully, the teams hung in there and were glad they did, as the fishing was pretty darned good considering how stingy Newport Harbor can be for tournament legal, 14-inch spotted bay bass. Here's how the first tournament of the Saltwater Bass Series 2022 season went down.
The format for the event was "spotted bay bass, Newport Harbor only." Event hours were a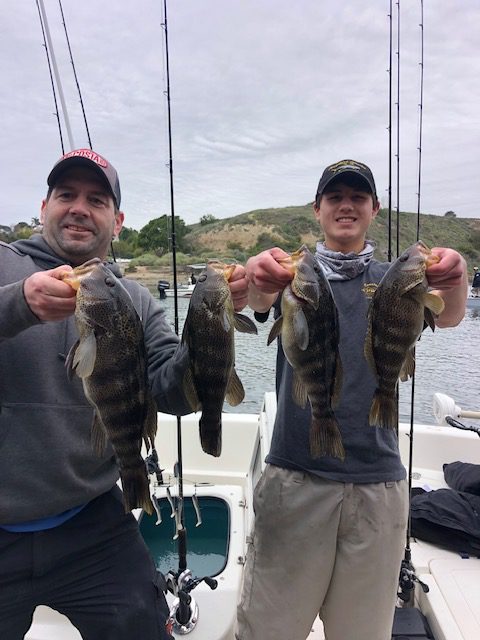 6:00 a.m. start for all with Rookie / Family Division teams weighing in at 2:30 p.m. and Masters Division teams following up at the scales at 3 p.m. And let's remember, the average weight of a 14-inch "keeper" spotty is 1.30 pounds – multiply that number by 5 and you end up with about a 6.5-pound limit.
Coming in early at 1:00 was the Rookie / Family team of Brandon Hoff and Mathew Christie. These two weighed in a very respectable 8.65 pounds backed with a 1.87-pound kicker spotty. This was their first SBS tournament win, so a big feather in the cap to this duo! Second to the winners in the R/F Division was the SBS tournament assistant team of Justin Acuna and Alex Kim. These guys went through 40-plus fish to bring in 4 keepers and weigh a total of 5.31 pounds. Rounding out the top 3 was first-year SBS participants Jon Wilber and Phil Limon, weighing 4.7 pounds for their 3 bay bass.
Good things happen to good people, as the winners in the Master Division had just "stepped up" from the R/F Division from last year to start in the Masters for 2022. The father / son team of Adam and Justin Larson came in big to kick off the new season as they weighed in a very nice limit going 9.72 pounds, and their anchor fish weighed a giant 2.90 pounds! It's been quite some time since the tournament scales have seen a spotty close to 3 pounds! That big fish in particular is certainly something to be proud of.
Following up in second place was last year's AOY and Coolbaits team of Josh Marquard and Shannon Perkins. Josh brought his Brittany Spaniel Jett for good luck and he did not disappoint as these two weighed in a very solid 8.33 pounds of spotties. Wrapping up the top 3 spots and falling incredibly short of the silver medal with a super tight .01 deficit was Daiwa's own Marc Mills and Brett Woodward after they came to the scales with 8.32 pounds. This is exactly why the SBS invests in the very top weigh systems available.
When asked about his take on the first SBS of the season and the overall spotted bay bass fishery in Newport Harbor, tournament director Gerry Mahieu had this to say.
"With many years of eelgrass habitat efforts, the bay is very healthy. Tons of bait and so many options on how to catch them (spotties) in there. With a morning bite of A-Rigs and small Big Hammer Swimbaits, these spotties were a little more a little more aggressive and willing to feed higher in the column and chase a lure down.Once this morning bite slowed, crankbaits and jigs took over. With these fish sticking on the bottom, this was the best choice to continue to catch fish by putting the lure right in front of their noses. Like I mentioned, some teams caught up to 40 fish! The trick with some luck was to get those 14-inch bass in the tank.
"Many stories of lost keepers went around, but with some of the teams thinking fishing in Newport is only fair at best and that this day would be brutal, Newport proved many wrong as most all the teams weighed fish and only a few teams didn't weigh," Mahieu continued. "Maybe Newport is coming back? If you do get out there soon, just remember the slow growth of these fish and please practice catch and release!"
Next up on the SBS schedule is the Feb. 12 event out of Long Beach which will be "Inside Only," meaning inside the breakwall in which all three species of bass will count at the scales. For more information on the tournament series or the next event, log on to saltwaterbassseries.com or check along for updates on Instagram @saltwaterbassseries20 or the Saltwater Bass Series Facebook page.