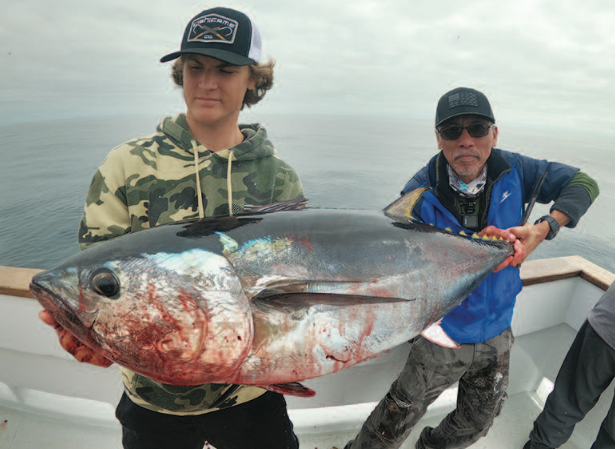 BY DANIEL LABARBERA
LONG BEACH/SAN PEDRO — For the local half- and 3⁄4-day boats, the conditions have continued to improve and those boats are fishing both deep and shallow waters, so come prepared to do both. Water temperatures ranging from 57 to 63 degrees have the kelp lines starting to fire up, with spots of barracuda being seen but thus far unresponsive. Overnight boats fishing the islands are beginning to see good sign of yellowtail action with reports of bluefin as well just off San Clemente.
Monte Carlo ran a double half-day and took 124 sculpin for 34 anglers on the morning half-day and bookended 104 for 38 fishers in the afternoon. Their twilight run landed 24 anglers 13 sand bass and 38 sculpin.
The first sign of bluefin for the overnight crowd came aboard the Freedom Friday morning, with 8 fish landed by noon. They finished off their day fishing San Clemente Island for 14 yellowtail, 3 kelp bass and 12 bonito. The Truline on an overnight was able to put their 17 anglers on a pair of bluefin, 23 sheephead, 8 yellowtail, 33 calicos and 56 whitefish.
The Victory checked in this week with 90 sculpin (limits), 101 rockfish and 11 keeper calicos, with over 150 bass released as well. Landing manager Steve Phelps had this to say about the local scene: "I would recommend bringing a bass rod and plastics for the afternoon bass fishing along with your jig stick in case these barracuda decide to cooperate one afternoon or morning."
The Eldorado has been fishing the outer islands with success on yellowtail every trip, beefing up their big sheephead and rockfish counts. They checked in with 25 anglers on Friday going 11 for 25 on the yellows to go with 219 whitefish, 15 sheephead, 2 sculpin, 148 miscellaneous rockfish, 77 reds, and a lingcod and cabezon. Overnights are scheduled daily and depart at 8:30 p.m. Allan Watson on the Dreamer has reported seabass to 40 pounds this week along with some stout yellowtail up to 30.