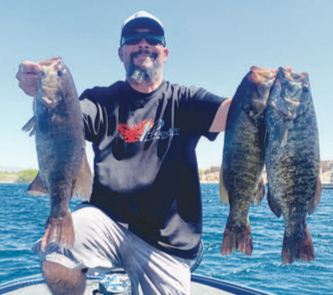 BY MIKE STEVENS
BULLHEAD CITY, NEV. – Reports on Lake Mohave and Willow Beach appearing in Western Outdoor News over the last month have consistently reflected a solid smallmouth bass bite with largemouth playing catch-up on Lake Mohave. Meanwhile, the striped bass scene around Willow Beach was sluggish but with occasional flashes suggesting things might be about to pop. Fishing intel can be hard to come by out of both areas, but WON rarely gets as detailed a report on both zones than when WON BASS pro Chip Gilbert heads out there for his birthday.
"Lake Mohave is kicking out some really good smallmouth and largemouth," said Gilbert who was fishing with Kevin Burkhead. "We launched at Cottonwood Cove, and the water temp was 68 with perfect 80- to 85-degree air temps. We traveled north from Cottonwood to the Power Lines."
He said the first stop delivered a nice smallmouth bass on a Keitech jig with a Berkley Chigger Craw trailer right off the bat and, "The fish seemed to be everywhere from right on the banks down to 20 feet."
The water temp rose to 70 and a slightbreeze arrived prompting Gilbert to tie on a Basstrix paddle tail while Burkhead went with a spinnerbait.
"The quantity went down but the quality went up," said Gilbert. "I landed smallmouth to 4.5 pounds on the Basstrix, and we also started to see some smallmouth still on nests, but they were smaller models."
The duo later motored around all day working jigs and hula grubs over long points and switching to reaction baits over the flats.
"Basically, if you want fun smallmouth and largemouth fishing, Lake Mohave is the place to be," added Gilbert.
Gilbert and Burkhead also headed "upstream" to launch from Willow Beach where they teamed up with Adam Perez and Bryan Hunt who were in a second boat to target striped bass. Keeping in mind the stripers in this area include trophy models that tee off on trout that are stocked on a weekly, year-round basis, big swimbaits were the flavor of the day.
"We started fishing Huddleston and Hawg Hunter swimbaits, and after about an hour I finally get a bite and connected to a solid 15 pounder" Gilbert told WON. "Throwing swimbaits all day is not an easy task,
owever, one solid bite made it easier and we kept casting with high hopes."
That went on for a few hours before Burkhead landed a nice one on the Hawg Hunter, then Gilbert stuck another on the Hudd. Later in the afternoon, Hunt and Perez cruised up on their boat with big smiles on their faces for good reason.
"Bryan pulled out a giant 27.45-pound striper he caught on the Huddleston, and Adam pulled out a solid 10."
Those guys fished hard with big baits all day to land five stripers among them. The way it's been out of Willow Beach, that's actually an outstanding day with most big-lineside devotees putting in that much work for one or two quality models.