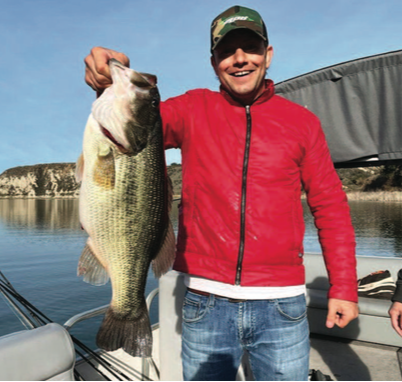 Lots of crappie on the troll, big bass starting to show
BY BLAKE WARREN
SANTA BARBARA – Anglers mak ng their way to Cachuma Lake these last couple weeks are being rewarded nicely for that decision, as the fishery is looking extremely healthy and kicking out solid action for crappie and bass, along with a few quality trout still to be had from heavy stockings earlier this season. While the bass bite is now coming alive heading toward spring, it has been Cachuma's crappie taking top billing these last two weeks and providing stout limits or near-limits-style fishing for the slabs.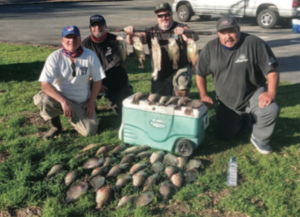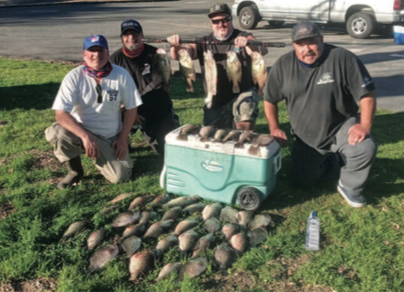 It's been primarily a trolling bite for the crappie, and perhaps no
body has been on them better the last two weekends than Team 57 members Dan Coll, Aaron Titelman, Chris Hagopian and Art Boyamian, who have been putting a serious hurt on the panfish, posting big numbers each of the past two weekends.
"The bite's been awesome and we've been putting together 25-fish limits or real close to it both weekends," Coll told WON. "These crappie are nice slabs averaging 12 to just shy of 16 inches. All of our fish are b ing caught on the troll, running the boat about as slow as we can go without the motor conkin
g out. Our lures of choice have been your standard small crankbaits that you'd troll for trout with, including Rapalas, Flicker Shads and Lucky Crafts all fished flat-lined on 4- to 8- pound test, along with Needlefish trolled at one color of leadcore line. Tough to say which color pattern is working best because we've had numerous double and triple hookups on a variety of different colors. We mainly trolled the cliffs and areas with exposed reeds, and the bite has seemed to be consistent the entire day."
While the bass bite has been fairly steady for much of the winter, things are looking even brighter heading into spring, as more bass are ascending to shallower water and no fewer than at least a trio of 8- to 9- pound largemouth were checked in this past week along with good overall numbers and up to 30- fish days for some anglers.
Cachuma guide Steve Morris with Rich Tauber Fishing Guide Service reported good numbers of bass anywhere from 2 to 30 feet of water through the week, including an 8.5- and 9-plus pounder, the latter of which was winched in by 14-year-old Tessa Warren over the weekend — both of those big largemouth were caught in 25 to 30 feet. Morris said he's been doing most of the damage with his clients with brown, purple and watermelon/red flake Roboworms on the drop-shot and Texas rig. The biggest reported bass of the week was also nabbed over the weekend, a 9.7-pound bucketmouth that gobbled up a Senko pitched up shallow by Johnathan Sadowski.
Although the trout bite has tapered off some recently, there are still some good rainbows making their way onto stringers, with the majority of the catch coming on trolled Rapalas and Flicker Shads. Heavy stockings of quality trout earlier this season should have a fair share of bigs still swimming around heading into March.