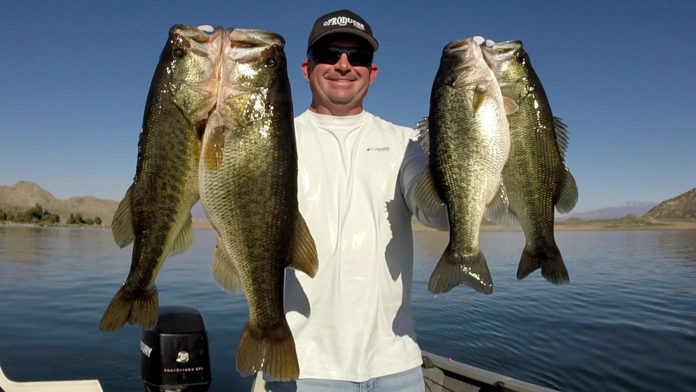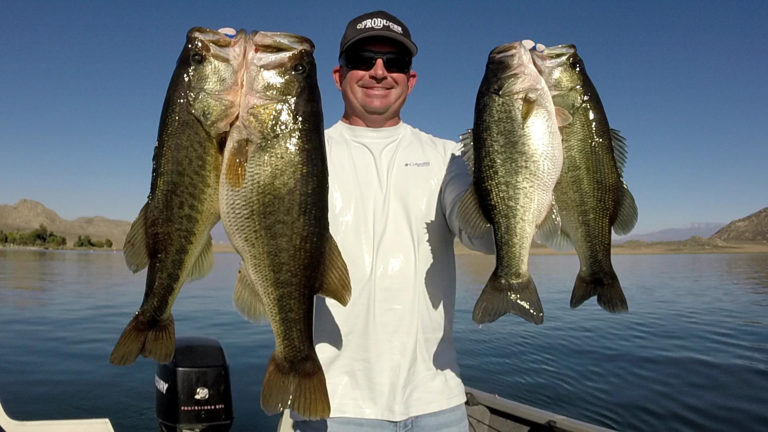 BY MIKE STEVENS
PERRIS – Prespawn largemouth bass have been creeping into shallower water, but big fish aren't waiting for the spawn to bite at Lake Perris. We're not talking double-digits here, but it's definitely become a bit of a football factory with quality showing up with consistency.
There was at least one fish to threaten the 10-pound mark. That was a 9.1 pounder that ate an 8-inch swimbait thrown by Shawn Wahl, but it wasn't the only chunk he bagged in recent days on Perris.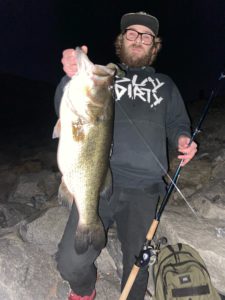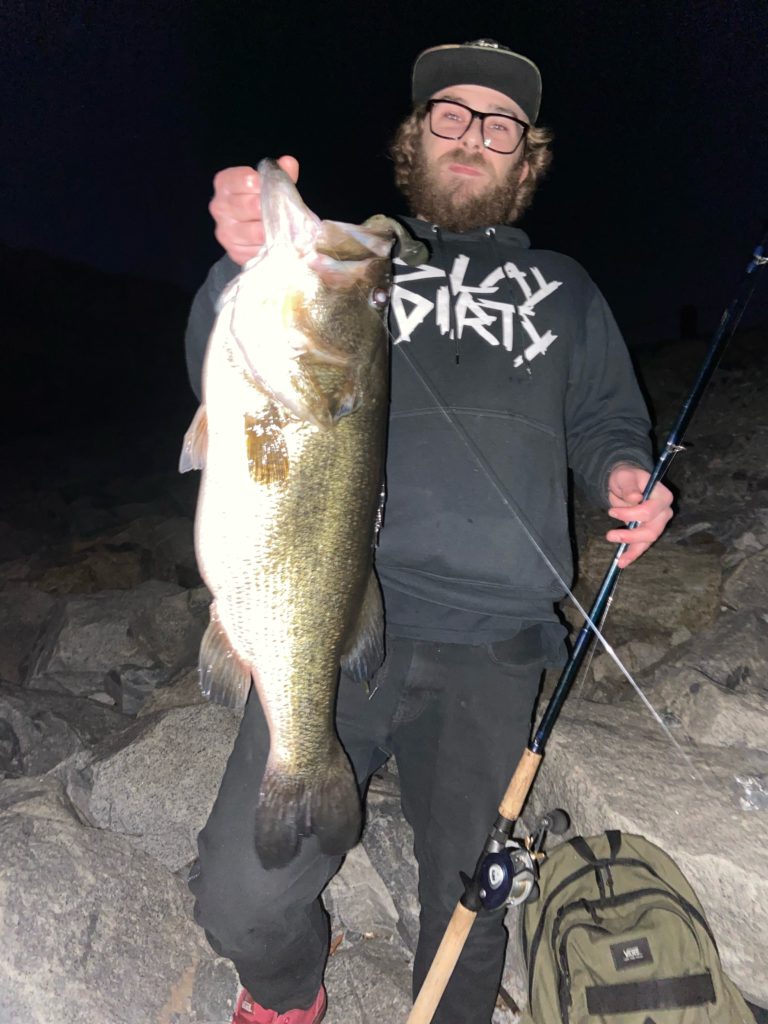 "This (the 9.1) was like 10 minutes before the park closed,"said Wahl, who was fishing from shore. "The big fish have been chewing pretty well on bigger baits as well as smaller swimbaits. On all parts of the lake we caught some, from the east side all the way up to the west side of the lake. This was the biggest from the week, we caught multiple 5 and 7 pounders as well."
Kenny Baldwin of Produce Plugs has also been connecting with Lake Perris quality. He is a lake regular with a lot of tactic in his arsenal, but he specialize in a productive albeit unconventional (at least to most bass anglers) method.
"The bass bite has been grea all winter, and it still hasn' slowed down," Baldwin told WON. "I'm finding large group of bass in 37 to 43 feet of water near cover but not in it. Most o them are very close to the bot tom, so close that you can't see them on my regular color sonar only on my down imaging. They seem to bite in short windows of 30 minutes to an hour, then they disappear. If you come back an hour or two later, they either return or a fresh batch of fish move into the area. The key for me is to have a couple of spot like these to rotate to and from when they stop biting. The majority of the fish have been on the Producer Fly, just skimming the bottom."
What he's doing is trolling his flies on leadcore line and often targeting deeper offshore structure spots a lot of boats just zip past. It's the same primary technique his buddy, guide Mike Southerland specializes in when targeting striped bass at Diamond Valley Lake.
"I usually get 12 to 15 bas each outing, and most are 3 to 5 pounds with a 7- to 8-pound kicker on most trips."
WON has another contact a Perris who likely fishes the lake more than anyone on earth, and he's been also been tussling with big bass at his home lake, only with finesse stuff, but he thinks Perris is about to pop.
"Big ones are starting to show up and the spawn is near," said Michael Craig of Mentone. "Weird weather changes it quickly, but it won't be long before it explodes."