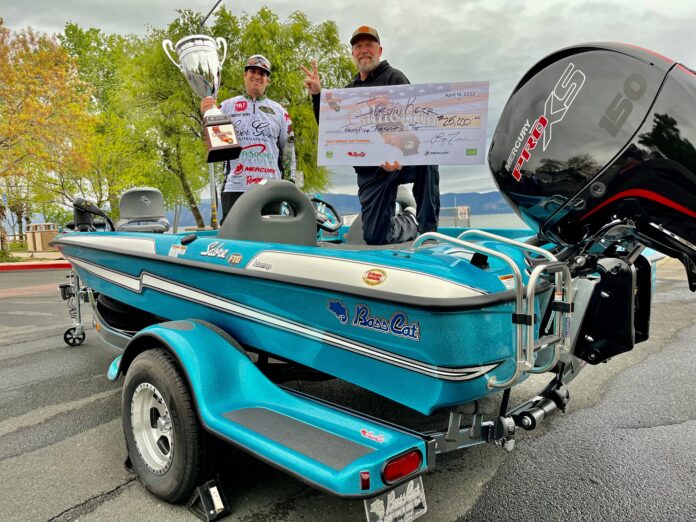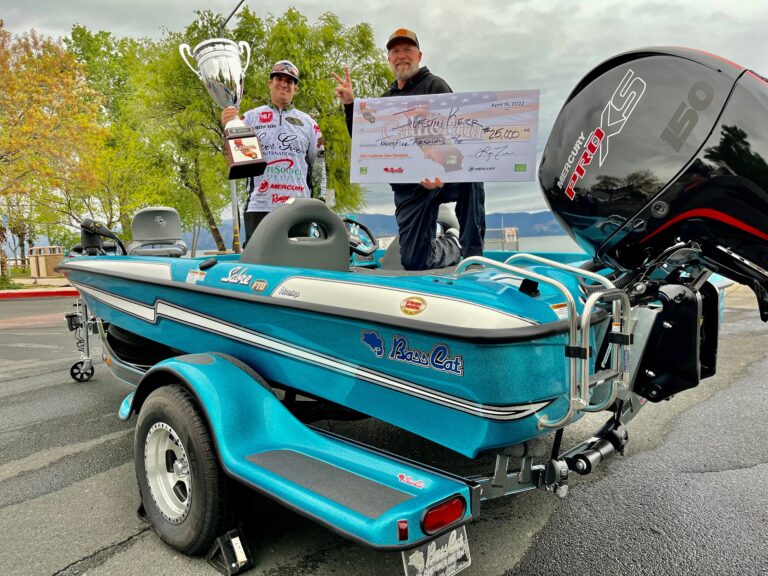 By Jody Only
LAKEPORT, Calif. – Arizona pro Justin Kerr made history as the first-ever 4-time WON Bass Open champion, weighing in 60.07 for the 10th Annual WON Bass California Open on Clear Lake this week. Traveling from Lake Havasu City, Kerr comes off his recent victory at the Laughlin Open, adding the two 2022 trophies to those from his previous 2018 California Open and 2008 U.S. Open wins.
"My co-anglers really bailed me out this year," said Kerr. "I didn't have any practice, so I just do what I normally do at this time of year when it gets tough. I Carolina-rigged super-super slow."
Besting a field of 154 boats at the three-day, shared weigh event, Kerr climbed into the top-5 on Day One fishing with lake local AAA Omar Juarez, of Kelseyville. The team hauled up 21.25, anchored by Kerr's 7.66 Big Fish – a weight that would hold for the biggest of the event on the pro side. The bag put each of them in 4th place on their respective sides.
On Day Two, Kerr was paired with AAA Kristine Kennard, of Napa, Calif. Together, their five-fish limit put 17.32 on the board, bolstered by Kennard's AAA Big Fish at 5.42.
"Kristine threw up a Senko in a foot of water on braid and caught a five-pounder, so it was super-super lucky," he said. "Can't ask for anything better than that.
A two-day total of 38.57 held Kerr in his 4th place spot for his launch on the third and final day of competition.
Kerr launched on the final day with AAA Tanner Watson, of Lakeside, Calif. A full limit added 21.50 to each of their totals. The weight pushed Kerr to 60.07, making him the only angler to break the 60-pound mark in the multi-day event – a surprisingly low tournament-total for the competitors on the water of what is known as the Big Bass Factory.
Kerr's 60.07 edged out fellow Arizona pro Brandon Morton, from San Tan Valley by less than a pound, as Morton's final weight brought him 59.22.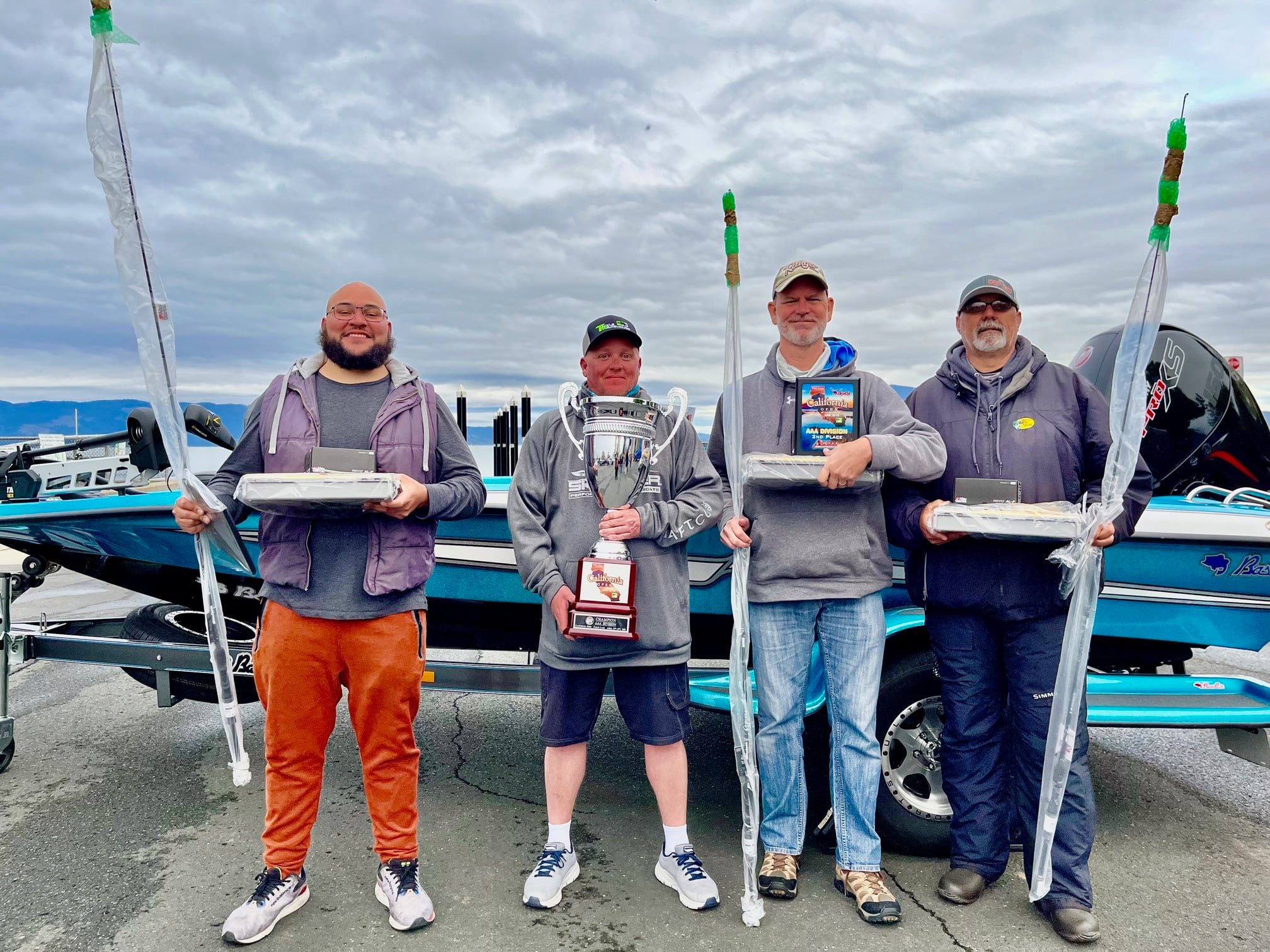 The California Open grand prize package adds a Bass Cat Sabre FTD with a Mercury 150 ProXS and $25,000 cash to Kerr's career winnings.
"Once again, I'm super-lucky," said Kerr. "Having WON Bass out here in the West is a huge thing. Thev've kept me alive forever. I've won a lot of WON Bass tournaments now; so, it is actually how I've made a living. Thanks to them!"
The AAA victory went to David Cole, from Roy, Utah. He earned the top-spot with a three-day total of 57.40. Cole claimed $6,000 for this effort.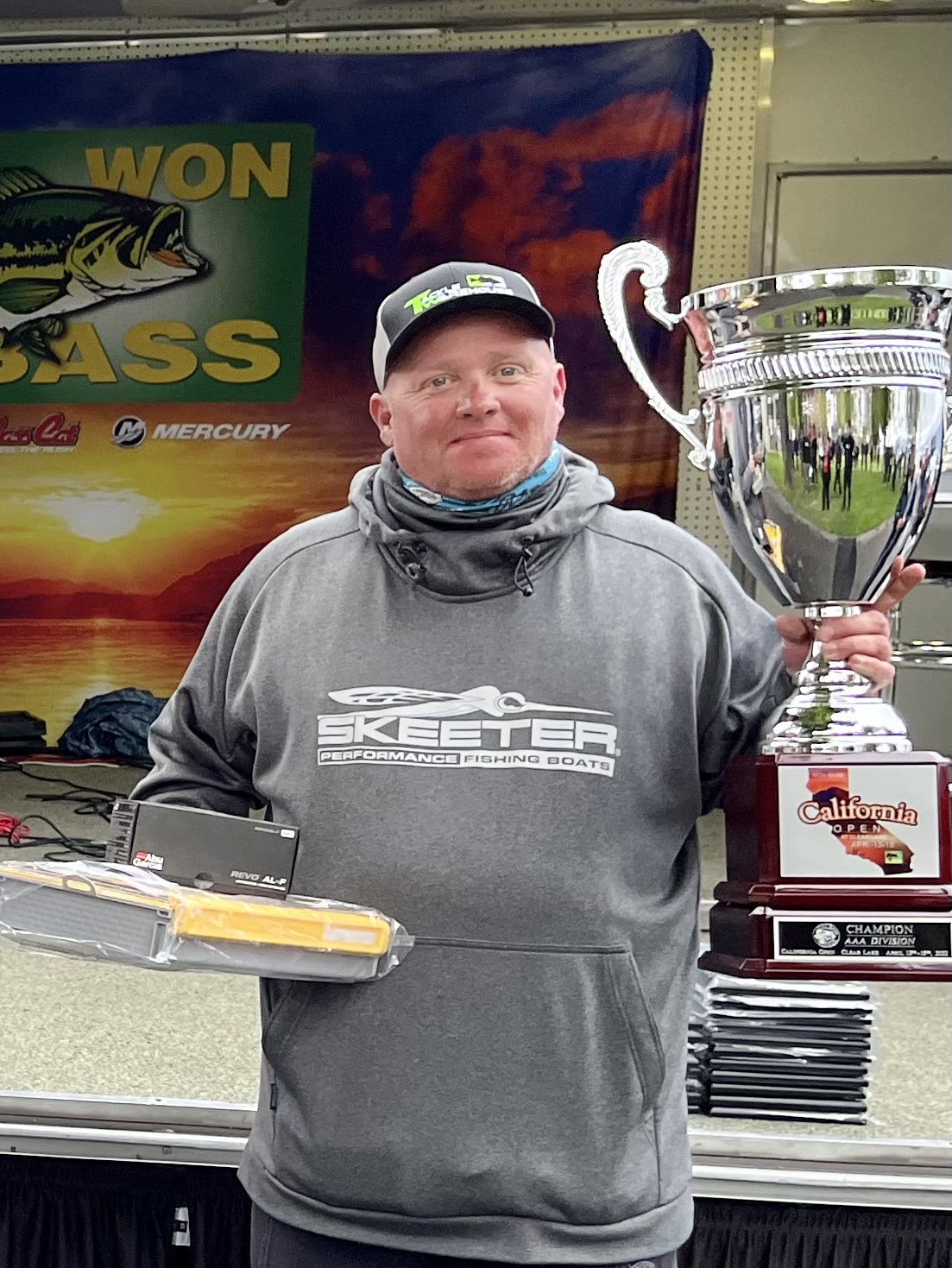 Anglers will ready for the final WON Bass Open of 2022 in the fall – the U.S. Open. This Open, considered the most prestigious event in the West will blast off Oct. 12, 2022, at Lake Mead.
For the Full Results: https://wonbassevents.com/
To Sign Up for the 2022 US Open: https://wonews.com/product/u-s-open-october-10th-12th-2022-at-lake-mead/