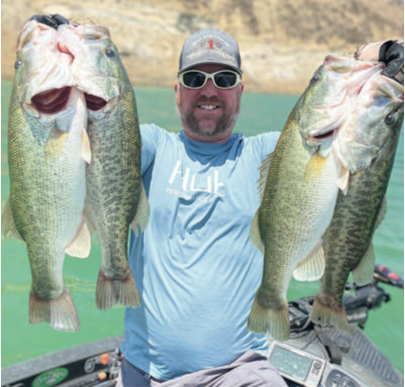 CASTAIC – Despite the fact that the water level continues to fall at a steady rate at Castaic Lake, bass fishing remains very solid, both in terms of overall numbers and quality fish. Even with the heavy summer boating pressure, most anglers are finding plenty of willing biters most days on the water.
"The fish are holding on rocky points and bluffs closest to the main lake and the bite seems to get stronger when the wind is blowing," was the word from Castaic guide Jim Taibi. "Five-inch wacky-rigged Senkos and drop-shot rigs with morning dawn Roboworms and oxblood C3 Baits Ice Picks have been hard to beat lately. There's also a short window of topwater fishing available early with poppers and buzzbaits attracting some nice fish."
Indeed. Among a number of recent angler reports indicating more active bass hitting topwater early, SoCal guide Rusty Brown hit the lake over the weekend and personally found that to be the case, connecting
with a handful of nice largemouth throwing Rapala X-Pops for the first hour and a half of the morning before shifting gears. Once the surface bite tapers off, he's been leaning heavily on Hologram Shad, Aaron's Magic and Oxblood Roboworms on the drop-shot rig working isolated stickups and mud lines in the Ski Arm.
Castaic regular John Petroski has been getting out at least two to three times a week these last few weeks and echoed the same sentiments of a very good bite in spite of the low and dropping lake level.
"The fishing on both the upper and lower lake has been stellar," said Petroski. "The primary targeted depths are 10 to 25 feet and the Shimmy in Neptune Shad on a Carolina rig or drop-shot Jobu straight tail worms in oxblood have been money lately. The Lagoon has its annual weed bloom going on so weedless baits have been the deal down there for those in the know, but it's been pretty good." Striped bass are chewing pretty steadily of late, though most of the linesides hitting surface stuff and swimbaits amid boils are generally running on the smaller side.
Trolling and soaking cut baits have also been working for jailbird bites, according to lake staffers, who added that cut baits and nightcrawlers are fooling moderate numbers of catfish.