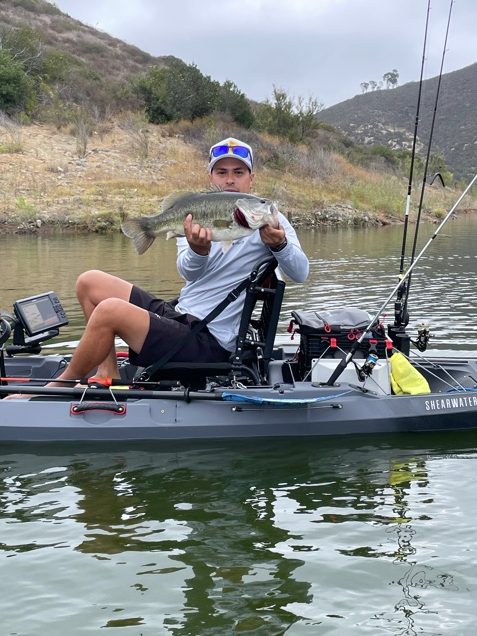 BY MIKE STEVENS
ESCONDIDO – For nearly three weeks, the bass scene at Lake Hodges has primarily consisted of huge numbers of fish with lockjaw hanging offshore in 20 to 30 feet of water, and fewer numbers up shallow and close to shore, but those were the ones more willing to bite. It's starting to look like that's beginning to evolve, with largemouth still biting along the banks and those deeper bass starting to shallow up some and finally show some willingness to inhale some baits.
The biggest bass popping up on the WON radar was a 6.5 pounder caught by Oceanside angler Kevin Alba who was working a 10-inch Googan Baits Mondo Worm from his kayak. He was working a ledge 10 feet of water about 20 yards off a tule-lined bank in the Narrows. Woo! Tungsten pro staffer Casey Cosgrove was also putting in work from a kayak, and he was able to yank a bass out of the same tules by flipping a black/blue Strike King Rage Craw rigged with a 3/8-ounce Woo! Tungsten Never Chip Flipping Weight.
Other WON sources said they ran into anglers who did well on Carolina-rigged Brush Hogs, and a 6.1 pounder was also caught, but details were slim on that. Some of the lakes top regulars are saying the full moon has put the bite off a bit, but some of them still managed to put up double-digit numbers with most fish falling within the high threes into the mid-5-pound range.
Fishing pressure on Lake Hodges has been uncharacteristically light since the ramp reopened weeks ago, and that remains the case. Another trend that has yet to taper off is kayak anglers and float tubers doing very well. It could be the stealth factor involved as fish move into newly flooded shoreline cover with the water level up a bit as compared to a month ago.