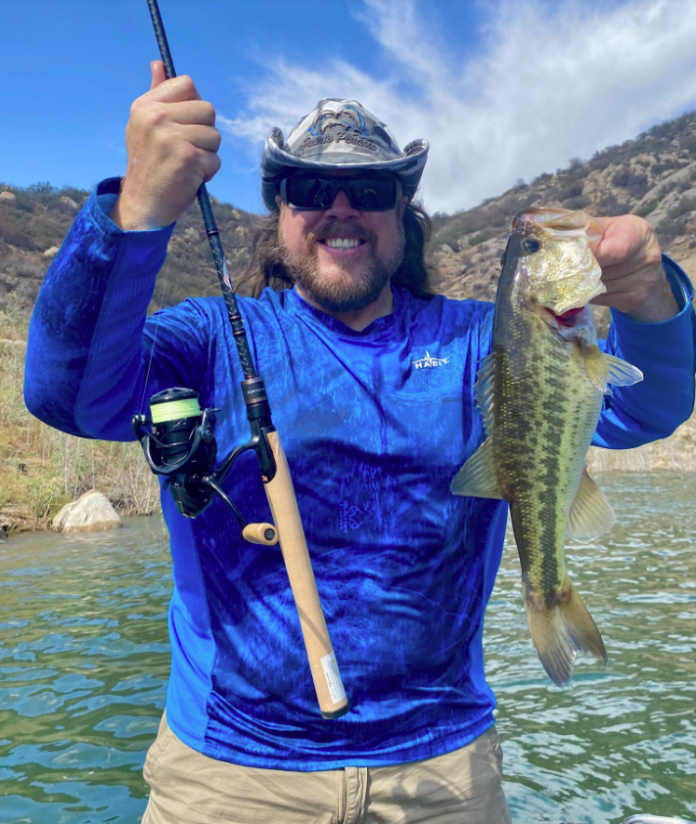 BY MIKE STEVENS 
LAKESIDE – With falling water temps, the open-water bite is much improved making for a respectable reaction-bait bite, but finesse tactics are still doing the most all-day damage at San Vicente Reservoir. Double-digit numbers on largemouth are very possible here at the opening stage of the fall transition.
"We started off on a rock pile in 26 feet of water and hit five right off the bat," said Derek Hamilton of Riverside. "Scott was running 5-inch Senkos on a drop-shot, and I was using 4.5-inch Roboworms in Margarita Mutilator. We moved around fishing mostly deeper trees but managed a few fish in 8 to 10 feet. We caught at least two or three dinks for every keeper-sized fish we landed, and we had close to 35 fish but it could have been more if we didn't change things up looking for bigger fish."
Hamilton went on to say he did experiment with a 1/10-ounce Ned rig with one of the new 4-inch floating Senkos, and while he did stick a couple of bass on that, he shifted gears because he did not have heavier jig heads and it took a long time for the bait to get down 25 to 35 feet.
Some of their fish were caught close to shore, and these guys definitely cracked the code to make that happen.
We found a pattern late in the day fishing shade lines against the banks where the shade didn't get out to more than about 20 to 30 feet from the bank," said Hamilton. "Weightless swimbaits changed our ratio to about one-to-one dinks to keepers, and Scott capped of the big fish with a 3.5 pounder 15 minutes before we called it a day."
While the water is cooling, it's still pretty warm. Hamilton said their best fishing was had in 81-degree water, but reports from lake staffers say there is also 75- to 77-degree water to be found. Most of that likely hinges on what areas of the lake are being measured as well as the time of day.