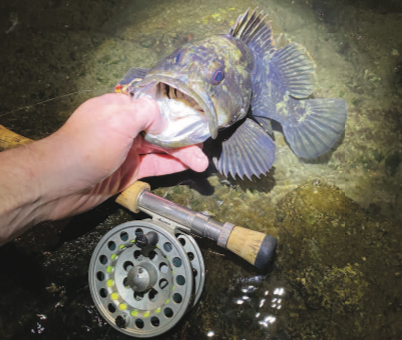 BY LUKE OVGARD
I was a slow convert to flyfishing, and even then, not a whole-hearted one. In no way am I your typical fly caster, either. Sure, I have Simms waders and wading boots, but I rarely wear them.
You will never catch me on the water with a fishing vest, button-up shirt or hat with an IPA or Patagonia logo on it. I have never tied flies and instead buy them from a friend. Most damning of all, I don't turn up my nose at conventional gear or bait if it fits a situation.
I truly enjoy taking the fly rod out and flailing for fish I've grown tired of catching on conventional gear, but up until a few years ago, I'd only ever caught run-of-the-mill freshwater fish on the fly: bass, crappie, perch, salmon, sunfish and trout.
A few years ago, I ported a fly rod on a cross-country road trip and had every intention of using it for stripers in Maine and tarpon in Florida, but I opted for the more effective, longer-casting spinning outfits to thread my lures between pilings and mangroves. Part of me regretted not using the fly rod, too, but I couldn't argue with the success of my spinning rods.
Last summer, I broadened my horizons and caught a tarpon on the fly. Sure, I snagged the thick mangroves all around me more than once and almost lost said tarpon to a 'gator as I tried to find some shallow water in which to land it, but I got it to hand. Little by little, I've begun to pull out the fly rod, and I've been pleasantly surprised with its ability to make a fish I've caught countless times exciting again.
After a day targeting smaller fish with tiny bits of shrimp in the Bay Area, darkness turned the November night cold, and I debated calling it a night just as my headlight beam crossed the back of a rockfish suspended in the nearshore waters of the harbor. Then the light hit another. And another.
Forgoing dinner that evening, I ran back to my car, grabbed my fly rod and proceeded to catch more rockfish from shore than ever be- fore. Suddenly, I had another outlet for flyfishing.
THE WATER
Though numerous cities in California have a "Fisherman's Wharf," an alarming number of these piers have been gentrified so thoroughly that they no longer even allow their namesake activity. It's disturbing to watch the cultural appropriation of fishing by ur- banites who relish the fresh bounty of the sea on their $40- or $50- plates but can't stomach seeing the same fish caught.
People who don't understand what "progress" is ban fishing from these piers that have — in some cases for almost a century — been central to the fishing com- munity. The Bay Area still has a number of wharfs, harbors, break- waters, jetties and coves that make ideally calm, fishable water for an- glers willing to look.
THE OPPORTUNITY
There are countless harbors, current breaks, jetties and piers that make for the calm water that fly casters will appreciate, and I found one in the Monterey Bay that was exceptional.
Another friend, Vince Golder, left his Santa Cruz home to join me in the hunt for rockfish at night. He was chasing copper rockfish (a fish he hadn't caught) while I was after olive rockfish (one I hadn't caught).
He'd come armed with a medium-light spinning outfit, a light jig head and scented plastics. I'd opted to try catching a rockfish on the fly rod, thinking it would be a challenge. It wasn't.
On my very first cast, I landed a black and yellow rockfish. Then a grass rockfish. Then another black and yellow. Rockfish pulled about three times harder than a similarly-sized smallmouth bass and fight in much the same way, making the fight on my 7-weight very memorable. Vince, meanwhile, crushed it with conventional gear.
Naturally, I was trying for olives, so only Vince caught them. In turn, he was after coppers, so I caught them all.
Eventually, we each added a new species, but I was forced to change to spinning gear and missed the chance to catch a new species on the fly for the first time. Once I handed Vince his rod back, I resumed flyfishing and caught enough fish to keep me occupied until the winter cold stiffened my hands with every strip.
The color of the streamer didn't really matter. Rockfish crushed every streamer I threw from three to six inches long. Single-hook, extra fluffy, bead-head olive woolly buggers started the frenzy, but I quickly switched to five-inch black-and-white articulated streamers with two hooks and enough glitter floss to catch the wan light of the moon.
The shoreline had large rocks and a steep pitch that meant I was fishing water between 10 and 15 feet deep at high tide within a short roll cast. Many hits came on the fall (I was using Type 2 medium sinking line), but I also stripped my streamers, jerked them like wounded baitfish in erratic patterns and did a slow retrieve while wiggling the rod to catch fish. It made me feel like I was quite the fly fisherman — whether or not that is reality.
The night bite was so hot that I caught fish on three separate streamers and even beat my record for most rockfish in a single day. My previous record of 29 rockfish came on a charter boat, but this time, I caught 34 rockfish from shore, including black, black and yellow, blue, brown, copper, grass, kelp and a single olive rockfish
Now, I always pack my 7- weight when I head to the coast. I haven't caught quite so many rockfish in a single trip since but can always pull up a few if the moon is bright, and I'm fishing the right habitat. I was born in the '90s, so I'm justified in saying that whipping feathers and yarn for rockfish is pretty fly.
Sign up for every single CaughtOvgard column at www.patreon.com/ CaughtOvgard. Read more for free at caughtovgard.com; Follow on Insgram and Fishbrain @lukeovgard; Contact luke.ovgard@gmail.com. Thank you for your continued support of local journalism.