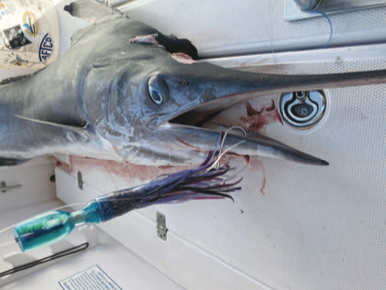 BY MIGUEL MARTINEZ
What was going to be a short day ended up being an epic, long day…
I did a solo run and went out looking for tuna. I found a kelp paddy that was holding a bunch of mahi on it, so I called in three other boats and I left them biting.
Then I went to the 226/302 and started to head in. That's about 24 miles southwest. I was trolling four rods: a feather, a daisy chain, a cedar plug and a marlin jig.
At 1:30, the marlin jig went off! I was in the Canyon outside the lower end of the 9. I thought it was another mahi at first because I just passed a huge paddy. I never saw it jump but the fish on the other end did not stop while I reeled in the other three rods. When I took the rod, it had taken about 3/4 of the line… about 400 yards.
An hour and 45 minutes later and four big runs, I managed to get a gaff in the marlin. I held him on the side of the boat, resting on my forearms for about 20 minutes be- cause I was spent and needed to catch my breath. I was shaking. I could not lift it over the side — I was too weak at that point. So, I had to bring him up the back by the motors.
I personally have lost 6 to 8 marlin locally over the last 16 years on friends' boats, a couple with my wife Laurie on our boat, Get Knotty, a 38-foot Rampage Express, and 4 lost solo on my old boat, Drift-A-Way. My last marlin I caught was on a trip in 2008 with Bob Woodard on his boat Christina Lynn on our way to PV from San Jose del Cabo.
The ones before that were all in East Cape or in Cabo—I had around 20 by the age of 19. I have had several caught on my boats over the years by other anglers. I was on my second smaller boat, Lil Knotty, a 26-foot Donzi center console. This is my first one ever landed locally. And solo, no less!
This is the 14th solo marlin ever caught at our Southwestern Yacht Club in its 97-year history. There are some legends on that list from our club. The last time it was accomplished was in 2005 by a father-son duo. I'm pretty excited to be included in this exclusive company.