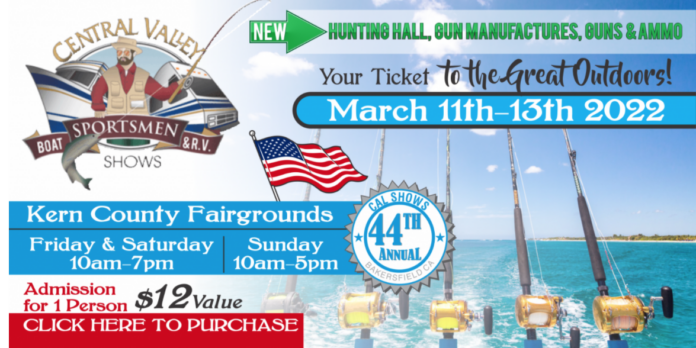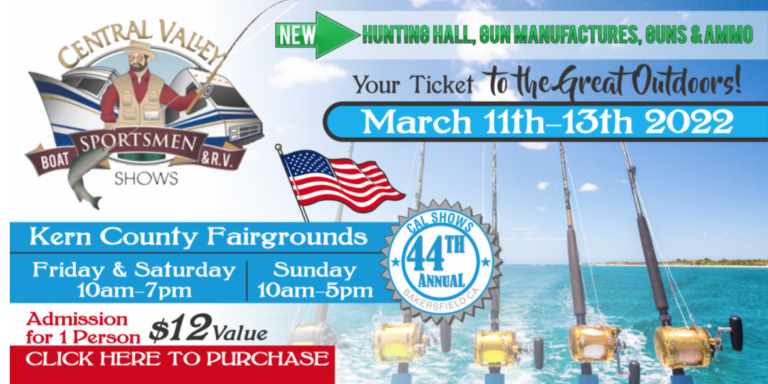 To purchase tickets visit CalShows.com
With hundreds of exhibitors from around the West, the 44th Annual Central Valley Sportsmen's Boat, RV and Outdoor Show returns to the Kern County Fairgrounds March 11 thru 13.
Central Valley Sportsman's Show (CVSS) staffers are now planning to kick off 2022 year with great sales and booking opportunities. They're back in the business of promoting California's largest full-spectrum sportsmen's boat & RV show,and they're sending a huge thank you to all of exhibitors and sponsors for their continued support during these uncertain and difficult times. With that said, the 2022 show season is just around the corner and they're geared up to help boost sales at the all-new Central Valley Sportsmen's Boat, RV & Outdoor Show.
In March, the CVSS crew will transform Kern County Fairgrounds into a "mega outdoor marketplace" covering 168 acres with hundreds of RVs, Boats, ATVs and hundreds more indoor and outdoor booths. They're planning an aggressive marketing campaign using TV, radio, print, billboards and social media that is second to none, and demand for space is already high so they encourage exhibitors not to delay.
The Shooting Sports Hall is sure to be a huge hit in the Central Valley, with these new exhibitors to an exciting new area. If you're a licensed gun
dealer, manufacture, sell ammunition, optics, gun accessories, safety and security products, hunting apparel, archery or knives there is booth for you in the Hunting Hall.
Back by popular demand, the Mobile Bass Bin will draw plenty of outdoorsmen to view scores of big bass. Casting from atop the Bass Bin will be well-known professional bass anglers from around the country.
Also returning will be the Berkley/Shakespeare Kids Fish Free Trout Pond. A huge "Thanks" to the California Department of Fish & Wildlife and the Taft Sportsmen's Club for making our Kids Trout Pond such a huge success. These memories will truly last a lifetime. This year's event will have over $5,000 in giveaways to our young fisherman of tomorrow.
Anglers can also visit the Fly- Casting Pond for a hands-on demonstrations of casting techniques and presentations by some top fly fishers in the world. Also, on hand will be experts pro- viding fly-tying classes throughout the show.
With the sport of archery gain- ing popularity among hunters and target shooters alike, young archers are invited to try their hand at our Youth Archery Area.
Ever wonder what a 200- plus-inch mule deer antlers look like? Come see Dana Hollinger's Trophy Deer Collection, a must-see attraction in the all new "Hunting Hall."
Once again, the 6th-Annual DockDogs West Coast Challenge jumping contest will return to dazzle spectators with long leaps and speed retrieves. This is a "World Qualifier Event," big news in the DockDog business, where the highest-finishing animals will earn their way on into the World DockDog Jumping & Speed Championships. ESPN was here filming at the last event and they witnessed a World Record leap from one of the contestants.
Last but not least is the popular "24th annual Super Cruise Car Show" on Saturday, March 12, which will bring out hundreds of early-model and custom vehicles vying for the coveted "Best of Show" trophy while drawing thousands of people to "ooh and ahh" over the array of cars.
Great food and spirits along with live music will again be part of the show. The show will also feature "Kids Land" with bounce houses, rock wall climbing and laser tag. With thousands of people attending and hundreds of things for them to enjoy, mark your calendar for the 44th Annual Central Valley Sportsmen's Boat, RV and Outdoor Show on March 11-13, at the Kern County Fairgrounds.
For more information, visit CalShows.com.