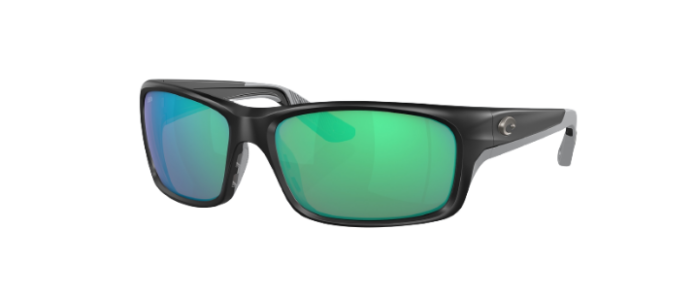 STAY OUT ON THE WATER LONGER AND FISH HARDER IN COSTA'S PRO SERIES, FEATURING LEGACY FRAMES WITH SIX ANGLER-APPROVED UPGRADES
Costa brings next-level performance to its best-selling Jose frame in 2022. Named in honor of the legendary waterman and larger-than-life personality, Jose Wejebe, this frame builds off the original with SIX PROformance innovations to help anglers manage sweat, reduce fogging and keep their frames locked in place, even when the water gets rough.
The Jose PRO celebrates the legacy of the man who broke barriers in the angling community and lived for the thrill of the bite.
Fish it Forward with Jose PRO.
MSRP: $257 to $277
Named after the iconic New Zealand fishing town, Costa's classic Reefton frame just got some serious PRO upgrades. The large frame loved by anglers now carries the new PRO Series fit and features: sweat management channels and eyewire drains, improved Hydrolite® rubber, fully-adjustable nose pads, top hooding and side shields, and metal keeper slots.
The polarized, color-enhancing 580 glass lens is scratch-resistant and cuts haze and blur for superior clarity and definition. Keep your frames on your face, your vision clear, and your eyes on the fish.
MSRP: $257 to $277
ADVANCED TECHNOLOGY, HAPPY HOUR READY
With a focus on style and performance inspired by the vibes of the Pacific shores, this frame is ready for anything the water sends your way. Lido comes with top and side shields to help keep light from leaking in, and the vented, Hydrolite nose pad and temple tips keep your frames locked in place and help prevent fogging.
The lightweight, plant-based Bio-Resin frame reduces the carbon footprint of each new pair and maintains the durability standards required for long days on the water. The Lido comes in Costa's color-enhancing, polarized 580 glass and polycarbonate lenses. Lido's there for the adventure from east to west, for watching waves or riding them.
MSRP: $209 to $259
PREMIUM LENS TECHNOLOGY IN BEACH-READY STYLES
Irie
Named for the Caribbean expression meaning "everything's good," Irie helps you dial up good times while cutting down UV rays and glare. When wearing these frames, enjoy worry-free days with Costa's polarized and color-enhancing 580 lens technology and make a statement with the unique keyhole nose piece. Irie is designed for those who like an oversized look, and more fun.
MSRP:$171-$251
Named for the famous surf break in the Bocas del Toro archipelago, this frame is your missing ingredient for a sunny day scouting surf. The XL version of these frames are slightly larger than the original, which means they retain the same prized features for those who like a larger fit and style: Costa's polarized and color-enhancing 580 lenses, integrated metal hinges and non-slip Hyrodlite™ nose pads.
MSRP: $171-$251
Whether reading a book beneath palm trees blowing in the wind or cruising to your local bar for a few cervezas, Palmas is there for the ride. Featuring Costa's polarized and color-enhancing 580 lens technology, premium integrated metal hinges and interior detailing, Palmas is guaranteed to set you apart from the crowd. With these frames, your days will never look better or sharper, and you will feel the same.
Voyager Performance Hoodie
The most technical sun hoodie in Costa's collection, the Voyager Performance Hoodie is UPF50, moisture wicking, lightweight and antimicrobial. The four-way stretch allows for extra mobility, and the vented mesh panels under the arm provide breathability. The three-piece hood offers a secure fit, and the crossover neck and thumbholes offer additional sun protection for long days on the water. In addition, the side zip pocket is perfect for essentials like your Costa sunglasses.
MSRP: $60
Designed for chillier adventures, Costa's first technical hoody offers thermal fleece on the inside to keep you warm and moisture-wicking technology on the outside to keep you dry. This UPF 30 long sleeve pullover is the heaviest weighted option among Costa's fleece collection, and sure to be the coziest with a relaxed fit and ribbed cuffs at the sleeve and hem. Available in sizes S-XXL, the tech fleece hoody comes in four nature-inspired colors.
Made from 88% recycled polyester, the Tackle Hybrid Pants are among the latest in Costa's line of products with a purpose. The four-way stretch, water-resistant, and quick-drying fabric is lightweight for comfort and mobility.
Ideal for tackle and gear storage, the pants feature belt loops, two front pockets, two back pockets with one zipper closure, and a side velcro pocket on the right leg. The comfortable and breathable pants are built to perform and are available in sizes 32-40 in khaki sand, navy, and black.
Harbor Full Zip Fleece Vest
Costa's Harbor Full Zip Fleece Vest has moisture-wicking and UPF30 properties on the outside for weather-resistance on the boat, and warm thermal fleece on the inside to keep you dry and cozy.
With features like a chest pocket for sunglasses or gear storage and two front pockets to keep your hands warm, this medium-weight technical vest is a great layering piece for the core waterman or woman. Available in three color options in sizes S-XXL.
Born on the water in 1983, Costa Sunglasses are made for those who need water to breathe. Engineered with 580® color-enhancing polarized lenses and high-performance, adventure-ready frames, Costa sunglasses enhance one's ability to See What's Out There.
With over 38 years of pursuits and adventures, Costa discovered an ever-growing need to protect the watery world we all call home. A purpose-driven company, Costa is committed to preserving this valuable resource and protecting the fish within it through the use of sustainable materials as well as through meaningful partnerships with fisheries research organizations.