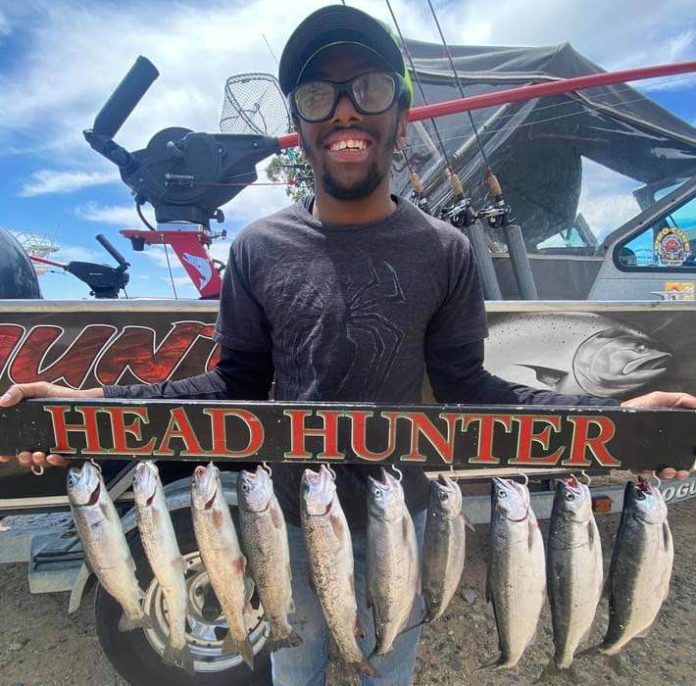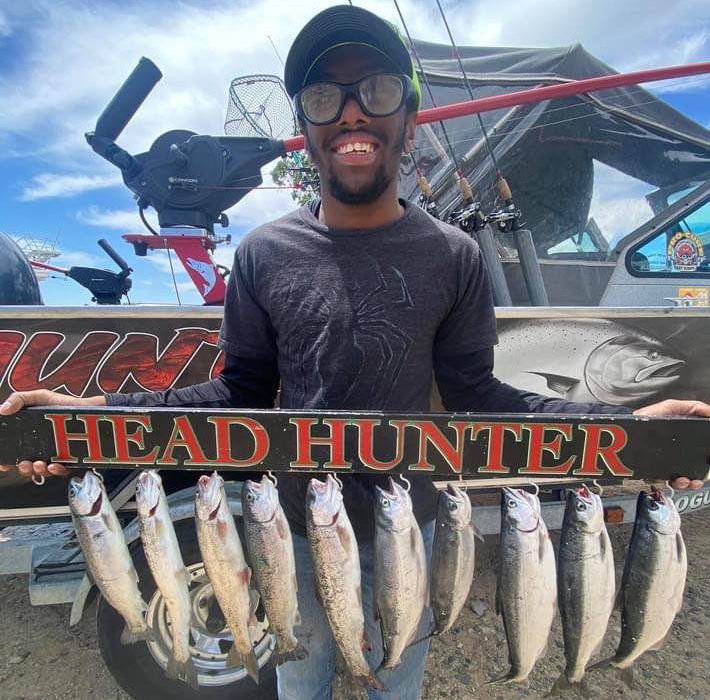 By DAVE HURLEY
LA GRAND – Don Pedro remains the epicenter of kokanee fishing in northern California due to the quality of the lake's landlocked salmon along with the upcoming Kokanee Power Don Pedro Phil Johnson Memorial Team Derby on Saturday, June 12. Due to these two factors, despite heavy winds, northern California kokanee aficionados are heading to the Mother Lode.
Monte Smith of Gold Country Sport Fishing was out several times this week with clients, and he said, "The wind has been difficult as it scattered the kokanee at the end of the week. We had been finding limits fairly early, but after picking up a fish here and there on Saturday morning, we worked a small spot for 10 kokanee, losing another 7 or so along with 8 rainbows at depths from 40 to 60 feet with Uncle Larry's spinners, Rocky Mountain Tackle's hoochies, or J-Pex lures in orange or pink behind a Mack's Sling Blade. We had what must have been a big king salmon on, but after making two or three big runs, it came unbuttoned. You have to hunt the kokanee down right now, but the fish are getting fatter and fatter and clean with no copepods."
Kyle Wise of HeadHunter Guide Service has been out for 11 straight days, and he said, "It's hard to go anywhere else but Pedro right now as the action has been excellent with either gold Apex or J-Pex lures behind a gold 5.5-inch Mag Tackle or Paulina Peak dodger at depths from 40 feet in the morning and 60 feet by 10:30 a.m. I took out 'Catch 'Em Quick' Corey Griffin and his father this week, and Corey went five for five on kokanee before putting in his limit of rainbow trout at depths from 25 to 30 feet with J-Pex lures."
For bass, Ryan Cook of Ryan Cook's Fishing reported there is a jig bite in the morning with 3/8 -ounce G-Money jigs with a small Sweet Beaver trailer along with a topwater bite with River2Sea Rovers or Reaction Innovation's Vixens in the coves or cuts. Plastics on the drop-shot or small underspins on 1/4- or 1/8-ounce with a 2.8 or 3.3 Keitech swimbait are also effective. A few fish have been taken on spinnerbaits or creature baits in the winds." The lake dropped slightly to 67 percent.