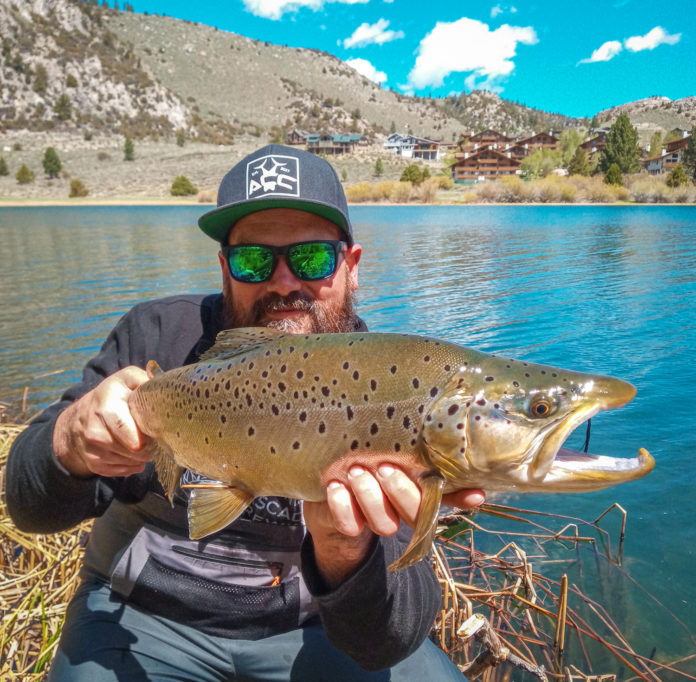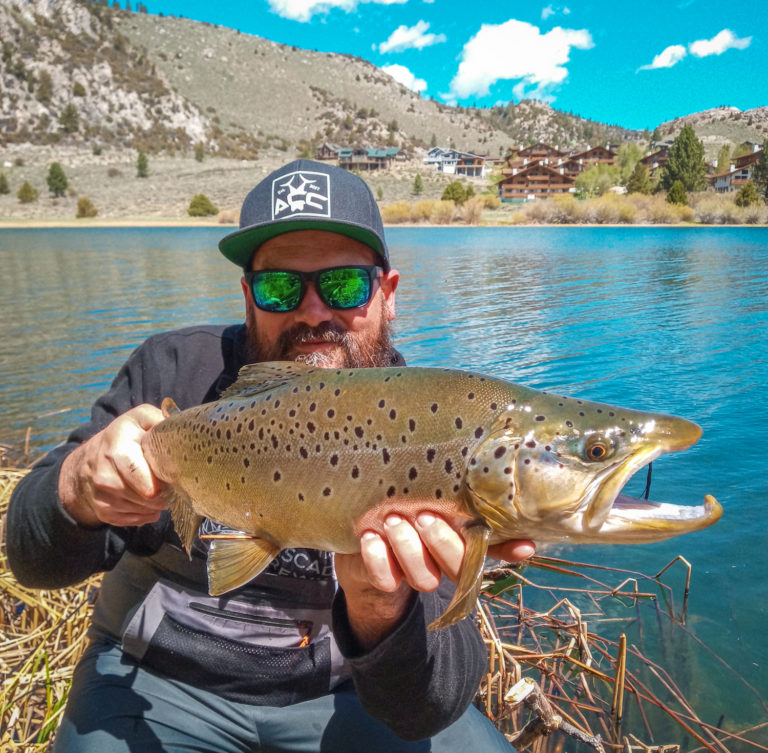 BY ERNIE COWAN
MAMMOTH LAKES — Winter made another final blast last weekend with snow, hail, wind and rain, but as visitors flock to the Eastern Sierra for the long Memorial Day holiday, just about everything is perfect for eager trout hunters.
Roads are open, campgrounds ready, fish stocked, and landings buzzing as boats are prepared to launch.
Despite the weather last week, Sierra anglers did surprisingly well, which should be another bit of good news for what many call the "second opener" over Memorial Day. Bishop Creek Basin is a popular destination for Memorial Day weekend because of fishing, hiking and local activities, including Bishop Mule Days, which returns this year after being cancelled last year due to Covid.
Jared Smith at Parchers Resort and South Lake Landing is already booked for the weekend, but low water levels mean boat rentals will not be available until mid-June.
At Lake Sabrina, Patti Apted reports all the snow is gone and the lake level as started to rise. Fish are also biting, even in a snowstorm. "We have a group in here during the storm and they took a boat and came back with three nice fish caught at the inlet with Thomas Buoyants and minijigs," Apted said. At press time, Lake Sabrina and the forks of Bishop Creek were on the DFW schedule to be stocked this week.
Rock Creek fishing reports have been hard to get the past week or so because nothing is open. But we do know that Rock Creek Lake is free of ice and anglers have been hauling in some nice fish. Cooler water means the submarines that normally hang on the bottom when things warm up are now cruising around in the shallows looking for early-season food. This means shore anglers will have a good shot at connecting with some of the bigger Oregon trout stocked last season.
Rock Creek Lake Resort, which is sort of the "City Hall" for the canyon will open on May 28, and campgrounds are also open now.
Convict Lake has been outstanding since opening day of trout season in April, and that pattern is continuing forward. Like most Eastern Sierra lakes, Convict has been stocking 3- to 8-pound Oregon trophy trout, and anglers are hauling in plenty of big ones. The lake and Convict Creek have both been stocked.
A good example of the bigs being caught last week was the 6 pounder caught on the North Shore by Nick Incardona, who was dunking a brown/red Mice Tail. The biggest fish at Convict last week was an 8-pound,12-ounce football caught by anglers only identified as John and Terry, who were dunking nightcrawlers from the north shore. Additionally, the resort is stocking tagged fish for the annual Hangman's Cash Prize Derby scheduled for the Memorial Day weekend. Anglers need to register at the general store.
Depending on who you talk with, Crowley Lake has been fishing fair to good, but one thing sure is  anglers are connecting with some beautiful cutthroat.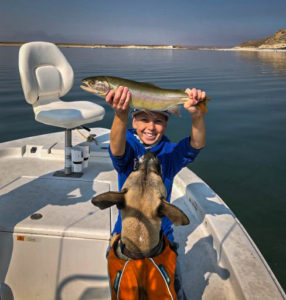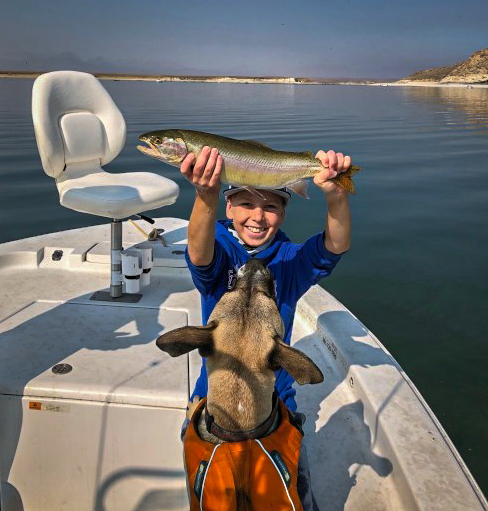 Guides at The Trout Fitter in Mammoth Lakes say fish are at between 10 and 16 feet when the wind is not blowing, but they are spread out.
"There seems to be two choices: shallow means bigger fish and perch while deep means all trout but not as big," they said. Don't overlook the perch, because they can be exciting to catch and the bite has been picking up as they near the spawn. Crowley hot spots have been Green Banks, Leighton Springs, Sandy Point, off the McGee Bay float tube parking area and the north arm and Hilton Bay are all beginning to pick up.
Roads into Mammoth Lakes Basin will be open for Memorial Day, and anglers can expect a good bite. No date has been announced for opening the road into Red's Meadow.
Lakes in Mammoth Basin were well stocked last year with larger Oregon hatcher rainbows, and the city of Mammoth Lakes and Mono County have each committed $100,000 to trophy trout stocking this season.
Marshall Smith at Rick's Sports Center said anglers hiking or riding bicycles into lakes Mary and George have been coming out with fish to 6 pounds.
He said Pinched Crawlers, Thomas Buoyants and Kastmaster lures have been getting results. Waters are still chilly, so bigger fish have not dropped into deeper holes, but have been drifting in shallower water looking for food.
There is added excitement for anglers in the June Lake Loop because Rush Creek finally opens May 29 under the new regulations. In the past, the creek has opened as part of the general season on the last Saturday in April, but to protect the brown trout fishery, opening is now not until the Saturday before Memorial Day. That means these creek trout have had an extra month to adjust to spring weather and anglers should see plenty of limits, along with some beefy browns.
But let's not discount the four loop lakes, which have all been well stocked with bigger Oregon fish. In addition, June Lake released a load of 2- to 5-pound fish last week. Those fish were raised in underwater pens in the lake, so they should be adjusted and ready to bite this week.
The recent action at Gull Lake has been better in deeper water, including a 6.74-pound rainbow landed by Terry Hazama who was pulling a Sierra Slammer with underspin jig head from a boat. There's always an exception, and this time is was Mat Herrera from Temecula, who was tossing a 1/16-ounce Death Dealer Ghoulie Stringer Jig and casting deep.
"The fight was on, and I was running across the weed patches and floating logs to get to where I could land it, with 6 feet of water under me," he said. Eventually, his dad's help on the net, he completed the catch, took quick photos and quickly released the beauty.
At Silver Lake, resort owner Andrew Jones said catching was much like the weather last week, "up and down like a roller coaster."
"Nice days we weighed a bunch of fish, on those cold windy days we didn't weigh much," Jones said. But there were plenty of 2- to 5-pound fish weighed in he said, including a 5-pound,12-ounce rainbow caught by Tim Neal from Huntington Beach who landed it with a Tasmanian Devil tossed from shore.
The steadiest brown trout bite in the loop has been at Grant Lake, where anglers working evenings and tossing Rapalas or Needlefish are getting steady action for some solid fish to 20 inches.
Reports from Lee Vining say that Highway 120 over Tioga Pass and through Yosemite is scheduled to open before the Memorial Day weekend. This will give anglers good access to Ellery, Tioga and Saddlebag Lakes. Campgrounds are open in Lee Vining Canyon and funds raised by the Chamber of Commerce have been used to stock some larger rainbows in the creek.
Lundy Lake remains at a low level, but shore anglers have been reporting some bigger fish being caught later in the day.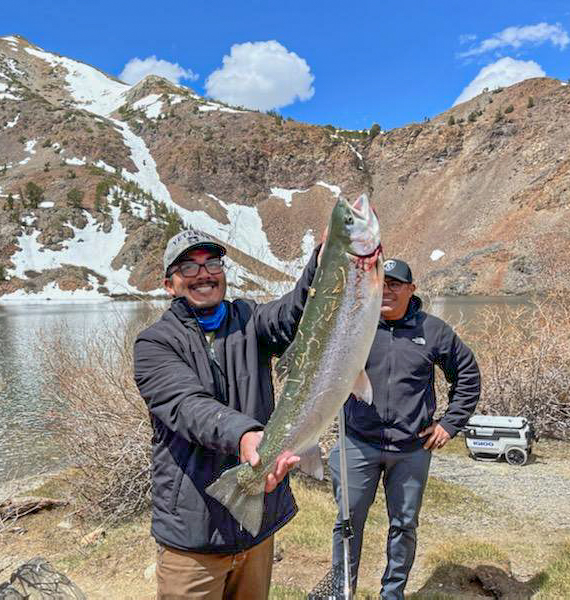 Virginia Lakes are all ice-free now and anglers have been connecting with larger holdover rainbows. It's been quality over quantity and those anglers having the most success are using a mix of Thomas Buoyants, Kastmasters, Mice Tails, Pinched Crawlers and PowerBait.
One of those quality fish was a 10.2-pound rainbow caught from shore at Big Virginia Lake by James Heredia from Fontana, with garlic/rainbow PowerBait.
Not many fly anglers on the water yet, but small Woolly Buggers and leech patterns with soft hackle droppers are getting some attention.
Bridgeport-area waters continue to be a bright spot for Eastern Sierra anglers this spring. Jim Reid at Ken's Sporting Goods said erratic weather has meant erratic at Bridgeport Reservoir for both shore and boat anglers. When it wasn't too windy to be out on the water, the trolling did okay with nightcrawlers, Rapalas and Thomas Buoyants. There were also some fish caught off of Rainbow Point with Pinched Crawlers, inflated nightcrawlers and Mice Tails.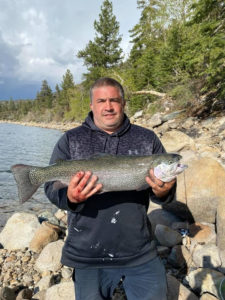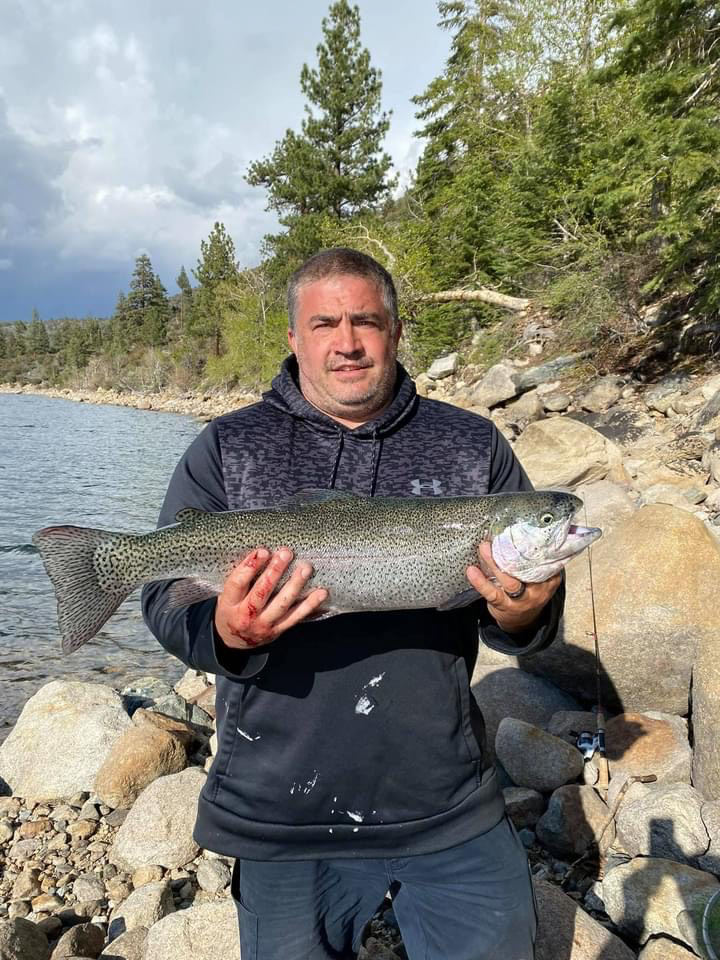 Twin Lakes out of Bridgeport is a bit protected and did not see as much wind last week. Trolling was getting some action, but even shore fishing was notable, with Rick Majoskey from Vancouver, Canada, landing a 6-pound, 7-ounce rainbow caught with a nightcrawler. Reid said he was getting several reports that the inlet to Lower Twin Lake was a hot spot, both from boats and shore.