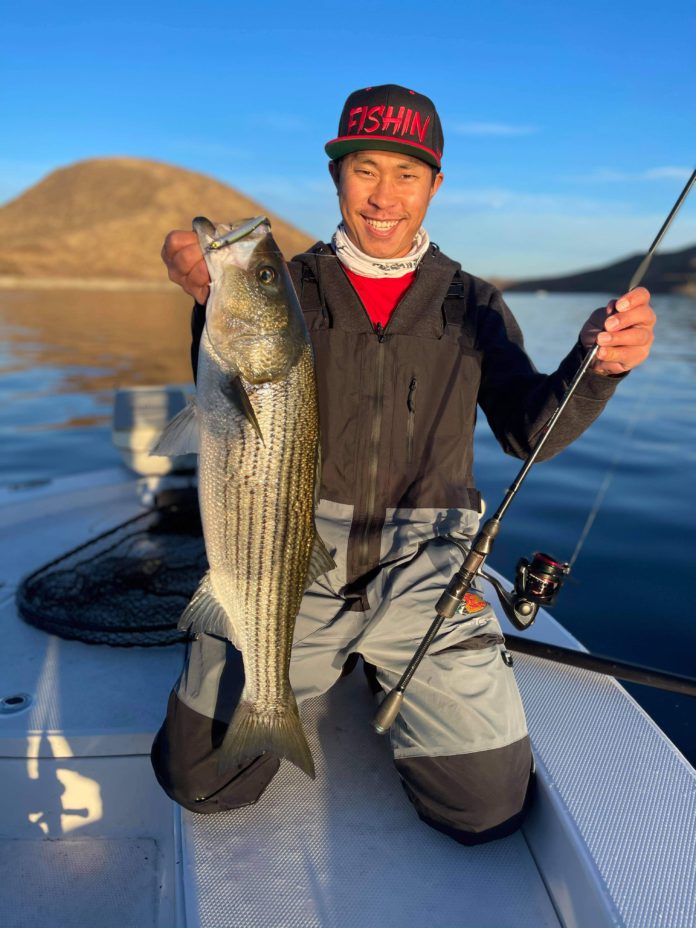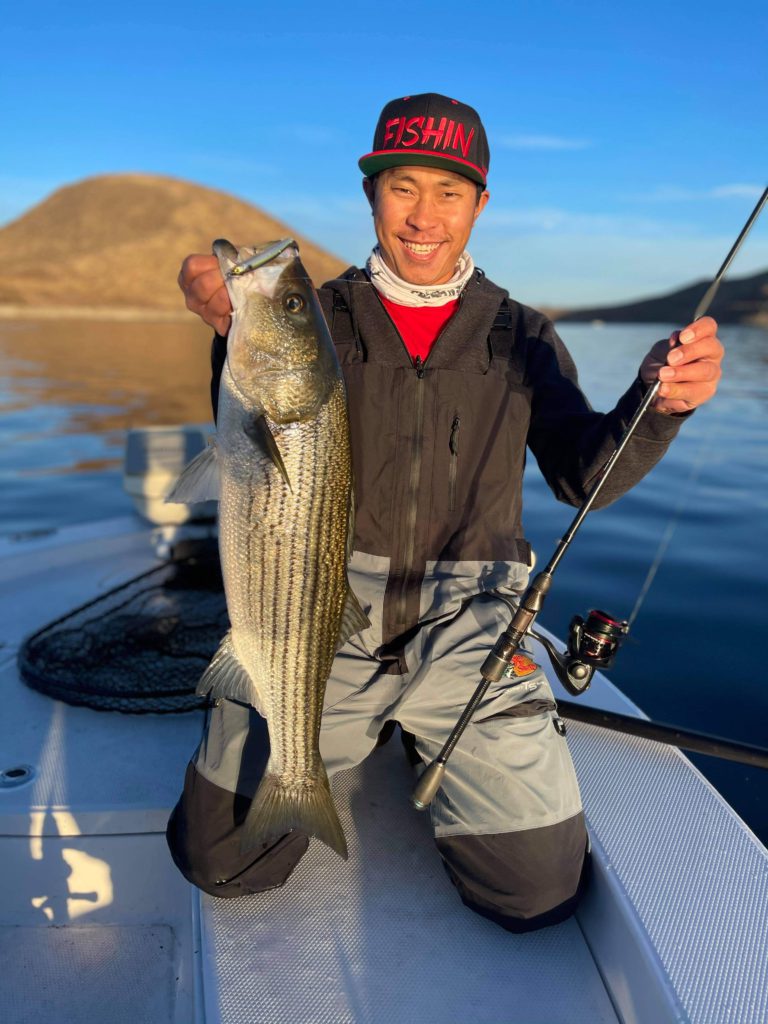 WINCHESTER – The first trout plant of 2021 arrived at Diamond Valley Lake this week with the usual fanfare, and while the striped bass bite has been on the upswing, it hasn't been of the big-swimbait variety that's typically associated with winter deliveries of "Vitamin T."
"With the cold weather coming in, many anglers are waiting desperately for the trout trucks to show up," said veteran DVL striped bass hunter, Vichai Thao. "But we found a bite that nobody else is doing. You've got to be be fast and accurate, and this Phenix M1 paired up with an Okuma Ceymar and light braid allows me to match the hatch with small baits, get it spot on to the fish and make every cast count."
Rather than working big baits when a new batch of stocked trout hits the water, Thao and a couple buddies have been piling up quality stripers with more of a subtle attack on that light gear with low-profile jerkbaits and lipless, sub-surface stuff that mimics smaller baitfish and spends more time in the strike zone.
The big-bait guys are out there, patrolling the waters offshore of the trout hot spots on either side of DVL's launch ramp or launching their offerings from shore. While that brand of angler is notoriously tight-lipped, it's been quieter on that front than over the last few seasons. The big fish are absolutely out there and in those areas. Lake staffers have sent several underwater videos to Western Outdoor News showing big linesides patrolling the outskirts of the Marina when stocker trout are in there, it just hasn't been easy to fool them.
As a testament to this season's striper's preference for smaller targets, Hemet-based guide Mike Southerland who specializes in catching DVL's stripers year-round on his "flycoring" technique has rarely had a fishless day in recent outings. That tactic is based around trolling streamers on leadcore line, and most of those flies are no bigger than a standard shad or inland silverside.
The latest trout plant was another 3,500 pounder consisting of 3,000 pounds of rainbow trout and 500 pounds of lightning trout. In December, DVL only got rainbows, but anglers were stoked over the fact that their lake was stocked twice in a week for a total of 7,000 pounds of Mt. Lassen trout. They were still fired up to see lightning trout back in the equation.
Diamond Valley's trout are not a tough nut to crack, and per the usual, anglers throwing minijigs will put together the quickest limits through this weekend either sight fishing or blind casting in the coves to the right of the Marina and at times, on the other side along the bank leading up to the East Dam. After that, the bite will give way to bait dunkers who usually can put together a 5-fish stringer on garden variety floating baits on a Carolina rig. From one trout plant to the next, regardless of what they're eating, those areas are always the most productive as venturing too far offshore makes them easy target for striped bass.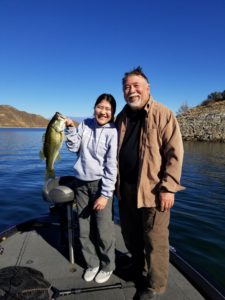 Largemouth bass anglers are still getting out there, but the bite has been on the slow side with most fish scattered and deep. SoCal guide Rusty Brown (RustyBassHook.com) has been able to put clients on biters with green pumpkin jigs and 6-inch Roboworms in Morning Dawn and Margarita Mutilator on a drop-shot rig. For both techniques, he's looking for points with chunky rocks and easy to deep water. Brown did tell WON he's boating some better bass on green pumpkin Brush Hogs on a Carolina Rig. Another guide, Art Hill (ArtHillFishing.com) has also been going deep with Roboworms, and his recent outings are highlighted by a 4.14 pounder that ate one on a drop-shot in 46 feet of water.