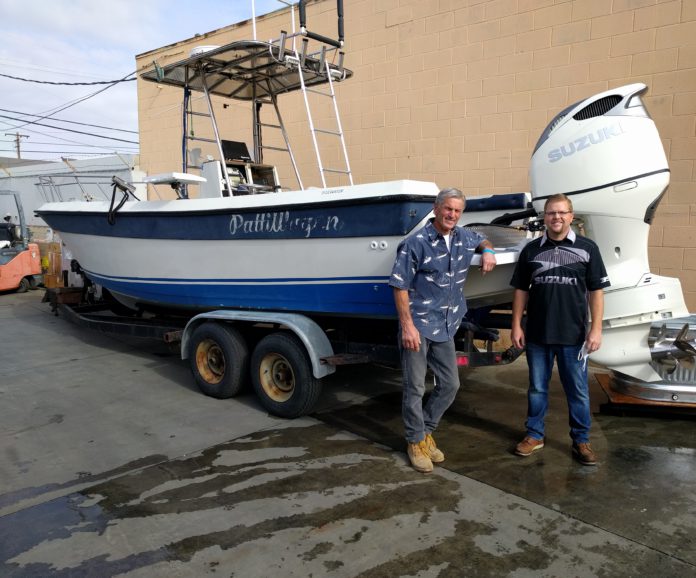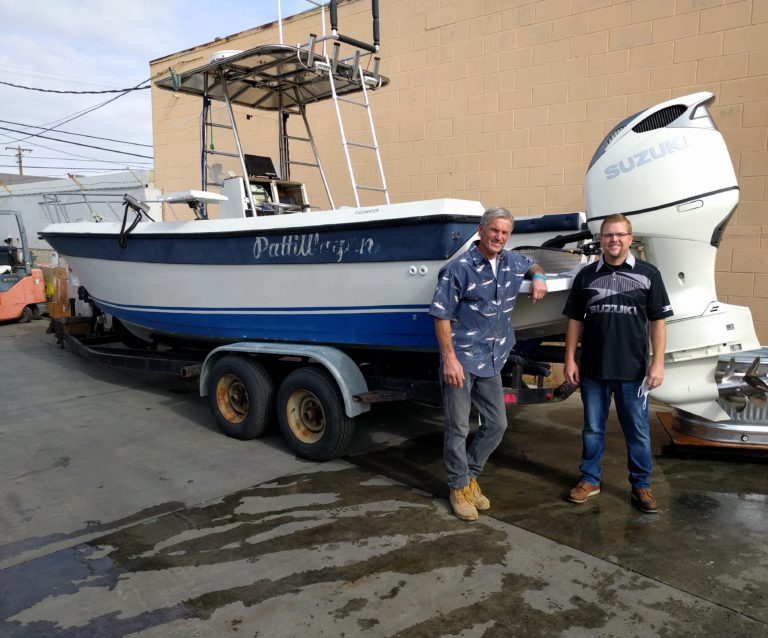 This feature will run periodically and will showcase one of many repower projects performed by Suzuki's professional dealers and mechanics in Southern California. Each new report will feature product specifications on different Suzuki engines for all types of fishing boats, as well as the story behind the project about the anglers and their boats. 
In this issue we talk to Orange County native, Jeff Tiffany.
WHAT'S THE MAKE AND MODEL OF YOUR BOAT AND HOW LONG HAVE YOU OWNED IT?
My boat is a 1986 Starcraft BW240 Center Console. It's one of only a few models of fiberglass offshore models that Starcraft manufactured. I purchased her from a guy in my neighborhood eight years ago and the boat was in really rough shape at the time. So rough in fact that I found a very decomposed cat carcass up in the anchor locker when I started cleaning up the boat! The boat itself is a beast of a hull. She's deep, heavy, has tons of storage and holds 150 gallons of fuel.
HOW DO YOU USE THE BOAT?
My buddies and I fish her just about everywhere in Southern California pretty much every weekend when the weather is nice. Inshore, offshore, tuna, seabass, lobster hooping, etc.
WHAT'S THE MOST MEMORABLE TRIP ON THE BOAT?
Two years ago one of my buddies and I had limits of yellowtail on the 150 outside rig spot off Orange County. It was one of those wide open fly-lined sardine bites. The kicker though was that all of the fish were slugs weighing 25 pounds or better. There was a ton of boat traffic that day and even that didn't put down the fish.
HOW DID YOU DECIDE TO REPOWER WITH A NEW SUZUKI?
A buddy in my neighborhood has a 30-foot Osprey pilot house that was originally powered with twin 4-cylinder Volvo Diesels. He repowered the boat with twin 350 Suzukis on a bracket, and I couldn't believe how it transformed her. The boat was much quieter, accelerated much faster and ran 45 knots! My last set of engines on the Starcraft were 115 hp two strokes. They were smooth but struggled to get the boat on plane and I averaged about 1.5 mpg. The Starcraft is a whole different animal with the new 300B also on a bracket. With only 5 hours on the motor this past weekend, I was averaging 2.7 mpg at 3500 RPM and 27 knots – and that's with three guys on the boat, full fuel and two full bait tanks! The motor could probably be raised a couple of more inches on the transom which should increase my overall performance even more. This motor is amazing!
ANY OTHER PROJECTS OR MAJOR UPGRADES ON THE HORIZON FOR YOUR BABY?
She's all done. I just redid the deck, added a diamond plate hard top with a spotting hoop and the guys at Maurer installed Suzuki's new Gateway Interface Connection. The Gateway allows me to display all of my engine functions on my Raymarine plotter so we're ready to go.