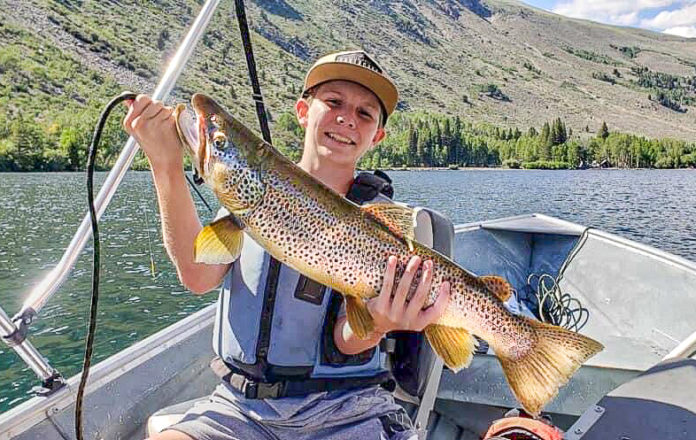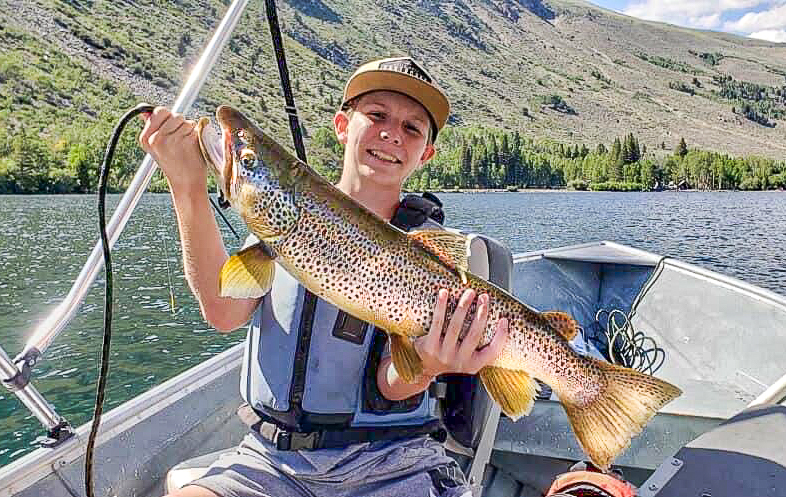 BY ERNIE COWAN
BRIDGEPORT – Thunderstorms last week and a few colder nights have triggered what could be a preview to an epic fall trout season in the waters of the Eastern Sierra. And it's not just an accident.
The truckloads of big trout stocked beginning last year are starting to energize as they feel winter approaching. They are hungry and the post-Covid angler who knows how to fish for them will enjoy an outing like never before.
In a few words, the secret to success is fishing slow and deep. Just ask cousins Marty Kruskamp from Los Angeles and Steve Boone from Castaic. For them, the payday from the bigs being stocked started last October but continued to this season. The pair just returned from tube fishing the prime lakes of Gull, Big Virginia and mainly George. But each lake was its own honey hole.
"The ticket this trip? Deep water slow troll on the float tube," Kruskamp said. They were also using nightcrawlers.That combination earned them over 30 trout in four days, all between 2.5 and 5-plus pounds. That wasn't a fluke either. Last October, when you expect an active fall bite, Kruskamp landed 13 rainbows between 5 and 8 pounds.
This is all great news as local stocking efforts continues to pump big fish from Oregon and Idaho hatcheries into local waters. Just one of those efforts and the latest entry into local stocking is the Twin Lakes Trout Foundation.
"We have now raised almost $20,000 this year for fish stocking between Fish Fest, Marines Family Day and our store fundraising," said Misti Sullivan at Twin Lakes Resort in Bridgeport. "We are so thankful for everyone's support."
The posterchild for these efforts began with the Bridgeport Fish Enhancement Foundation, but because of no stocking last year and reduced numbers from DFW this year, local stocking efforts are now underway from Bishop to Bridgeport.
The Twin Lakes in Bridgeport are holding lots of big trout, and the brief cold spell seemed
to open the bite for 2- to 5- pound rainbows, along with a few 4-pound-plus brown and some Kokanee. Both lakes and Robinson Creek were planted last week with BFEF and TLTF rainbows and they are showing interest in PowerBait, Mice Tails, Pinched Crawlers and inflated nightcrawlers, especially early morning and late evenings. The lure launchers are also doing well with Thomas Buoyants and Kastmasters.
The big water of Bridgeport Reservoir is one of the slower places right now, where water temperatures remain higher that trout like.
Jim Reid at Ken's Sporting Goods in Bridgeport said angler pressure has been very light, with few reports coming in.
"Hopefully in three to four weeks the water temps will come down and the action will improve," Reid said. For anglers traveling north on U.S. 395, don't overlook the West Walker River.
"We're still getting a few good reports from the West, there's been some nice fish being caught in the canyon section off 395, closer to Walker as well as a few fish being caught in the Pickle Meadows area. Salmon eggs and nightcrawlers have been working for bait, Panther Martins and Mepps spinners have been good for lures. Fly anglers have been having some success with hop- pers, Royal Wulff, ants and stimulators," Reid said.
At Virginia Lakes, Carolyn Webb said temperature at the high elevation lakes have been higher than normal, and that has slowed the bite. Once again, anglers who know the early/late, deep and slow secret are catching some nice fish. Biggest of the week from Virginia Lakes was a 5-pound, 3- ounce rainbow landed by Giovanni Giacalone from Thousand Oaks, who was tossing a pink and white Mice Tail at Big Virginia.
Webb reported more than a dozen trout over 2-plus pounds last week from both Big and Little Virginia Lakes. Nightcrawlers and Pinched Crawlers were very popular. The tiny town of Lee Vining has stepped up big time when it comes to trout stocking. Local efforts have kept Lee Vining Creek, Lundy and Ellery Lakes well supplied with 3- to 7-pound rain- bows, and they have been active.
Despite very low water level at Lundy, anglers have been connecting with trout to 4 pounds from shore. Salmon eggs are the bait of preference in Lee Vining Creek.
Waters in the June Lake Loop have not escaped the bump in activity, with young Menifee angler Cooper Lamson hauling in a 7-pound brown at Silver Lake last week while trolling a Needlefish. Gull was hot for tube or boat anglers in deeper water working nightcrawlers, and while the cutthroat bite has dropped off at June Lake, there are plenty of big rainbows to be had.
By the way, check out the videos on the June Lake Marina Facebook page for some good in- formation and fishing fun.
The brown bite at Grant Lake has slowed down, but anglers heading out just before dark are still connecting with some rainbows and a few Kamloops.
Mammoth Lakes Basin has come alive as well, with anglers connecting with 3- to 5- pound rainbows.
The Pucci gang, including Caden, Logan and Adam from Aliso Viejo, used orange and white PowerBait at Lake Mary to bring in three of the bigs. The story at Lake George is similar and as summer heat begins to ebb, look for the bite to get even better. The guys at Rick's Sport Center in Mammoth will tell you that shore fishing is slow, unless you cast out beyond the ledges into cooler, deep water. The other secret to success is locating underwater springs that bubble colder water into the lake. Trout tend to congregate around that natural water cooler.
If it's quality over quantity you want, Convict Lake is the place to be. It produced an 8.11-pound rainbow for Sylvia Mendoza and a 9.25-pound submarine for a Long Beach angler only identified as Ryan, who was dunking a nightcrawler. Reports are that the bite at Convict Lake has been wide open with inflated nightcrawlers and PowerBait good choices, along with red/gold Thomas Buoyants, Needlefish and gold Kastmasters. Just remember, the fish are deep.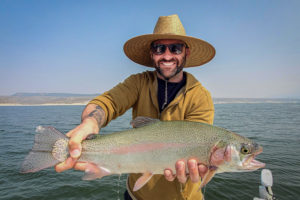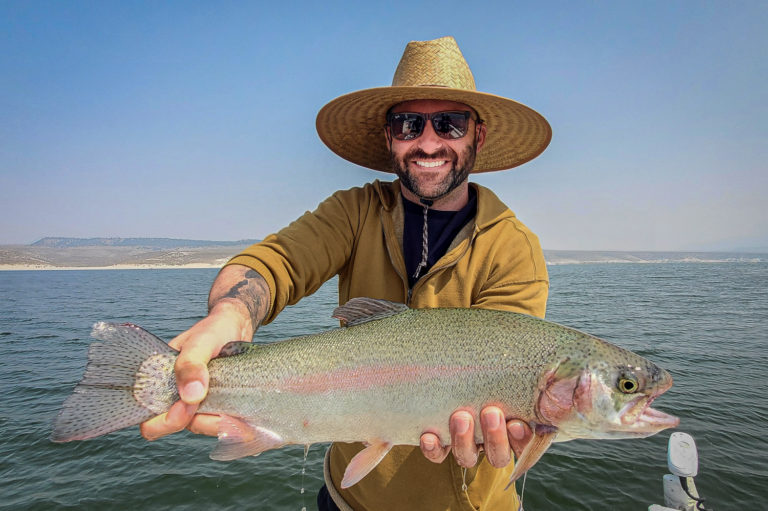 Even the warm waters of Crowley Lake have seen an uptick in the action with fish moving into shallower water in McGee Bay.
"Perch fry are thick and hanging along the edges and pockets of the weeds for protection from roaming trout," said Doug Rodricks with Sierra Drifters.
That means perch fry are the food of choice right now and tying on a Punk Perch pattern fly will get you plenty of action.
is still a good play to focus, but weeds are still a problem. They suggest anglers keep moving to find the right spot. Currently, McGee Bay, Sandy Point, Christmas and Hilton bays and the north arm have been the most consistent spots, but that changes as the perch move.
Rock Creek Canyon is a great fishing destination because it offers good creek fishing, the big lake and loads of wild, back country lakes filled with rainbows, browns and brook trout. Salmon eggs have been preferred in the creek, traditional baits and lures in Rock Creek Lake, and just about anything in the backcountry lakes.
Rather than hike with a heavy tacklebox, consider a light spinning rig, clear bubble half full of water and a few simple flies like Sierra Bright Dot, Royal Coachman, Parachute Adams or Elk Hair Caddis when going into the wild lakes. Those fish are just eager to eat before ice covers the water.
The bigs are biting in Bishop Basin as well and lunker of the week was a 4-pound, 12-ounce rainbow hauled in by Allison Michaels, who was tossing PowerBait. Patti Apted at Sabrina Landing said trolling along the rock slide brought in several limits as did fishing on the far side by the dam, down in the spillway creek. Nightcrawlers and chartreuse PowerBait were the best offerings, along with Minijigs and Mice Tails. There was one report an angler at Lake Sabrina catching and releasing 57 fish over four days.
Jared Smith at South Lake reports that water levels are dropping, despite the fact the lake never filled enough to launch boats this year. There are plenty of holdover trout, but the bite has been slow.
Flows on the south fork of Bishop Creek remain strong and that has made fishing the steeper section challenging. But anglers dunking salmon eggs in the slower pools are connecting with some nice fish. Both forks of the creek have been stocked.