BY ERNIE COWAN
MAMMOTH LAKES—There are probably two types of people reading this Eastern Sierra fishing report today. The first is huddled in the icy chill of the High Country, waiting for that first bite of the season and hoping it's a trophy. The second is someone wishing they were there. This report will be good news for both of those groups.
Despite a record winter snowfall, lakes still frozen over, some creeks blown out from high runoff and many roads not cleared for traffic, the tradition of opening day must go on. Opening day is more than just a fishing trip. It's Fishmas, for heaven's sake, with the excitement and adventure as intense as any 8-year-old feels on Christmas morning.
Those who make the opener will have stories to tell. How often do you get to ice fish Sierra lakes? How many times did you have to get pulled out of a snowbank, and how about those fingers that couldn't even tie on a lure because they were so cold?
Good, bad, cold, windy, wet, hot, frozen or even no bite, it's opening day and that's as much a tradition as the World Series or the Superbowl. It's also generally a bunch of family members or close friends who have been doing it for generations. It's as much of an American tradition as hot dogs and apple pie.
This year will be challenging for sure, but it will also be different and exciting. Some places that have always been open on opening day or Memorial Day at the latest, may not be operational until mid-June at the earliest. For those who make the trip for Fishmas, it will be more about exploring old places with new faces that are covered with ice and snow. Lots of ice and snow.
The hot spots are likely to be Convict Lake if there is enough open water, Intake II in Bishop Creek Canyon, or ice fishing at Lake Sabrina. By the way, Convict Lake will be stocked prior to opening day.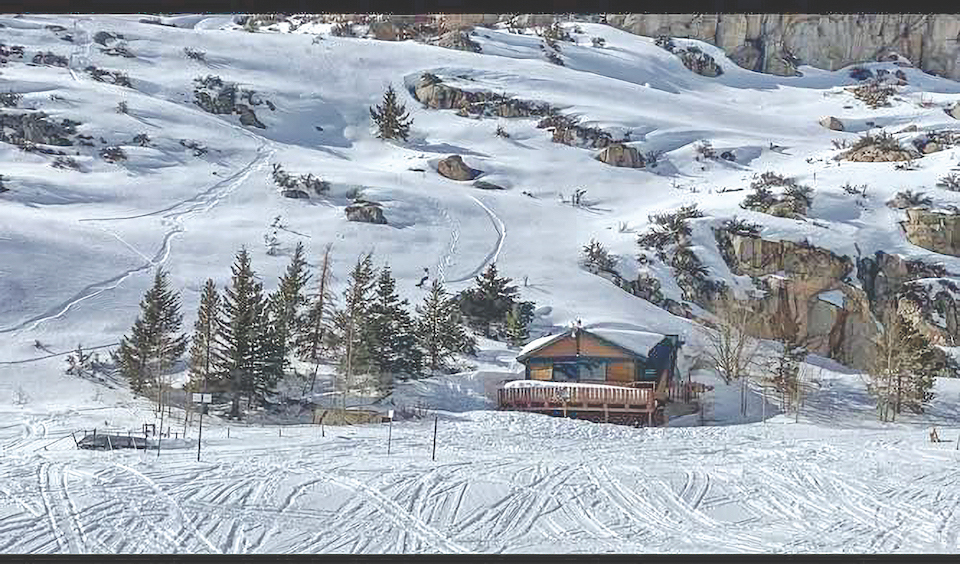 Those hardy trout hunters who hike into Mammoth Lakes will have to bring extensions for their ice augers, but the reward could be some of those trophy rainbows stocked over the past few years and now bigger than ever.    Crowley at press time is still iffy. There is an incredible amount of ice covered in a deep blanket of snow. Pray for wind to break things up, allowing some boats on the water.
Waters in the June Loop will be a crapshoot. June Lake Marina and Silver Lake have already announced that ice and deep snow will keep rental boats off the water. You can expect a fringe of open water around the lake edges, and that could produce some epic fish.
Virginia Lakes will be iced over, and if the roads are open, there will be limited parking.       Bridgeport Reservoir will have some open water and the marina campground should be open. Crews have been working diligently to get the Twin Lakes ready. The road will be open, a few camp spots available, but there may not be a lot of open water.
The bottom line is caution. Ice fishing is a blast, but it can also be deadly. Don't venture out onto ice if you are not sure how solid it is. Check before you go.
Winter anglers have not had much to brag about the past few months. This was the winter from Hell with sub-zero temperatures, fierce winds, and a thick blanket of snow an ice nearly the whole season.
The Upper Owens has been inaccessible unless you have a snowmobile. Hot Creek was a difficult hike-in destination. Pleasant Valley Reservoir was muddy, and the access road washed out for the past several weeks.
The Lower Owens looked more like a lake as flow spilled over the normal channel. As far as fish reports have gone these final weeks of the winter season, there have been none.
In my 40-plus years of Sierra openers, I can never remember one like this. Those who are there, will have lots to talk about when sharing those exaggerated tales of the "Winter of '23."
But they will have a great time. Lots of adventure, good laughs, strong bonds of friendship or family, and maybe even some bragging fish to come home with.                                                                                                                                     For those wishing they were there, the news is even better. In a nutshell, everything points to the 2023 general season being as spectacular as the winter of '23. That means lots of water, flushed creeks, and a prime season that extends well into the year, perhaps even into fall.
State hatchery fish are expected to about double from last year and private stocking of trophy rainbows from Idaho and Oregon will continue.
WON can't be everywhere on opening weekend, so send up those great pictures of your catch, or postcard scenes of your great fishing hole. Include angler's name, location of the photo and bait and weight information if you have it. Send your photos to Ernie@packtrain.com