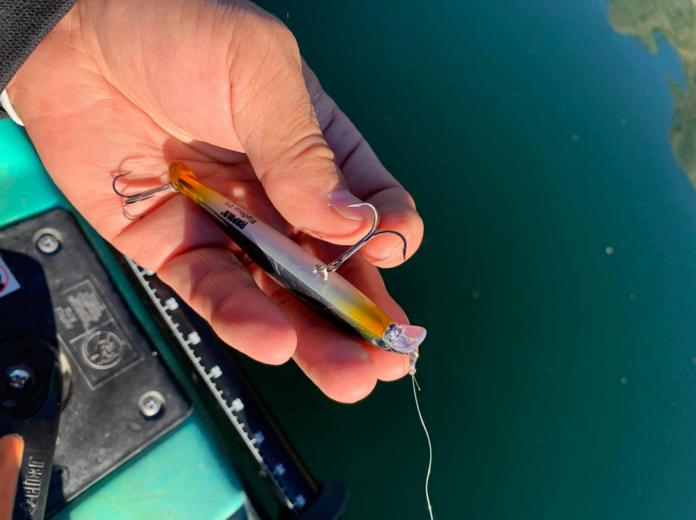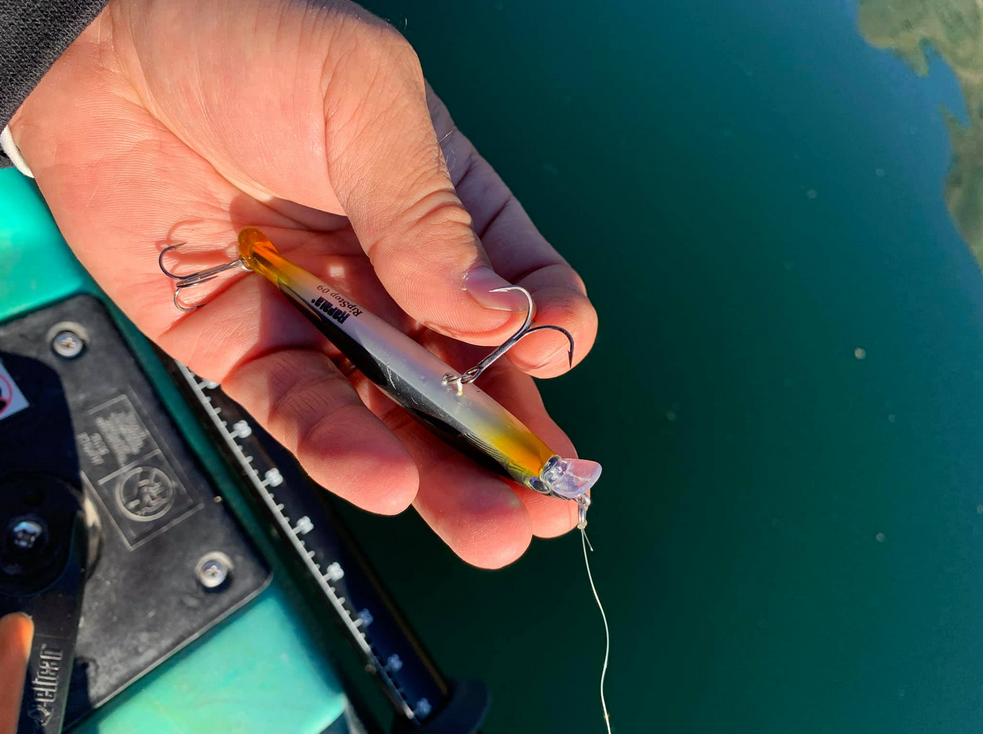 Also, a look at proven tactics yet to arrive up 395
MAMMOTH LAKES – For whatever reason, fringe techniques are a lot more likely find a home in brown trout fishing than they are to land in the arsenal of a rainbow trout angler. Lures and techniques better associated with bass fishing are widely accepted in the "brown bagging" playbook, while rainbow trout devotees overwhelmingly opt for classic approaches that have undergone minimal variations, if any.
There also seems to be geographical boundaries to methods of catching all species of trout, even if they've never been a secret. There are tactics used in trout Meccas across the nation that are not present in in the Eastern Sierra, and they very well could be the next big thing for trout anglers working water throughout the Highway 395 corridor.
When the number of largemouth bass baits being employed for calico bass fishing really started to ramp up, the buzz-term reasoning was "a bass is a bass." Well, isn't a trout a trout?
For the rainbow trout folks, it's time to sack up and explore above and beyond grandpa's tackle box, while already outside-the-box brown trout hunters should dig deeper into the bass section of the tackle shop and try to get the jump on what's next. Either way, a wise Sierra trout angler should look to look beyond geographical, species-specific or any other boundaries for potential upgrades to his or her proven plan of attack.
Spybait hunting
Based on little more than a lifetime of Eastern Sierra trout fishing and gut instinct, I truly believe spybaits have a future home in trout fishing. Looking a lot like a jerkbait minus the diving lip but sporting a front and rear "propeller," spybait fishing blew up on the Japanese bass scene before arriving in U.S. waters. They're used as somewhat of a finesse reaction-bait option when bites are tough and fish are suspended. The action is more of a tight, subtle wobble with the spinning props providing just a touch (when compared to say, a spinnerbait blade) of flash.
We already know trout eat bladed stuff (spinners), minnow-baits (Rapalas) and bass-size lures, so why not all of that wrapped into one? Sierra trout see plenty of diving plugs, but a suspending bait that slow sinks and runs in a straight line at any speed would be something completely new.
For a couple starting points, the Storm Arashi Spinbait looks like a winner for fall brown trout, and when I saw the Berkley Spy at the ICAST Show last year, I was instantly convinced its diminutive (2.75-inch) profile would be a perfect target for stocker rainbows and maybe even small-creek browns.
Next generation jerkbaits
There's nothing new about targeting trout with floating or sinking Rapalas and the like, and they'll always have a spot in the ranks. Suspending versions like the Rapala Husky Jerk was certainly an upgrade (and in some circles, it's now the first option in this department), but their evolution continues on the bass side as the situations they're used in broaden.
Jerkbaits are locked in as a go-to for targeting bass in the winter doldrums rather than just a fun way to tee off on aggressive feeders. Competitive anglers will send a suspending, jerkbait down to suspending bass in chilly water and impart minimal action, sometimes waiting a matter of minutes between jerks.
Again, we know jerkbaits catch trout including monster fall browns, but on the Sierra stage, they're almost always trolled, or cast and retrieved. Something versatile that can be fished those ways (ripped or retrieved) but also stop on a dime and look natural just sitting there would be another "new look."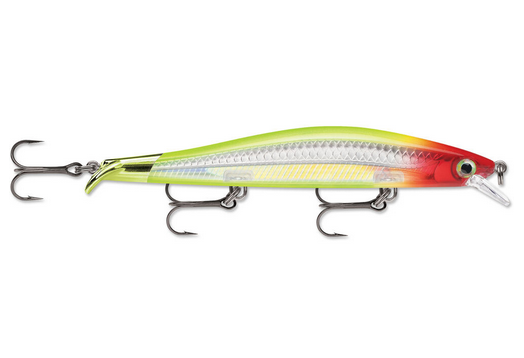 Check out the Rapala Ripstop to fill that role. It's already proven itself as a big fish killer for bigger Sierra impoundments like Twin Lakes in Bridgeport, but that body of work is almost entirely when the bait is trolled. It's available in 3.5- and 4.75-inch (1/4 and ½ ounce), so it would be best fished on a medium-light outfit with 6- or 8-pound line for German browns between now and the end of the general Sierra season.
Tanker tubes
There was a time when using crappie-size tube jigs for trout meant you were a next-level trout angler, but now it's just part of a natural progression with some young anglers going that route right after nightcrawlers rather than spoons or spinners. While there isn't much to play with as far as design, size is something to look at.
Brown-bagging anglers are already rigging small tubes with as heavy a jighead they can get away with so they can get that thing to the bottom of a plunge pool on a creek before the swift whitewater up top sends it downstream. Believe it or not, the water several feet below the waterfall is actually pretty calm, and it creates an ideal ambush point for larger, territorial trout that claim it as their own.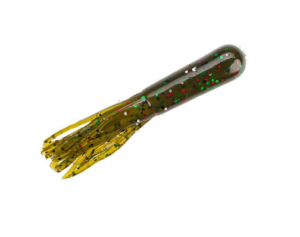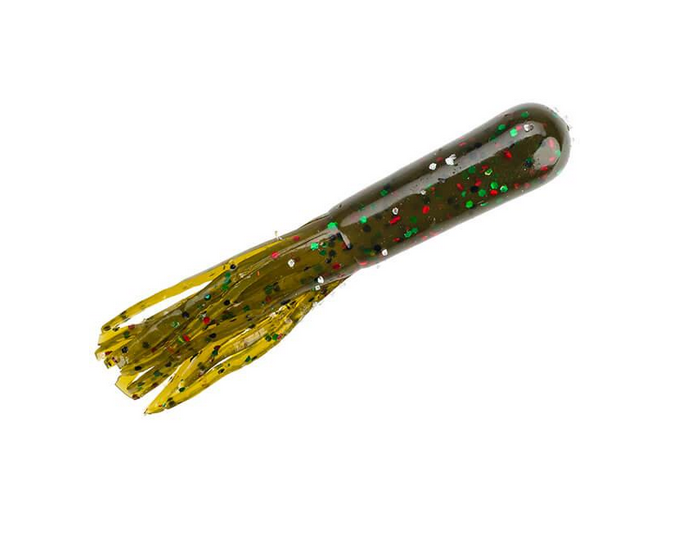 Most Sierra streams are hold of some combination of hand-length DFW rainbows, fingerling wild browns and rainbows and those 3- to 4-inch brook trout we sometimes can't keep off our Panther Martins. I'll also add the following just to make my case: ever see the size of the crawdads in the Owens River? They'll make you swear off wading in flip-flops for good.
So, I'm thinking Gitzit-type tubes. Most are in the 3- to 4-inch range, but I think the perfect "gateway tube" would be the 2.75-inch Strike King Bitsy Tube. That unit is big enough to swallow a couple crappie tubes but smaller than most Gitzits. Darker colors to imitate fingerling brook and brown trout (and crawdads), and lighter to mimic small rainbows, and a jighead size appropriate for the depth and current to get that thing down and hopping along the bottom of a plunge pool. While we're at it, let's put Ned rigs in this same category, and don't sleep on either for big trout haunts like Silver Lake or Pleasant Valley Reservoir, either.
Jig diversity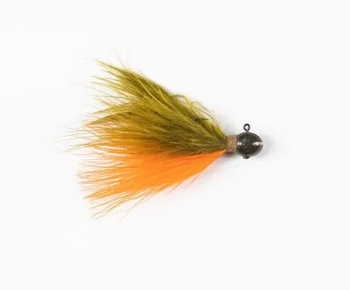 Tubes are great but what about something that predates them by decades if not a century? Hand-tied "hair jigs" caught almost everything that swam until they gave way to plastic curl tails and silicone skirts. It's kind of funny mentioning something here that has not only been around forever, but it's currently crushing trophy trout all over the country. Marabou jigs (and bucktail jigs, same deal) dominate the trophy brown-trout fishery that is the White River in Arkansas. They also account for gobs of huge cutthroat out of Pyramid Lake in Nevada. Those are just two of many examples, but while you might run into some old codger throwing a hair/marabou/bucktail jig (he will have one of those yellow Eagle Claw rods and a towel hanging from his belt) on the Owens River or Convict Lake, you just don't see them in the Eastern Sierra.
Sticking to the recurring theme of something new for the fish to see, there is nothing in the "gear" fishing world (fly fishers are very familiar with it) that can create the same undulating action the natural hair on one of these jigs produces in the water. They come in small enough sizes to use in ultra-light situations, and large enough to get down to those moving-water brown trout in deep holes.
Swimbait meat
Swimbaits are represented all over the bigger-game fishing world, and they've not only made their way on to the trout scene, but there is a presence in the Eastern Sierra. Sierra Slammers is locked in as the choice ultralight swimbait in the region with its 2-inch Mini Swims, but there isn't a huge sample size when it comes to experimenting with bigger swimmers up there.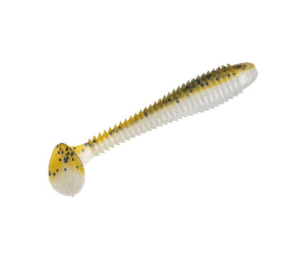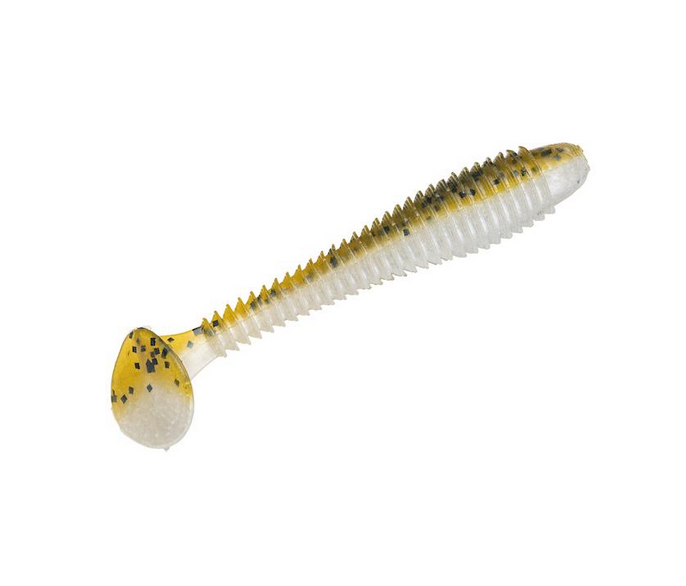 Larger profile swimbaits would fit similar roles as bigger jigs but with a different action (kicking tail) and some added versatility. The Strike King Rage Swimmer (2.75- and 3.75-inch) would be logical choices as a step up in size, and they can be fished just like heavier jigs as well as on a slow retrieve.
Rigging them on an underspin-type head would add some flash to the equation, and a swimbait/spinning blade combo fits the "something new" bill. There are plenty of options for lighter underspins out there, but a heavier one like the Gamakatsu Under Spin Head in 3/16 ounce would be a better fit for the bigger plastics we're talking about here.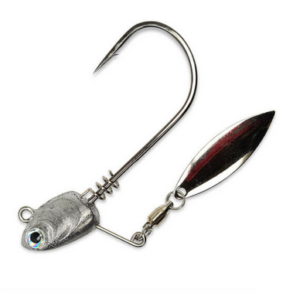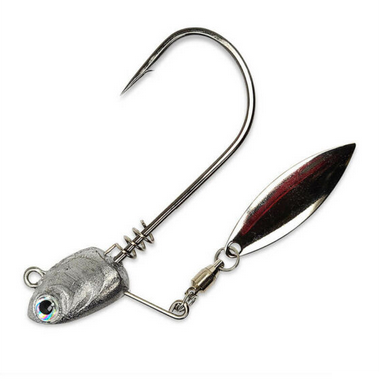 There actually is some precedent on using a setup like that for trout including one right out of Western Outdoor News headquarters. WON Tournament Director Billy Egan whacked big-river browns on a visit to Montana when he mixed them in along with the standard diet of Rapalas and flies. If you're going to give bass-size underspins a try for big trout, you might as well bring along some 3-inch straight tails while you're at it.
Be the tip of the spear
With every new technique in every type of fishing, somebody had to do it first. That level of pioneering isn't for everyone, as most anglers would rather go with their tried-and-true tactics in their limited time in the Sierra rather than run the risk of going all day without a bite. But, even bait dunkers are drop-shotting now, another product of bass fishing trends trickling down into the trout world.